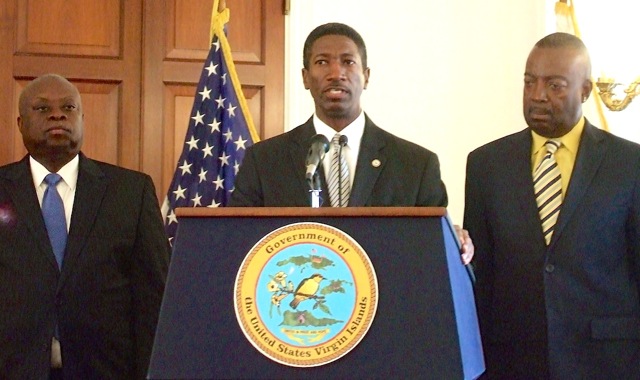 Gov. Kenneth Mapp, surrounded by a variety of law enforcement officials on Monday, announced plans for citizen protection during St. Thomas Carnival and beyond.
On hand to talk about a coalition of their agencies were U.S. Attorney Ronald Sharpe, Police Commissioner-designee Delroy Richards, Mona Barnes, nominated as director of the V.I. Territorial Emergency Management Agency and a representative from the V.I. National Guard adjutant general's office. Lt. Gov. Osbert Potter also said a few words.
Mapp said that as a result of meetings in Sharpe's office with officials from federal law enforcement agencies, a coalition has been formed to combat violent crime and protect the community, especially during carnival this week. VITEMA is on alert and Mapp signed an order putting the National Guard on active duty.
Security is being increased at Cyril King Airport and information provided to alert visitors of the need to register firearms they are carrying into the territory.
Sharpe said, "We've already seen signs of progress at the airports."
Other branches of government will work different aspects to reduce the potential for violence, including aerial surveillance. Mapp would not give additional details to preserve security, he said.
"You should come out and enjoy carnival because carnival events are going to be safe," Mapp said.
Following carnival, an assessment will begin on May 4, conducted by a group of former New York City police officers who will interview local law enforcement personnel including members of the V.I. Police Department and the V.I. Port Authority, according to the governor. He said the weeks-long operation with be "very transparent."
The information will be used to "reform" law enforcement with local and federal partners and deal with violence, drug interdiction, border patrol and protection, white-collar crime, crimes in the marketplace and public corruption, Mapp said.
The cooperating agencies include the Drug Enforcement Administration, the Bureau of Alcohol, Tobacco and Firearms, U.S. Customs and Border Patrol, Homeland Security, the U.S. Postal Service and the Transportation Security Administration.
Sharpe confirmed the use of federal agents to "reduce the level of violent crime permanently" in the territory and to remove violators and weapons from the streets.
"Federal agents will step up efforts at carnival and long term," he said.
Richards elaborated on support already received from federal agencies, including training for the VIPD from the Federal Bureau of Investigation and $80,000 to refurbish a vessel for use in the waters around St. Thomas. Another grant has been offered to help pay for overtime and vehicles used while working with the federal partners.
"As a matter of fact, whenever I'm need of certain resources, they have stepped forward," Richards said.
Currently a dozen officers are being vetted by federal agencies and two will be chosen to work in the marine unit and the others will integrate with federal task forces, Richards said.
Potter encouraged the public to report rumors to 911 of crimes they hear being planned during carnival, especially possible gang actions.
Mapp added the governments – both federal and local – are aware of a number of drug dealers and firearms and will be paying very close attention.
"We are not going to be passive and sit on the sidelines and just simply respond to our residents and businesses being victimized," Mapp said. "We are going to be active and very up front in our actions to protect our citizens."