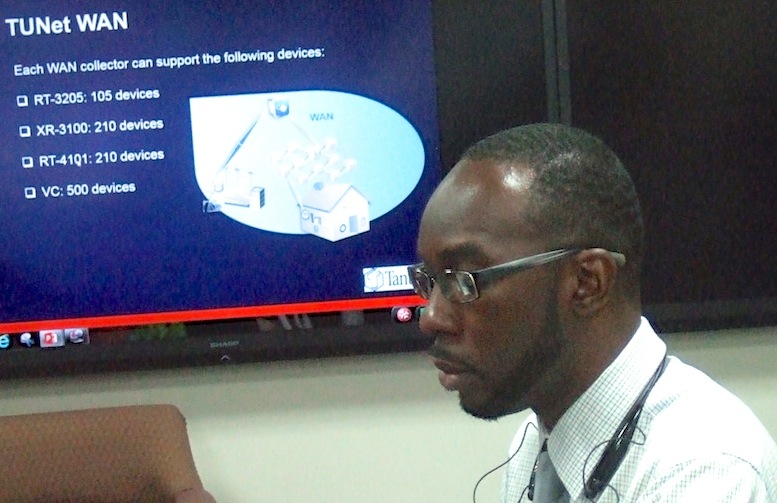 Officials of the V.I. Water and Power Authority explained at a media conference Thursday the advanced metering infrastructure being installed that will be operating on all three islands by the end of the year.
According to Hugo Hodge, WAPA executive director, there has been "a lot of false information taking on a life of its own," and the authority wanted to give the "true aspects" of the smart metering project that has been planned and worked on for a decade.
Glenfield Jarvis, electrical engineer with the utility company, gave a power point presentation, explaining the metering devices and the program to read power consumption remotely. He said connection and disconnection from WAPA will be done remotely and instantly and that billing would be more efficient. The project would help reduce payroll, fuel and vehicles, he added.
"That saves WAPA a lot of money and, in turn, it will save constituents a lot of money in the long run," he said.
Hodge said there are currently more than 600 WAPA employees. The high number for the size of the community is because the same jobs are needed on both islands.
"We won't send anybody home," Hodge said. New employees are not being hired and current WAPA staff is being relocated to fill any vacant positions.
In explaining the remote metering, representatives said the Tantalus Utility Network uses meters, collectors, radio transmitters and network servers to provide remote meter reading.
Jarvis said that since May 2014, 25,000 meters have been installed in St. Thomas and St. John and 200 on St. Croix. He said Apex CoVantage is now placing 5,000 meters a month.
The smart meters record consumption data and transmit it to WAPA's communication center and then generate and send bills based on the meters' current information. Within seconds, WAPA will be aware of service interruptions, including tampering and theft, officials explained.
Consumers will be able to monitor and control their usage in real time, they said.
According to Jarvis, three towers have been installed on St. Thomas – Crown Mountain, Haypie Hill and Wintberg – and the program is 95 percent installed. St. Croix will have three towers – Recovery Hill, Blue Mountain and St. George Hill.
The towers are secured with chain link fences, barbed wire and security cameras.
The biggest myth about the system is that the radio waves are harmful and may cause cancer, Jarvis said, adding that the frequency to send information emits fewer electromagnetic waves than microwaves, cell phones or WiFi routers and is .13 percent of the amount allowed by the Federal Communications Commission.
"We aren't just below; we're far below the FCC regulations," Jarvis said. "If you stand in front of a smart meter for one year, the exposure equals less than a hour in a cyber café."
He said an AARP study on possible harm determined it almost impossible because exposure to the Internet, cell phones and routers is so much higher. The meter boxes transmit 15 minutes every hour, he said.
One of the myths people are repeating is that WAPA will be able to spy on customers through smart meters, he said. There is no hardware in meters to monitor anything other than consumption and, because the encryption is military-grade, neither cell phone nor Internet information can be communicated, according to Jarvis.
Another myth is that advanced metering will increase a consumer's bill. Jarvis said in some cases, if the old meter has corroded and slowed down, it is possible previous bills were less than they should be and the new meter will reflect the correct rate.
Smart meters were said to have started fires but Jarvis said they were not Itron meters or even made by the same company WAPA is using.
Hodge said the program will cost about $13 million, including cyber security and devices. A low interest loan was secured from the U. S. Department of Agriculture for rural communities to fund the project.