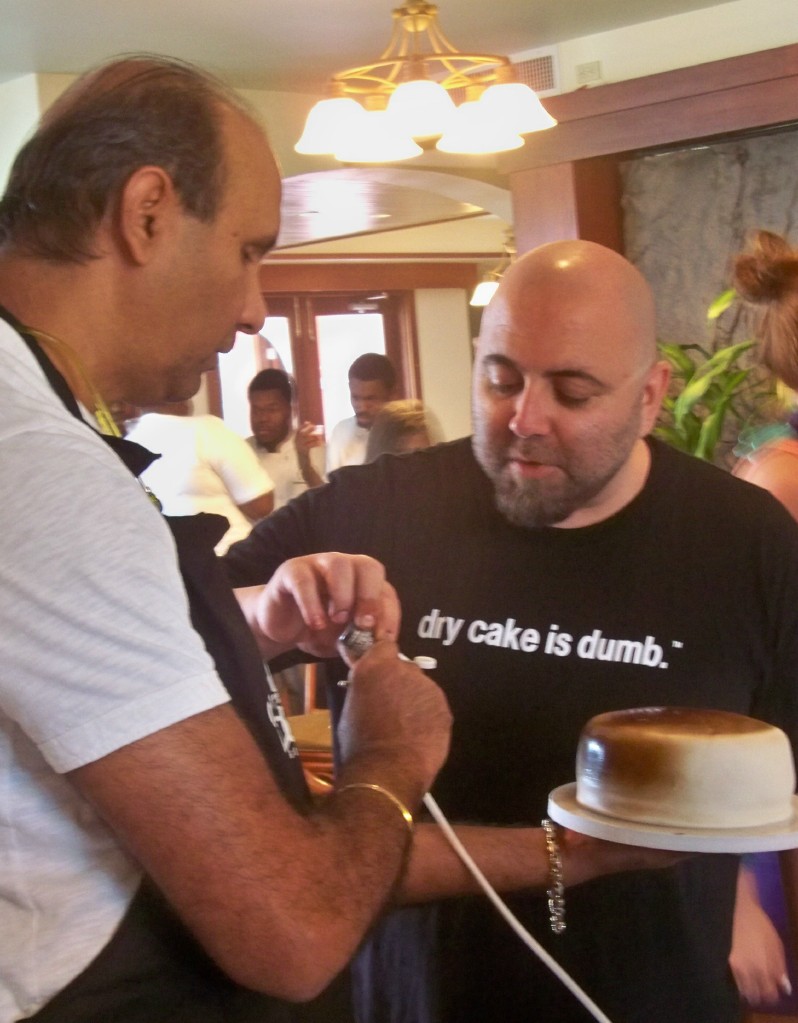 The Food Network's Chef Duff Goldman was the "Icing on the Cake" at the annual St. Croix Wine and Food Experience, as his cake-icing class was a sold-out hit.
Goldman, whose show "Duff Till Dawn" is his latest Food Network foray, shared tips and tricks with 52 professional and amateur cake decorators Wednesday on St. Croix.
Sylvia McGregor, a Goldman follower who bakes for pleasure and a small business, said she was excited and happy to get in the class.
"It was a challenge getting in and getting registered since it was such a popular class," McGregor said after Goldman helped her air brush her cake brown.
Asked if she would keep the edible cake as a memento, she said she would be sharing it.
Goldman and his assistant, Courtney Frederik, designed a cake decorated with fondant to look like a rum barrel sitting on brown sugar sand and accented with fondant seashells.
Fondant is pliable, dough-like paste made of sugar, water and cornstarch. Embellishments and decorations are cut out of rolled fondant, which can be rolled out thin and draped over the cake.
Participants decorated prepared eight-inch layer cakes that were covered with ivory colored fondant.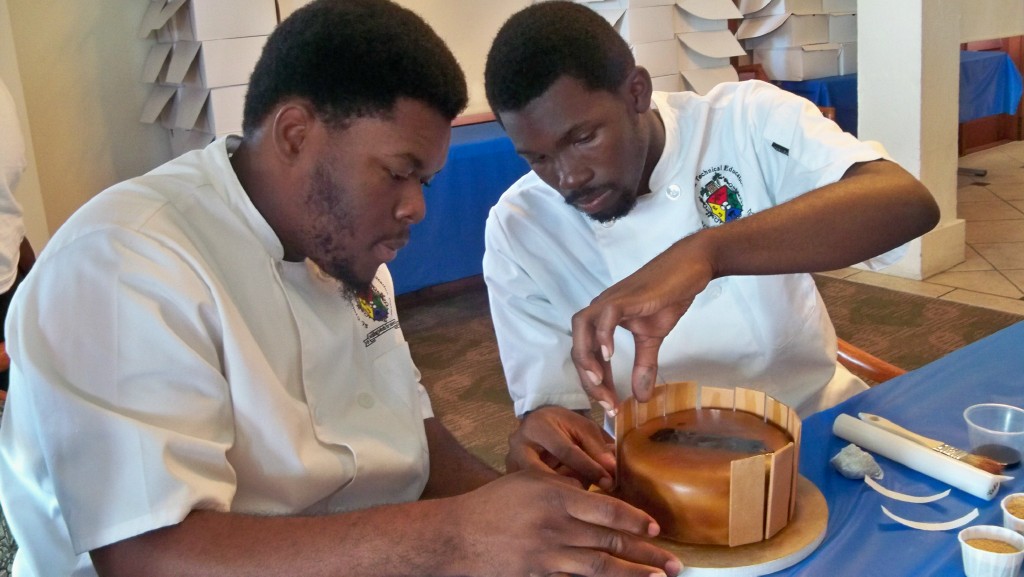 Goldman brought air-brush tools and other supplies for people to share. He gave tips on how to skillfully apply a spray of brown, liquid food coloring as the base. Barrel slats, precut in strips, were adhered to the cake and painted brown. Barrel hoops were cut from rolled out gray fondant.
Delia Burgos, painted the woodgrain look on the barrel staves perfectly. Goldman, known for his artistic talent, jokingly asked her if she wants a job.
Nora Farchette and her husband, Carlos Farchette, took the class together. They both said they came to learn new tricks and to meet a celebrity chef. Nora said she bakes and decorates cakes for friends and family and Carlos helps her.
Julie Eckard, who is a huge fan of Goldman, said her husband Mark Eckard, surprised her with a ticket for the class.
"I love to bake, and taking this class is perfect," Eckard said.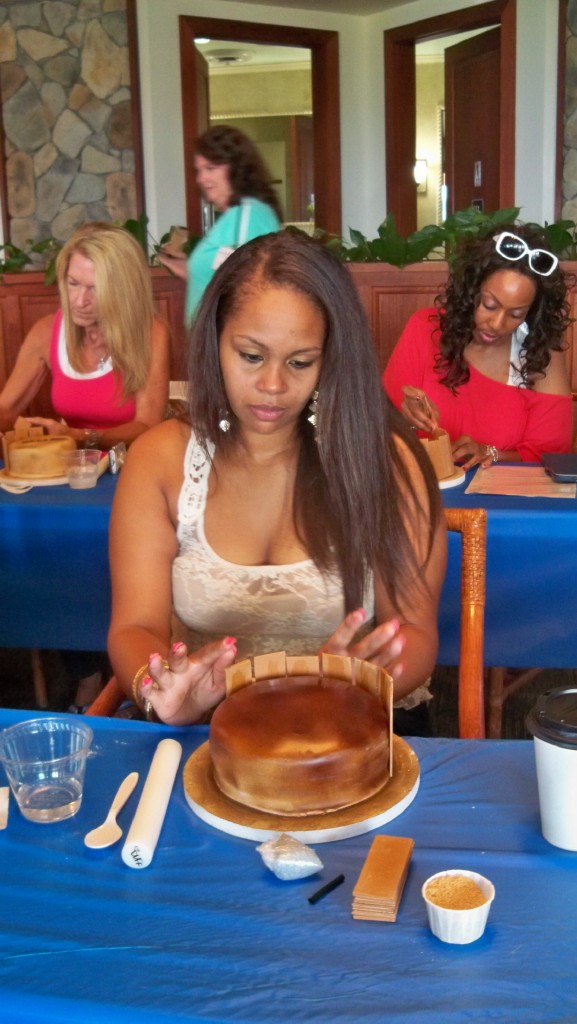 Amanda Foltz, also a fan of Goldman and the Food Network, said the class was a lot of fun and also for a good cause.
Proceeds from the Food and Wine Experience events this week help culinary and hospitality training programs for students at St. Croix Central High School and St. Croix Career and Technical Education Center. The funds also help with travel expenses for the U.S.V.I. Culinary Team competitions. Funds are given to the Pat Henry Hospitality Scholarship fund and the St. Croix Foundation for education initiatives.
In an interview before the class in the Brass Parrot Room at the Buccaneer, Goldman said this was his first time on St. Croix. He said other chefs talked about how fun and cool it was to take part in the St. Croix Food and Wine Experience and how St. Croix will get its hooks in to you. He said he wasn't expecting much, but he was pleasantly surprised at the great events taking place and how much fun he's having.
He said he could see opening a little 20-top restaurant on St. Croix.
Goldman hopes to get two local culinary students to spend a little time training with him.
Local restaurant owners Katherine Pugliese and Kelly Odom started A Taste of St. Croix culinary competition in 2001. The Taste of St. Croix, now the St. Croix Food and Wine Experience, is a weeklong food and wine experience in many venues, including Wine in the Warehouse, Twin City Krawls and Cork and Fork Dinners. Forbes Travel.com ranked the St. Croix Food and Wine Experience as one of the 10 best international food and wine festivals.
Divi Carina Bay Beach Resort and Casino, the Department of Tourism, Cruzan, Buccaneer, Seaborne, Innovative, FirstBank, and Sonya Ltd. are some of the major sponsors of St. Croix Food and Wine Experience.