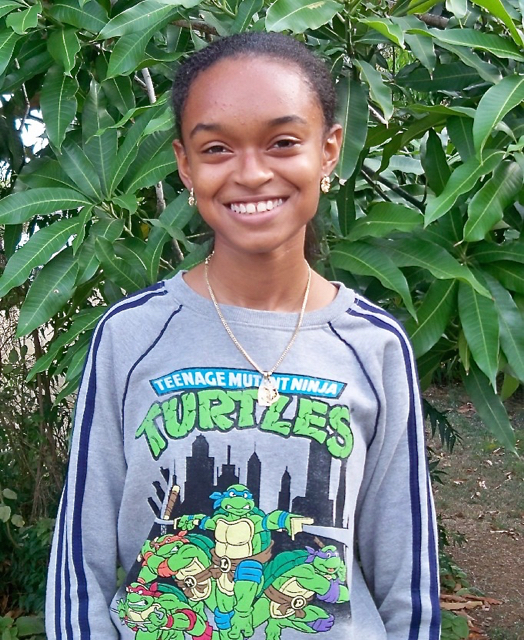 Shimeeka Stanley, a sophomore at St. Croix Central High School, surrounds herself with people who inspire her and encourage her to succeed at whatever she tries to accomplish.
"Ms. Frederick, my kindergarten teacher at Lew Muckle Elementary School, always told me don't give up until you get it right," Stanley said. "And ordinary people around me show they can accomplish things. Then I can too."
Stanley has already made Virgin Islands history accomplishing more than most Virgin Islanders even dream.
In March, she and four other members of the Elena Christian Junior High School Rocketry Club had the distinction of meeting President Barak Obama at the White House Science Fair in the U.S. Science, Technology, Engineering and Mathematics program.
She said because Elena Christian science teacher Steve Bullock, encouraged and pushed the rocket club members to do better in competition every year, they will now go down in Virgin Islands history.
She said it was a terrific experience meeting President Obama, shaking his hand and telling him her name.
"It was something very special that you don't get to do everyday," Stanley said.
When she found out that they were going to Washington she couldn't believe it.
"I thought it was a scam," Stanley said. "I couldn't believe it was happening. I can't express the feeling when I found out we were going to meet the President."
In May teams from the club will travel to Virginia to compete in the Team America Rocketry Challenge. For the last five years, the club has attended the finals, placing 24th out of 100 last year. This year, the club will try to meet the challenge to build a rocket to fly to exactly 800 feet for 48 to 50 seconds.
The articulate young woman with big bright eyes who loves science, said she joined the club when she was in the eighth grade.
Stanley said Bullock's daughter Stephanie, who encouraged her to join the club, is a good friend and also an influence.
"I joined because rocketry is another branch of science," Stanley said. "It expands my knowledge of things, which I love, and shows different fields I can get in."
For example, she said, environmental scientists are needed to study the impact on areas where rockets land.
She is planing a career in marine biology or something to do with the environment. She said she would love to work in submarines, discovering new things. She will enroll in her first marine biology class next year and she has a goal of learning to swim before taking the class.
"I always want to push myself farther," Stanley said.
More than likely she will attend the University of the Virgin Islands and then transfer to a stateside university to complete her degree. She said she loves St. Croix and hopes she has the opportunity to find a job at home.
She has a spiritual side to her too and is strongly influenced by her faith. She attends the Beeston Hill Wesleyan Holiness Church.
"The Lord is always by my side even when things get rough," Stanley said. "He gives me the answers I need and he always shows me the way."
The 15-year-old Stanley was born on St. Croix to Elton and Leonie Stanley. She said she has been on the honor roll almost every grading period. In her free time she enjoys sketching and spending time with her family.
"I'm very proud and happy for what she has accomplished," Leonie Stanley said with a wide smile and pride in her eyes.