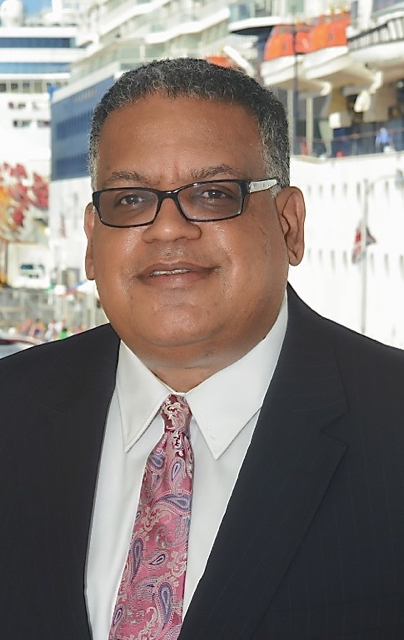 Last month, the West Indian Company Limited (WICO) was part of the U.S. Virgin Islands delegation, led by Gov. Kenneth Mapp, at the 2015 Cruise Shipping Miami conference, better known in the industry as Seatrade.
Seatrade is the world's biggest gathering of who's who in the cruise industry. Held every year in March, the three-day event brings together cruise line executives, media, speakers, port representatives, ship builders and vendors to discuss most aspects of cruising.
During the event, our WICO team capitalized on deep and longstanding relationships and access to cruise industry leaders to reinforce our ability to accommodate the increasingly larger cruise ships and changing deployment schedules.
Seatrade is an opportunity for ports to showcase the features that make them attractive to cruise itinerary planners and travelers. It also sets the tone for where the industry is heading and how ports must prepare themselves for growth.
This year's Seatrade reinforced WICO's strong opinion that our territory must do everything to remain relevant and maintain our lead in the ever-increasing competitiveness in the Caribbean region.
Executives and decision makers from Princess Cruises, Norwegian Cruise Lines, Royal Caribbean International, Carnival Cruise Lines, Disney Cruise Line and others reinforced the dominance of the Caribbean presence as the leading region in the world for cruising. However, it is abundantly clear that in the wake of the growth of emerging destinations, more mature ports must reinvent and renew their brand and refresh their product to emphasize a more unique, culturally and historically relevant experience once cruise guests arrive at the destination.
Industry officials signaled the strong emergence of Asia as the second largest cruise destination, discussed the elements of itinerary planning, emphasized the increase in cruise ship size, highlighted an emphasis on the on-shore customer experience, and stressed the need for local infrastructure to be attractive and efficient.
Cruise executives spoke openly about the weight of passenger feedback in their decisions to create itineraries from year to year.
Cruise line decision makers also made it clear that they will cruise where their brands are welcome and their passengers are excited to visit. This means that as competition increases, destinations must step up their game and invest in their infrastructure to remain competitive and relevant.
The emerging conference themes and trends confirmed what all industry stakeholders know: that as a destination, the Virgin Islands must be aggressive in developing and maintaining our real property assets and continually refresh and enhance our brand. At WICO in particular, we are keenly aware that we are just one component of the all-important Virgin Islands tourism product. We are poised to do our part to make sure that we attract and retain the growing market segment composed of multicultural and multigenerational cruisers, as well as focusing on a visitor experience steeped in the uniqueness of our local culture.
Local industry stakeholders must be prepared to make an effort to communicate with the guests in several languages, even if it is as simple as directional and informational signage in their home tongue.
Visitors are seeking a full sensory experience where they can listen to the island's music, sample local food, and purchase authentic art and creative wares. We continue to refine the visitor arrival experience to include as many of these elements as we control. We at WICO are eager to share our knowledge and insight with any stakeholder who is also hoping to refine their offering to capitalize on these trends and changing tastes.
Seatrade simply confirmed what we all know – the landscape of the cruise industry is changing rapidly. WICO knows well that neither we nor the territory at large can afford to become complacent and rest on our laurels and our current status as a premier destination. As the industry grows we will continue to plan and grow with it. It is interesting to note that even the hosts of Seatrade recognize this. In fact, next year's conference will relocate from its longtime venue at the Miami Convention Center to a larger venue in Ft. Lauderdale so that the current convention center can expand to accommodate the growth of the event.
Like Seatrade itself, the entire industry, is in a growth and expansion mode. WICO will continue to be the port leader in this growth and planning mode as we all collectively work together to keep our destination as one of the top ten ports in the world. As a leader in the Eastern Caribbean cruise industry, we at WICO will continue to do our part to protect and preserve our legacy for the entire Virgin Islands.
Our people deserve no less.