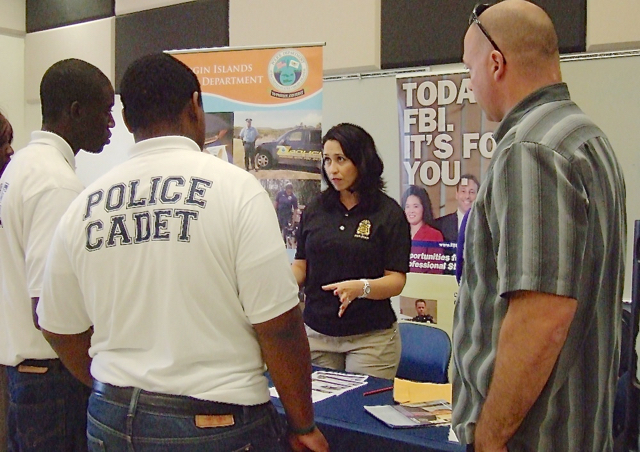 This year's Career Fair, held Wednesday at the University of the Virgin Islands, drew more employers and more students than in several past years, according to organizers.
"We want to broaden their horizons – to let them see what's available, so they will stay in school and get a degree. We want them to know it's not a waste of time," said Steve Shegrud, deputy director of the Puerto Rico-U.S. Virgin Islands High Intensity Drug Trafficking Area (HIDTA), one of the career fair organizing agencies.
Some of the employers talked about working for their agencies and companies and the benefits. A few advertised for specific jobs and some were looking for youth to participate in programs and scholarships.
According to Aryna Lord-Jerris, about 70 representatives from 36 businesses or agencies participated in this year's event. Before noon 150 students and community members had registered. To encourage participation, students were eligible for raffle prizes after completing a survey and visiting at least eight exhibitors.
The exhibitors included private corporations such as American Family Life of Columbus (AFLAC,) Broadband VI, Choice Communications, Marshall & Sterling Insurance and Paycation Travel Agency.
Broadband VI president Michael Melusky said his company has openings for a customer service representative and a field technician at this time.
"We love our UVI grads. We have a number of them working for us," Melusky said.
Cecily Lawrence of Paycation handed out 100 applications. She said her company is hiring five people a week to train as travel agents.
Divi Carina Bay Casino is always looking for dealers and a new law allows people as young as 18 to train and work at the St. Croix casino, according to marketing manager Fran Geocaris. Geocaris also represented the St. Croix Hotel and Tourism Association and encouraged students studying hospitality to apply for $2,500 Pat Henry scholarship.
Most of the exhibitors were federal and local law enforcement agencies, including Homeland Security Investigations (ICE), the FBI, U.S. Marshals Service, the Drug Enforcement Agency, the Transportation and Security Agency, the U.S. Border Patrol and representatives from the armed services – U.S. Coast Guard, U.S. Navy and U.S. Air Force.
Petty Officer Josaphat Sateny, U.S. Navy recruiter, said five people signed up for more information about enlisting. He will call them and talk to them about qualifications.
According to DEA recruiter Daphne Mihlfeld, applications and employment requirements for many of the federal agencies are online at www.USAjobs.gov. Most of the available positions are nationwide.
Khadidra Armstrong is a second year student at UVI studying criminal justice. She stopped at several of the tables "looking for options." She said she has not narrowed her field yet but will probably leave the territory after graduation.
"There are better opportunities away," she said.
The V.I. Education Department was one of the few government agencies that posted job openings. According to Brenda Grey, VIDE human resources, there are more than 100 teaching positions available in the territory, including principal and assistant principal slots.
The Department of Corrections also posted employment opportunities on St. Croix and St. Thomas. According to Eliza Joshua of Corrections, there are openings for accountants, investigations, nurses, supervisors as well as correction officers. She said most people don't realize there are "civilian" jobs at the BOC.
Chenyne John, from the V.I. Personnel Office, said applicants must apply at the Personnel Department for all government jobs except Education and the Gov. Juan Luis Hospital.
Summer jobs and summer programs were the focus of the V.I. Labor Department and the National Park Service.
Pathways internships are available through the NPS for high school and college students. According to Park Ranger Reynaldo Rivera, there also is a program to help students finish school and get a job.
"When they work for us, we teach them what to do and encourage them to get an education," Rivera said.
Dwayne Richards, VIPD assistant director of human resources, said the department is trying to hire 200 police officers and hopes to start a class within the next two months.
"We are never at a point where there are no vacancies for officers," Richards said.
Individuals with college degrees or who were honorably discharged from military service do not need to take the entrance exam, he said.
Other employers and agencies were looking for volunteers and or/clients. Several students volunteered to work at the BOC as counselors and social workers and the V.I. Police Department Cadet program was looking for new members.
Le'chena John, cadet administrator said recruits can be between the ages of 16 and 21. They work together as a group, assisting with "fun and serious" events to help the VIPD.
Verna Walcott of Hero 2/Hero, was looking for potential clients. The agency provides career counseling for service veterans and their spouses. She said she also was at UVI to meet employers who have jobs for veterans.
UVI President David Hall commended the Counseling and Career Services Office and HIDTA on the high number of participants attending the symposium.
"There's a broad range of opportunities available for students who graduate from this institution. It's always good to know employers are interested in our students," Hall said.