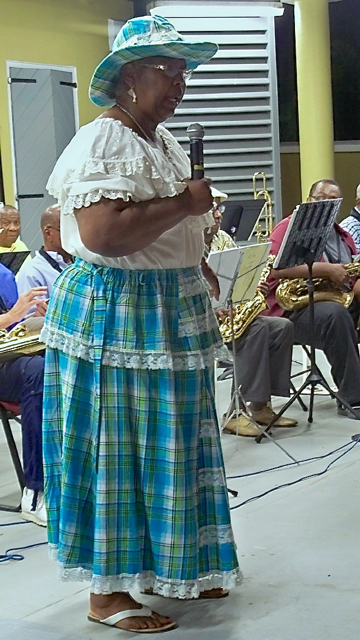 Local folks went back in time Friday with stories, music, songs, and remembrances at a rededication and revitalization of Frederiksted's Dorsch Cultural Activities Center.
Renowned storyteller Delta M. Dorsch was honored posthumously at the ceremony for her 100th birthday. Dorsch spent much of her life time promoting childhood education, the language art of storytelling, and preserving V.I. cultural heritage on St. Croix and throughout the territory.
Storytellers and singers had people in the audience join in with verses and lines they recalled from stories they heard in their younger days.
Storyteller and retired teacher Janice "Auntie Janice" Tutein said all the local storytellers were influenced by Dorsch.
Dressed in a traditional white eyelet blouse and long skirt of blue madras, Tutein told "The Big Fish" story. She said some stories were told to scare children into behaving and being good.
Glenn "Kwabena" Davis told a story to remind children not to lie. The audience quietly repeated with him several times "Sorry for what I do and I don't tell lies."
Ronald Russell, a spokesman for the family, said Dorsch wasn't only a mentor, she was an example to follow, influencing long lists of local people.
"She made an impact spreading her wealth of knowledge," Russell said. "She has been a beacon for all of us."
Remarks were also given by Claire Roker, Dorsch's niece, Al Franklin, president of Our Town Frederiksted, and Sen. Myron D. Jackson, chair of the Committee on Culture, Historic Preservation, Youth and Recreation.
Britney Vitalis, a junior at St. Croix Educational Complex, sang the hit song "Let it Go" from the Disney movie "Frozen" for the crowd of about 125 gathered under a tent and on forum-like seating. The University of the Virgin Islands Voices of Inspiration Choir also performed.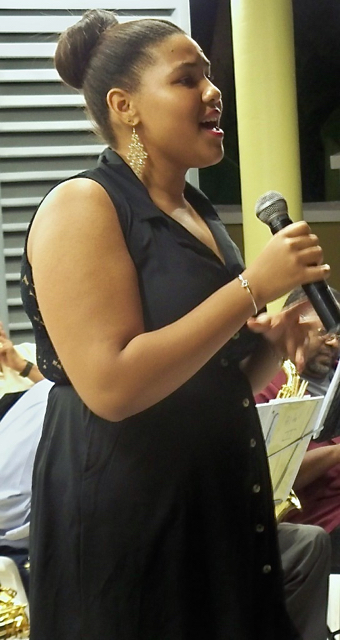 The St. Croix Big Band, under the direction of Kent Moorehead, played Delta's favorite song, "What a Wonderful World," and other timeless tunes. A beautiful and tasty fruit-filled six-layer Vienna cake and local drinks were served for the birthday celebration.
The center was established in 1933 as the Open Air Theater. In 1972 the 9th Legislature named the facility after Frederick D. Dorsch, to whom Delta Dorsch was married. Frederick Dorsch was a humanitarian, educator, civic enthusiast and was the V.I. Municipal Council School Superintendent before he died in 1960.
The center's cement walls were power washed and painted yellow and white. Hand rails had rust removed and were painted dark green. Part of the stage was replaced, and a screen was put on the roof to solve the problem of pigeons roosting and making a mess.
Betty Mahoney, director Virgin Islands Council on the Arts, said with the face lift, people will now be able to stage plays, concerts and other events for the public. Rental fees will be used to maintain the center.
Delta Dorsch was born in Frederiksted on March 26, 1915. She preserved some of St. Croix's history and culture in her book, "The Role of the Storyteller in the Preservation of Virgin Islands Culture." She also contributed to Our Town Frederiksted's current edition of "The Glory Days of Frederiksted."
Delta Dorsch served in the Virgin Islands Department of Education for more than 38 years. During her tenure she stressed to students the importance of preserving traditional values and cultural heritage to students, teachers and parents. In 1990 Delta Dorsch was among the Tradition Bearers who participated in the Virgin Islands and Senegal Folklife Festival in Washington, D.C. sponsored by the Smithsonian. She died at the age or 95 in 2011.
The event was hosted by the Department of Planning and Natural Resources, the Virgin Islands Council on the Arts, the Division of Libraries, Archives and Museums, and the Virgin Islands State Historic Preservation Office, in partnership with Our Town Frederiksted.