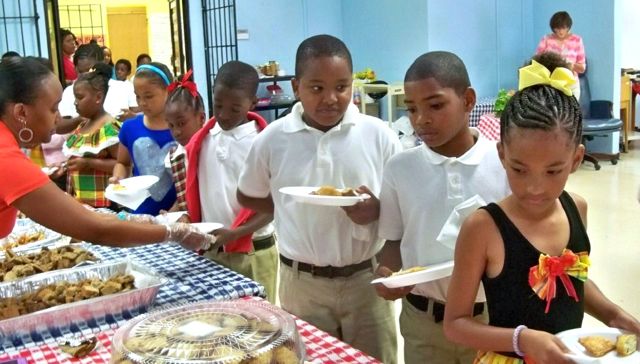 During March students at Ricardo Richards Elementary School have been doing extra special activities in celebration of Virgin Islands History, Culture and Tradition month. Thursday the students wore madras clothing and enjoyed bite-size samples of traditional Virgin Island food at the fifth annual "Taste of Ricardo Richards."
"This is a great way to spread culture with all the different food and drinks," said fifth-grader Uchenna Ferris. "It gives us a real taste of culture."
Ferris said her favorite dish was the saltfish gundy.
N'Kia Hughes, a sixth-grade student, said, "This is a good experience tasting food here that I don't get all the time."
Callie Rupp, an art teacher at Ricardo Richards and on St. Croix a little more than a year, said as she carried a plate piled high, "This is the best day ever to be able to experience all of this Crucian food."
The library media center was transformed with tables of aluminum roasting pans full of fresh goodies. Smiling volunteers were serving pate, red grout, benye, saltfish gundy, tamarind balls, butter cookies, sugar cakes, sweet buns, cup tarts, salmon balls, local fruit juice and more. The Danish red grout, a tapioca and guava dish served with cream, was fabulous.
In the past Alpha Stevens, a volunteer foster grandparent at the school, has taken leftovers to his fellow residents at Flamboyant Gardens Senior Citizens Home.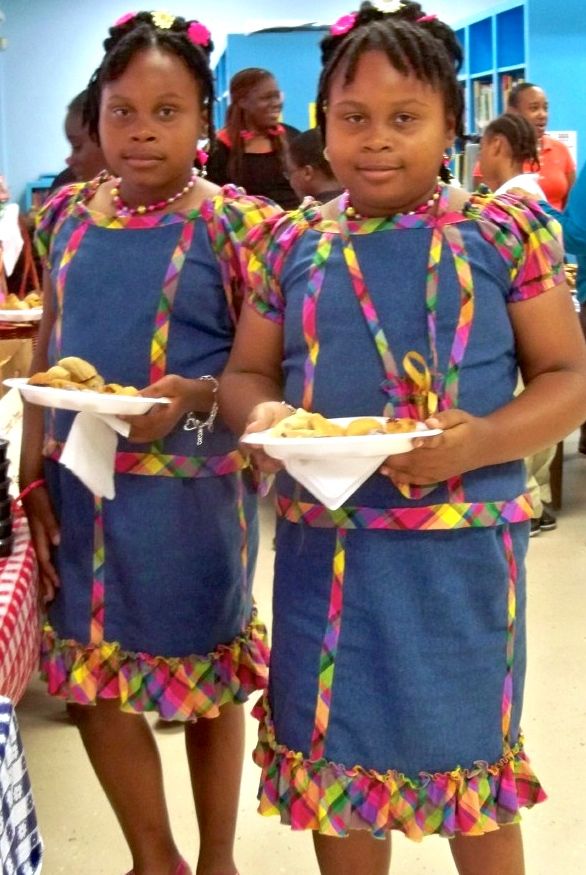 The students wrap up the month Monday going on cultural field trips. Some will go to the V.I. Legislature, Whim Museum and Henry Rohlson Airport, and others will participate in beach cleanups and more.
"This is to actually give the students real life experiences and another way to learn," said Paulette Edwards, V.I. History Committee member.
Edwards said the entire staff and parents did an amazing job volunteering time and donating during the celebrations. The parents and guardians of the students supplied the food and served the children and guests at the Taste of Ricardo Richards.
Zahra O'Reilly, committee member, said they had a week-long Jeopardy style V.I. Quiz Bowl that the students love competing in. They also had a Quelbe Day at the beginning of the month. And surprise guest Toby Derima from Express Band came and performed "We de Yah" on Wednesday.
Elayana Joseph, fifth-grade student, said March is a good month for the students with the extra activities.
"I've been here six years and the Taste of Ricardo Richards is the best event," Joseph said while waiting in line for the treats.