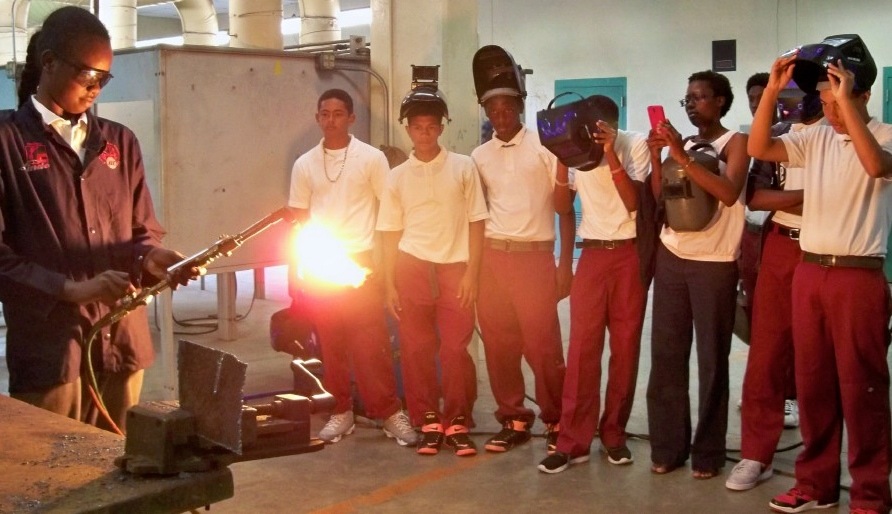 The St. Croix Career and Technical Education Center Career Fair was a bit different this year from the past. Representatives from the public and private sector weren't there giving out information to students. This year the students all went directly in to the vocational classrooms and got an overview of the programs from instructors, students and guests in the perspective field.
On Friday and Monday students gave their peers an idea of what they are learning at the vocational school with presentations and demonstrations in welding, hair washing, fingernail painting, dressing and bathing baby dolls, sewing and more.
Devante Petersen, freshman at CTEC, gave a demonstration on lighting and using a blowtorch while his instructor, Evworth Charles, kept an eye on the students making sure they were safe.
"I really enjoyed showing and letting other students know what we do in class," Petersen said.
Dialma Sanes and Anyliah Fawkes, seniors in childcare at CTEC, told the junior high students about what they are learning in classes and careers in childcare. Tekia Smith demonstrated the proper way to safely bathe a baby using a baby doll.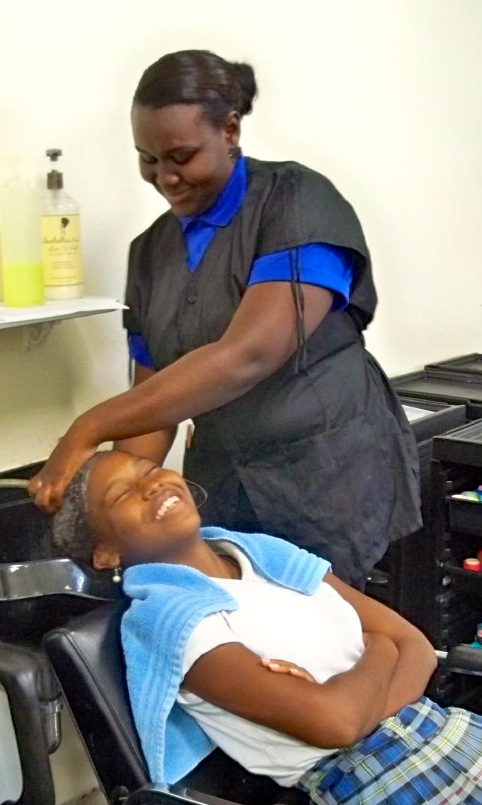 Tameya Garvey and Breyana Almestica, both in the eighth grade at Elena Christian Junior High School, said they enjoyed learning about what the students do in the cosmetology classes. They said they were excited because they had their nails polished and eyebrows shaved.
Hospitality and tourism instructor Elizabeth Beck gave the students a sampling of what's involved in hospitality from customer service to table etiquette.
Theresa Ponce from Island Networks told the students what her job entailed working with cruise ships doing excursions.
Anton Doos, instructor in the food management culinary class, didn't mince words about his class.
He told the attendees when his students walk through the door, in essence they are treated like real employees. He mentioned the work his students do for the Good To Chew catering program he has them involved in.
"I may yell at you and make you cry," Doos said, but "the second year you will become cooks."
He explained in the first year the students do very little cooking. He told them they have to clean stoves, wash dishes, clean floors and read textbooks.
Krystahl Gordon, a sophomore at St. Croix Educational Complex High School, said the instructors gave out a lot of useful information.
"It made me think about a career and what I want to do and what classes are available here at CTEC," Gordon said after visiting the nursing class.
Rainella Labadil, also a sophomore at Complex, said it was a fun experience to see all that is offered at CTEC.
"I really got to explore a lot of different career opportunities today," Labadil said.
On Friday around 500 students from Complex and Arthur A. Richards Junior High School attended the fair. Monday about 400 students from Elena Christian and John H. Woodson Junior High Schools and St. Croix Educational Complex attended.
Jo Murphy, coordinator for Career and Technical Education at CTEC, said the goal is to expose the students to all types of careers that they can begin to get credits and certification for at CTEC.
"The students are enjoying getting from their peers a taste of what the classes are like at the vocational side," Murphy said. She said the students were acting as recruiters.
Murphy said they will have a fair in April for St. Croix Central High School sophomores and students in ninth grade attending private schools.