Source publisher Shaun A. Pennington recently traveled to Cuba on a license obtained by the Nation magazine as part of a people-to-people delegation. This is the third in a series of articles that offer her first-hand cultural and educational experiences in the nearby Caribbean country.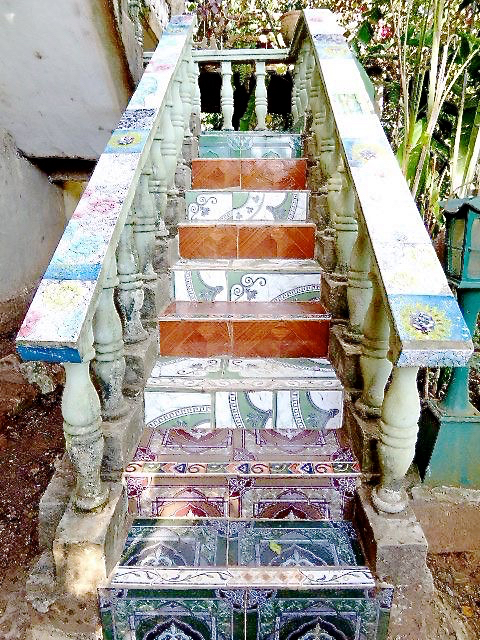 A week in Havana and a few outlying areas hardly qualifies me to make an assessment of Cuba's readiness for an influx of cruise ships and legal American tourists. And remember, they already have cruise ships and legal American tourists (and illegal ones) and have for years. But what follows is my observations and input from Cubans about what tourism is today and what increased tourism could look like.
First, it is unlikely in view of their history of self-sufficiency that Cubans are going to be pushed around by the cruise lines to create a bunch of faux attractions to satisfy the American need for constant amusement. Second, after surviving "the special period" which, among other things, taught Cubans to live without material things and to survive on what they could grow, it is also unlikely they will welcome with open arms American junk shops and fast food joints.
I did see a sign on an establishment out in the countryside that provided a giggle. It said "Comidas, Rapidas" – a little scary, but no golden arches yet.
Meanwhile, the Cuba I experienced offers a trail of cultural opportunities that match in their authenticity and excellence any place I have been. Dance, music and visual art surround the traveler who is truly interested in culture and history.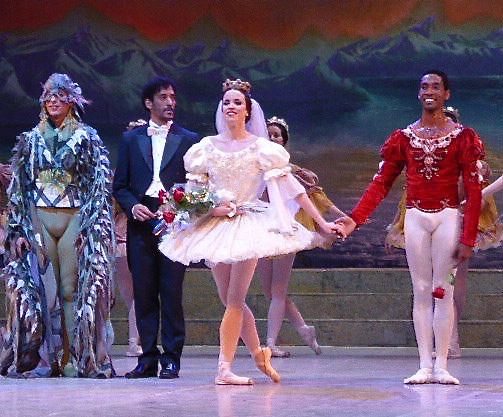 With the arts being an accepted part of the education curriculum in Cuba, there is no shortage of talent and drive and opportunity to excel in the arts. And that excellence is everywhere. (See video link below.)
On our first night in Cuba we attended a performance of Swan Lake at the National Ballet. As I am not usually found at the ballet, I can only judge that the dancing was perfection and the costumes lovely. The theater seemed to be populated mostly by Cubans and the admission seemed to be free or very low cost to them.
On our last day in Havana, we were fortunate to be guided through the National Museum of Cuban Art by Nelson Herrera, one of the curators of the 12th annual Havana Biennial. This year the art celebration will take place in May and June. The museum is the second largest in Latin America, second only to one in Mexico City, and it only holds art created by Cubans.
Sadly, we had only a short time to make our way through the massive collection that ranges from the 16th century to now, and were not allowed to take photos. I was touched in particular at the very end of the tour by a huge installation that took up an entire wall. It was a map of Cuba made entirely of boomerangs, suggesting the dilemma of diaspora.
During our week, we attended two other dance performances: one by a new, fast-rising Flamenco company, Compañia Irene Rodriguez. The other was at a school founded by Lizt Alfonso, one of Cuba's foremost dancer-choreographers. The accompanying video will offer far more of the experience than I can put into words. (See video link below.)
Along with many art museums, dance companies, and world renowned musicians, there are nine UNESCO World Heritage Sites in Cuba. We visited two of them: Old Havana and its Fortification, and Viñales Valley. In Old Havana we spent time in Plaza Viejas, Plaza San Franciso, which was hosting a huge art installation called United Buddy Bears at the time, and Castillo del Morro – the imposing fortress that guards the city.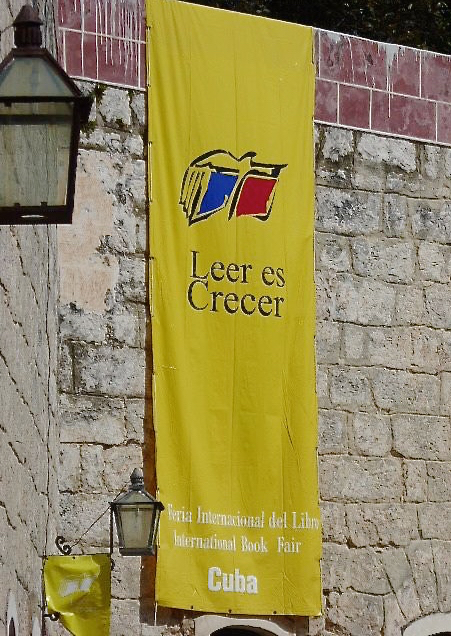 I also attended the Cuba International Book Fair, which was held at La Cabaña fortress, more like a walled city than a fortress. La Cabaña is also home to the office Che Guevara used in Havana.
It is worth reinforcing that there were two modern-day cultural events taking place on these hallowed grounds: The Cuban International Book Fair is one of the countries biggest annual cultural events. (Cuba has a 99.8 percent literacy rate – higher than the United States, Great Britain and by far the U.S. Virgin Islands.) Each year a particular country is highlighted. This year is was India. Though I only had an hour to peruse the vast grounds of La Cabaña and view a couple of events that were taking place, it was clear from the crowds that a whole lot of folks were interested in books.
Across the harbor in Old Havana, shiny plastic bear sculptures shared San Francisco square with an historic convent. The United Buddy Bears is an international organization that promotes world understanding while raising money for under-served children. Its main recipient, according to its website, is UNICEF. At one end of San Francisco square, which dates back to the 1600s, is a metal sculpture of St. Francis of Assisi. Close enough to be holding hands around the perimeter of the square were scores of colorful, adorable bears, each representative of a different country. On the three occasions we visited, or walked through the square that week, it was nearly impossible to get a full shot of the bears given the crowds filling the historic piazza to see the show. It is not possible to assess who were Cubans and who were visitors. But in at least two of the bears, the countries they represented were obvious. The American buddy bear is costumed as the Statue of Liberty, while Cuba's bear representative has a cigar in his mouth.
Who doesn't love a Buddy Bear? Cuba is full of things to love and wonder at.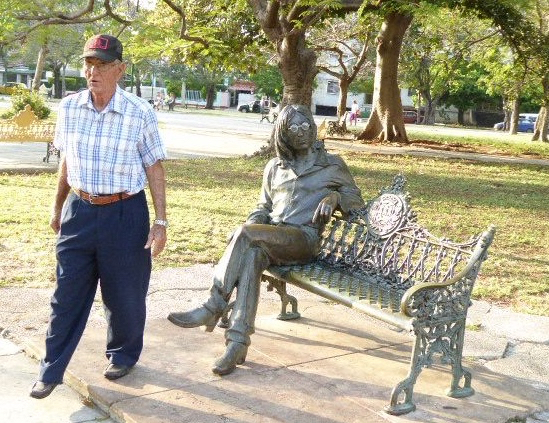 A quick story: I don't know what it means, but as we were walking from our tour bus through streets too small and torn up by construction to accommodate the bus going to the Madrigal Café for one of the several music concerts that had been arranged for us by our tour company, someone pointed out a metal sculpture of John Lennon sitting on a bench in a small park in the middle of what appeared to be a neighborhood of one-time colonial mansions.
As we changed direction to get closer to the sculpture, an older gentleman clearly on a mission suddenly appeared. He walked up to Lennon and very carefully placed a pair of eyeglasses on the sculpture which appeared to be designed to receive them, making the life-like Lennon complete. Just one of the mystifying moments that made me smile.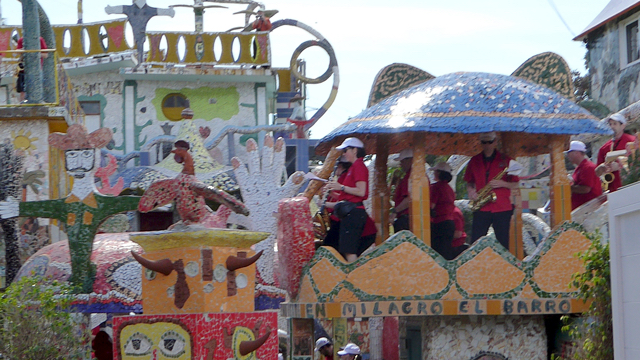 There were many. Whimsy is a word that comes to mind as you see the art both in and out of Havana. Each community appears to have its own art project. One of the most spectacular is found on Havana's western perimeter, where homes in several city blocks are covered in murals, mosaics and varying types of plastic art that flow forth from the home of artist José Rodríguez Fuster. As you approach the village of Jaimanitas, you know you are entering a world that defies explanation or description. More than 80 homes in the area are decorated with Fuster designs made from tiles and glass and who-knows-what materials creating a phantasmagorical land of magical images that can only make you wonder. Fuster, an internationally recognized artist who has been rightfully compared to Goudi, uses the money he raises by selling his art to pay for the community project.
In central Havana, near the university on a street called Callejón de Hamel, an Afro-Cuban sculptor Salvador Gonzáles Escalona has created yet another land of art and dance and culture. In the narrow area between his studio, where children have a chance to create their own art, Santeria dancers perform for tourists. Murals and sculptures made from found objects line the street.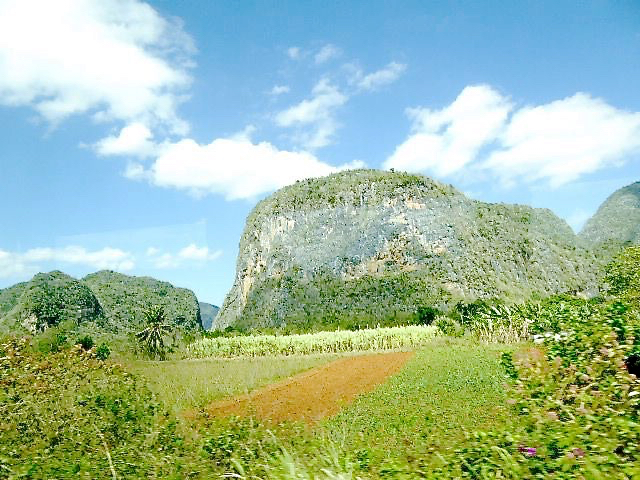 Farther afield in a small country town in Viñales Valley, Mario Pelegrin has created his own magic kingdom in what appears to be his backyard. "El Patio de Pelegrín," is flush with art, nature, music, dance and even an organic garden.
Young people find space on the back porch of his home to draw and paint. They share the space with a large, tame chicken hawk. Music drifts up the stairs from a stage below where dancers of certain age perform.
All of these community projects have been decades in the making, which prompts the question: who were they created for? Given the dearth of a massive tourism product back then, maybe for each other, or for the sheer joy of creation.
But there is tourism for sure, and it is expanding across the country. In the nearby town of Viñales, about 80 percent of the houses are in use as Casas Particulares, Cuba's version of a B&B. An upside down blue anchor on the front of homes is the universal sign that it is a state sanctioned lodging. And in the area we saw bicyclists who by their spandex and helmets were easily identified as tourists.
The country seems to be moving in fits and starts toward the expansion of the world's largest economic driver: Tourism.
While Cubans see it coming and it seems inevitable, many express grave concerns.
"Things are going to be better," says urban planner and architect Miguel Coyula in a morning-long meeting we had with him, "but more complicated."
He says Cuba of the moment is "unprepared" to receive the wolves at the door.
He feels that the "reopening," as many call the recent baby steps toward a new diplomatic relationship between Cuba and American, is going to have to be delicately managed.
Among other concerns that include the Mob reentering and business interests derailing social programs, Coyula begs that urban re-development, particularly in the capitol, but done with the greatest of care.
As he holds up an image of Singapore, with its steely skyscrapers obliterating the horizon, he implores, "We must do everything we can to preserve Havana as a Cuban city."
I would add, and to preserve Cuba as a culture-driven country.