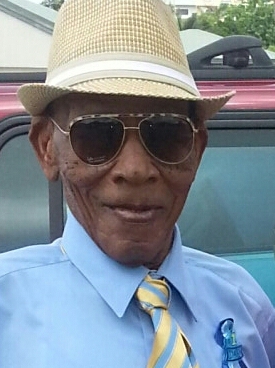 John James Hector died on March 4.
He is survived by his daughters: Robin Hector (St. Croix), Cherrilyn Hector(N.Y.) and Carlene Hector; sons: Errol and Olsen Hector (Antigua), Cherridy and Jeffrey Hector (Texas); daughter-in-law, Chavonne Hector; and grandchildren: Kellisha "Kizzy" Livingston (Texas), Jaylen Jett, Cameron, Je'khi and Cherron Hector (Texas), Kareem, Jamalie, Abdul and Jamel Stanley, Anthony and Keenan Hector (N.Y.), Laver Kelly, Claudette Simon, Gawain, Zerlina, Kenroy, Luton, Aquera, Keshorne, Lerkisha, Desonee and Ozelle Hector, Terry and Alvin.
He is also survived by great-grandchildren: Kennisha Kelly, Kazendi Simon, Kadahlia Simon, Jhalique Hector and Calique Bryan; nieces and nephews: too numerous to mention; ex-wife, Genevieve Hector; special friends: John Davoren, Miriam Joseph and Blondell Revian; as well as other relatives and friends too numerous to mention.
A viewing will take place at 9 a.m. followed by a funeral service at 10 a.m. on Thursday, March 19, at St. Peter's Episcopal Church, Sion Farm. Interment will be at Kingshill Cemetery.
Arrangements are entrusted to Divine Funeral Services LLC. We own and operate our own crematory. Let us offer you a Dignified Funeral, affordable by all. Tel: 773-0003/fax: 773-3003.