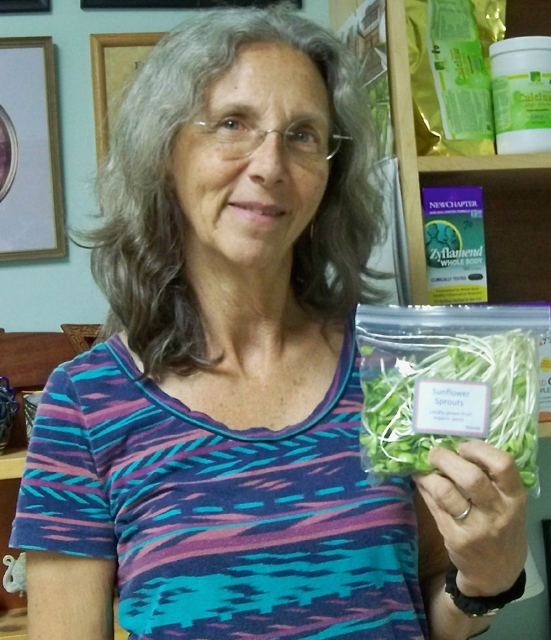 Rhonda Pessin, certified nutrition consultant, works with people to create individualized dietary plans. Right off the bat Pessin wants folks to know that clients aren't just handed a strict diet.
"At Alive and Well we co-create together a dietary plan doable for you," Pessin said. "I want people to walk out of here a success."
First she asks new clients why they want a nutritional consultation and what their goals are. She offers a complimentary10-minute phone consultation.
She explains general complaints like fatigue, gas and bloating, headaches, joint aches and depression may be caused by a poorly functioning digestive system.
"You are what you digest," Pessin said with a wide smile. "Gas is from undigested food."
She believes the gut, the core of the body, is where people heal.
She said she does a nutritional assessment and people keep a diet journal, making note of how they feel after eating certain foods. And she looks at the whole lifestyle, asking about alcohol consumption and exercise.
Pessin, who is very pleasant and outgoing, said folks generally start a plan by cleaning up their diet.
She explained eliminating sugar-laden sodas and replacing them with iced tea is one way to clean up a diet. She said adding more fresh fruits and vegetables is essential and can be easy enough.
People say they don't eat a lot of fresh food because it's costly and time consuming to prepare Pessin said.
"A bag of potato chips is $6," Pessin said. "A bunch of broccoli is less than that. It's about making the choice to eat real food. You make it a priority to afford it."
She suggests to people that they prepare enough food when they have time, and freeze it. A lot of vegetables are already chopped up and washed ready to eat she added.
There are a lot of good, farm fresh vegetable markets and farm stands on St. Croix according to Pessin.
"I think the farmers are doing a great job here. There's a lot of good local meat and farms that have organic and hormone-free food. Eating local food should be a high priority since they aren't sprayed with chemicals to preserve them," Pessin added.
"The dietary plan really comes from the client," Pessin said. "I just make suggestions and teach self awareness. I could go on for hours about how to eat healthy food that tastes good. People are amazed when their plan works and they start to feel better."
Originally from New York City, Pessin moved to St. Croix in 1978.
"I vacationed here and fell in love with it," Pessin said. "I thought I'd spend just a couple years here."
Pessin owned and operated the island's first health food store and brought the first tofu to St. Croix in the early 1980s. She was a co-owner of Princess Market.
Pessin grew alfalfa sprouts in the past and now grows sunflower sprouts, selling them at Quality Market. The sprouts have a lot more substance to them than alfalfa and a nice crispness.
"The sprouts are selling like crazy," she said.
A licensed massage therapist and certified yoga teacher Pessin has been involved in holistic health for more than 25 years. She graduated from Bauman College of Nutrition and Culinary Arts in Penngrove, Ca.
Pessin also works as a nutritionist for Seaview Home Health Care, setting up dietary plans for patients recently discharged from the hospital or under doctors recommendations.
Pessin's private practice is located in Five Corners at the Paint Locker Building, next to St. Croix Rescue, where she has been for the past seven years. Those interested can find out more about Alive and Well online at www.aliveandwellstcroix.com or by calling Pessin at 1-340-718-5547 or 1-340-277-4006.