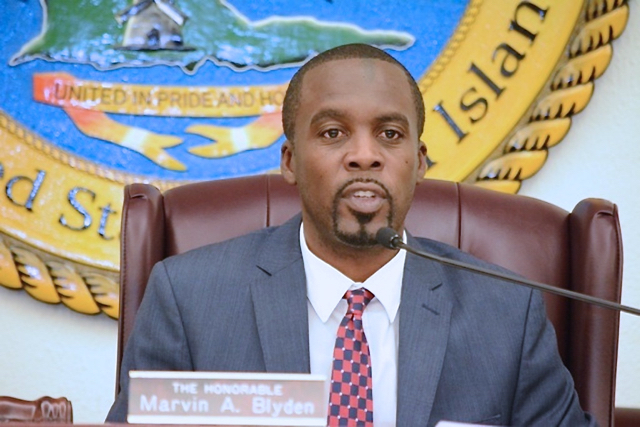 A new pilot program renting apartments for chronically homeless has potential to reduce the V.I. social and government budgetary costs of homelessness, if it can be kept up and expanded, Michael Akin told a Senate committee Wednesday.
Akin, the executive director of Catholic Charities of the Virgin Islands, said the essential premise of the charity's new "Home at Last" program is that it costs fewer taxpayer dollars to give the chronic homeless longterm housing than to leave them on the street and pay for police, prisons and hospital emergency rooms to deal with them. Akin was testifying before the Housing, Public Works and Waste Management Committee.
Having a population living on the street is very expensive because the homeless use vastly more public resources. Police have to respond again and again for the same individuals for public intoxication, minor crimes and incidents arising from mental health issues – all costing man hours of time.
The plan for the program came out of a 2010 conference by the V.I. Interagency Council on the Homeless, where they heard about this approach and saw the data showing that it can be much cheaper to pay rent on an apartment than to pay the costs of periodic incarceration, emergency room visits and so forth. (See Related Links below)
Catholic Charities put together the plan in 2011 and was awarded a $950,000 federal grant in September 2014, Akin said. They spent a portion of the grant on salaries for specialists to help provide assessments and support services once the person is housed. Catholic Charities locates one-bedroom homes at scattered sites.
The pilot program is on St. Thomas and St. John, and if it continues to be successful, organizers hope to expand to St. Croix, Akin said.
Since October 2014, Catholic Charities has placed 15 people in rental apartments, and has a goal of 40 by the end of the grant period, he said. Finding one-bedroom and efficiency apartments has been a hurdle, but it is going well, he said.
"We are trying to focus on the most obvious and serious chronic homeless. By doing that we are hoping to show some success and get some buy-in from local businesses," he said.
Homelessness "presents some nightmares for first responders," residents and businesses, said Sen. Novelle Francis, a former V.I. police commissioner and career VIPD officer.
"I think it is a catch-22," said Sen. Marvin Blyden, the committee chair, saying mental illness and behavior problems make it difficult to house some, making it difficult to get them treatment to help their behavioral obstacles.
"In the Virgin Islands we have less resources available to us to deal with homelessness," Akin said. "For instance, in most housing support programs the first step is to provide some sort of income to offset the cost of housing. Stateside that would most often be SSI (Supplemental Security Income) but as you know that is not available to us," he said.
The committee also heard from V.I. Housing Authority and V.I. Housing Finance Authority officials on the status of their ongoing capital projects and programs.
No votes were taken at the information-gathering hearing.