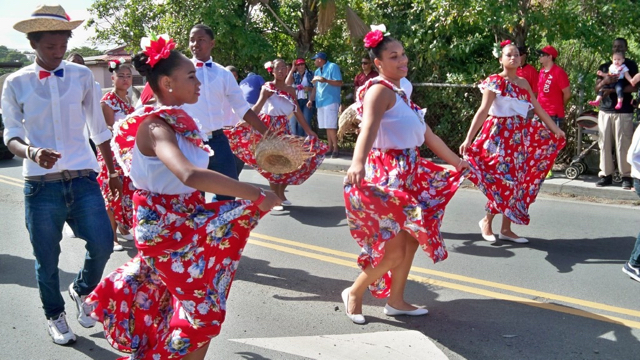 Visitors and locals were treated to traditional music and dance and free Presidente beer Sunday afternoon as King Street in Christiansted became parade central.
Virgin Islanders with roots in the Dominican Republic held their sixth annual Virgin Islands parade celebrating that country's 172th anniversary of its independence.
The parade ended at a grandstand set up at D.C. Canegata Park, but the party did not. A mini village of booths offered the thousands who followed the parade there, just about any food or drink delight they could desire.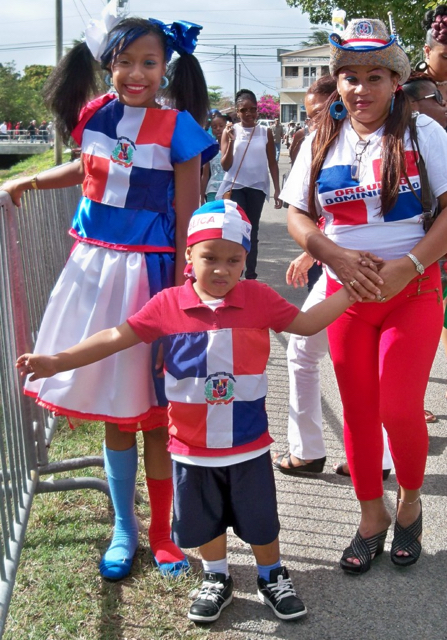 The number of entrants might have been half of the number registered in the previous parade, but enthusiasm was not. It appeared that almost every youngster and oldster had flags of Santo Domingo, with its red and blue squares and white cross with a coat of arms in the center. The traditional colors were carried through in many of the costumes.
The troupe called the "Ballet Folklorico Dominicano" danced and twirled in their red, white and blue flowered outfits, emulating those that were covered in sparkling sequins.
For those interested in machines instead of music and dancing, 16 shiny Jeeps decorated with Dominican flags revved their engines and kept the parade route alive with the blaring of their horns. The St. Croix Jeep Club was helped in that effort by more than a dozen motorcyclists.
Several bars and restaurants also participated in the parade and handed out a few free Presidentes.
Presidente, a major sponsor of the parade, is an iconic Dominican beer brewed in several breweries in the country. It was first produced in 1935 and named in honor of then-Dominican president Rafael Leonidas Trujillo.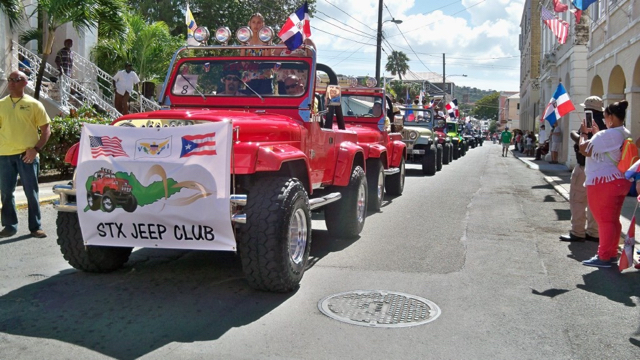 Juan Carlos, a young man wearing a Kelly green Presidente T-shirt, said he enjoyed the parade.
"It was a great parade," Carlos said "Yea mahn we're having fun celebrating Independence Day."
Ronald Person, a former resident now living in San Francisco, said the parade was very nice.
"And it was nice to see the people enjoying themselves. I enjoyed myself," he said with a wide smile.
The music blasting from the mini village drifted up into the hills around town until late into the evening.