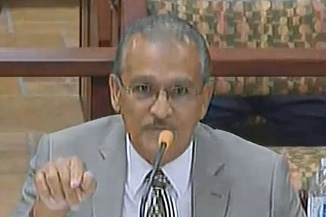 The territory's parks and sports facilities need more funding for maintenance and the Frederiksted swimming pool at the Vincent F. Mason Coral Resort has to be replaced, acting Sports, Parks and Recreation Commissioner Pedro Cruz told the Rules and Judiciary Committee on Thursday.
The committee voted to send the nominations of Cruz and acting Police Commissioner Delroy Richards on for approval by the full Senate.
Cruz said, "We need to increase funding and staffing for maintenance of parks and recreation facilities. Public recreation provides economic, social, cultural and physiological benefits for all citizens."
The department "is in dire need for an electrician, a plumber and a mechanic for light machinery," he said. They also need a plan designer, an architect, lifeguards, groundskeepers, sports coordinators and recreational leaders, "particularly in St. John, where we have no sports leader," he said.
Cruz outlined the Sports Parks and Recreation Department's plans and hopes for improvements and renovations to several of the territory's facilities, from an electrical problem at St. Thomas' Lionel Richards ballpark to lighting repairs at St. Croix's D.C. Canegata ballpark.
But the pool in Frederiksted is beyond normal repair and needs to be replaced, he said. No cost estimates have been worked up yet.
Meanwhile, some projects that were funded in budget appropriations are being postponed due to lack of money in the treasury. This has delayed work on St. John's Oppenheimer beach restrooms, he sad. "I was told that there are no funds for this project. This beautiful facility is deteriorating due to lack of maintenance," he said.
Cruz worked as a manager for Glidden on St. Croix for more than 30 years. He was mid-island administrator under Gov. Roy Schneider. From 1967 to 1973 he was a local jockey. Later he studied business administration at the then-College of the Virgin Islands and began working at Glidden.
He has been active in St. Croix sports organizations since the age of 15 and advocated tirelessly, and successfully, for the construction of new sports facilities on St. Croix. He ran for Senate in 2010 and 2012.
Along with the funding needs shared by most V.I. agencies, the V.I. Police Department is losing officers at an "alarmingly high rate," Richards told the committee when his turn came to testify.
"Newly hired officers who leave are employed by other law enforcement agencies in the territory, while the departure of others are attributed to a new matrix, which according to many appears to be very restrictive, and the low entry salary as compared to the starting salaries in other jurisdictions," he said.
Retirement can thin the ranks too, he said. "In 2015, 50 officers and supervisors will be eligible to retire in the St. Thomas/St. John district, while on St. Croix we have 69 eligible officers and supervisors," he said.
Within the next several months they should begin training a new class of recruits on St. Croix. On St. Thomas they have not been as successful recruiting and there is no class scheduled yet, he said.
He proposed retention bonuses for veteran officers and bonuses to "any government employee who assists the Police Department in the recruitment and hiring of new police officers."
"We must establish a stable recruitment budget at the beginning of each fiscal year," he said.
Richards worked for the Police Department from 1974 to 1995, serving as St. Croix deputy chief, St. Croix chief and territorial chief of police.
He ended that career as special assistant to the police commissioner. Since 1998 to present time, Richards has worked in private investigation and security.
Both candidates were approved without opposition.
Committee members present were the committee chairman, Sen. Kenneth Gittens, Sens. Neville James, Janette Millin Young, Novelle Francis Jr., Jean Ford, Justin Harrigan Sr., and Nereida "Nellie" Rivera-O'Reilly. Other senators present were Sens. Almando "Rocky" Liburd, Terrence "Positive" Nelson, Sammuel Sanes and Myron Jackson.