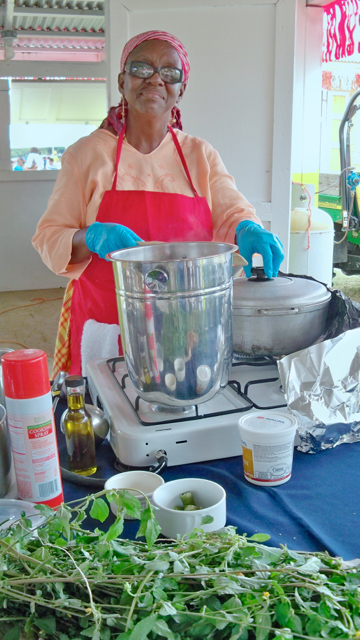 Crucian Natalie Ballantine, concerned that the art of 'turning fungi' will be lost, shares her technique to make the dumpling from cornmeal for kallaloo.
She recently demonstrated making fungi and gave samples of her tasty kallaloo at the Agriculture Fair.
"I fear one day there won't be too many left who know how to make fungi," Ballantine said. "I want to try to keep it going. There aren't a lot of young people who make fungi. I hope it continues."
Ballantine believes people are eating more fast food and packaged food rather than the traditional dishes.
Her kallaloo stock is made with fish, conch, pig's feet, and crabs. Some of the local herbs she puts in are rare, she said, such as the bata-bata and bower. She uses kallaloo bush, pusley and white Mary herbs, plus okra and spinach. Salty meats give a distinct flavor to the soup, she said.
During cooking fungi is being turned over with a large wooden spoon or paddle.
Ballantine said she learned the traditional cooking techniques and recipes from her mother, Ilma Ballantine.
She explained she learned to cook at an early age, because her parents were busy running a little mom and pop store out of their home. This was the 1960s, so the cooking chore was up to her, since she was the oldest girl in the family of nine.
She's still in the kitchen cooking for large groups of people.
She said the kitchen is where she's comfortable and wants to be. She owns and operates a catering business with her daughter Rhea Stevens.
Ballantine loves to cook anything and everything for weddings, showers, parties, government affairs, cocktail parties, and other celebrations.
"I can't cook for just one or two," Ballantine said. "I don't have a problem cooking for up to 150. Sometimes I'm up at 3 a.m. cooking."
"She makes some 'bangin' fish and delicious stewed goat," Stevens said. "I don't care for fish, but hers is the best."
Ballantine generally does the cooking by herself and Stevens does the delivery and presentation. The women agreed they work well together.
She got into the food industry in 1996 when she owned and operated the Sea Top restaurant at St. Croix by the Sea condominiums. An executive chef she hired showed her a lot of tips and techniques in the kitchen.
The mother and daughter team also do a brisk business filling baskets at Any Thing in a Basket, located in Estate Slob on Glynn Road, where they have been located for seven years.
Stevens customizes baskets for all occasions and will try to fill special requests. Ballantine, giggling, showed the Source the adult novelty room where customers may select all sorts of sex toys and accessories for baskets, gifts, or party favors.
Ballantine said with a wide smile she is a 'junior-senior' in her early sixties. She was born and raised on St. Croix and graduated from St. Croix Central High School. She went to Berkley Clairmont secretarial school in New York City.
"I didn't like New York at all and always knew I wanted to live on St. Croix," Ballantine said. "Every opportunity I had I came home."
Following graduation she got a job as a secretary/office manager at Hess Oil. After seven years at Hess she went into the concrete business with her ex-husband. In1996 she went into business for herself.
In her spare time she enjoys gardening and growing produce for her cooking. She loves animals and enjoys spending time with her four dogs. She is also very active in Kingshill Lutheran Church.
For the past five Thanksgivings she's roasted 14 turkeys that she donates to Catholic Charities for Thanksgiving dinner at their soup kitchen in Christiansted.
"I've been blessed and I'm very grateful for what I have and where I'm at in this point in life," Ballantine said.
More information on Any Thing in a Basket Catering Services is available by calling 1-340-778-8114.