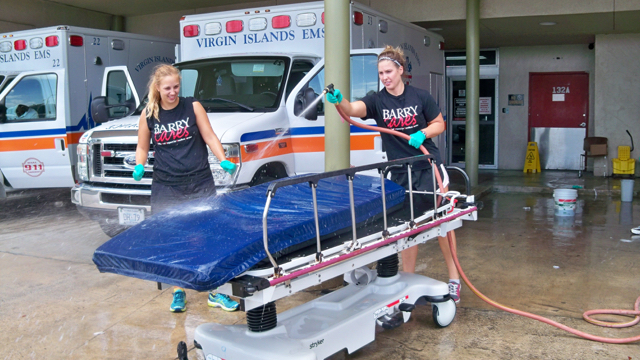 A handful of volunteers were out Saturday morning sprucing up the entire area around the emergency room entrance at Gov. Juan F. Luis Hospital.
The volunteers deep cleaned stretchers, wheelchairs, IV poles, waiting room chairs, and power-washed walls outside. The curbs were painted blue in the handicapped parking section and yellow elsewhere. Trim and details on the walls were painted a shade of sage green.
Francis Clouden, Clinical Care coordinator and event organizer, said it was just the beginning of what they need to do.
"This will be ongoing," Clouden said. "We put this together quickly. We hope to bring the community together and that more will come out for the next clean-up."
The volunteers, mostly hospital employees, gave four hours of their time. Karim Michael, Emmanuel Augustin, Isaac Martinez, and Bernhardt Simmonds from the maintenance department, power-washed and painted walls, curbs, and trim. The paint was supplied by maintenance.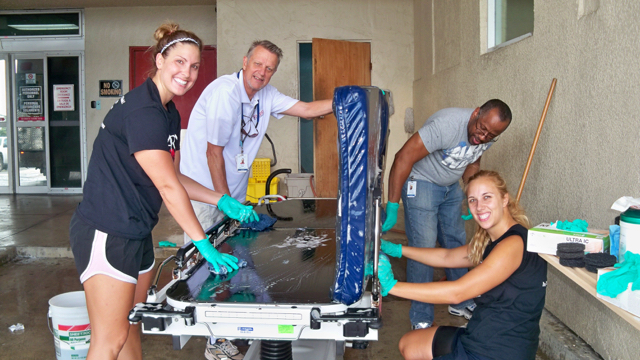 "It feels good to help out," Michael said. "This makes a nice environment for the employees and patients."
"We're proud to be JFL employees and we're going to wear our pride on the outside," Clouden said. "There are good things happening here and good people that work here."
Emmett Hansen, chief of Strategic Management and Communications, said the guys from maintenance are always moving and busting their humps.
"These guys always volunteer," Hansen said, "How great is that? And they're having a ball."
A small group of faculty and physician's assistant students from Barry University came out and hand washed emergency room equipment.
Chelsea Nagle, first-year Barry student, said she was helping today as a way to contribute to the community.
"It's important for me to help out in a medical setting," Nagle said.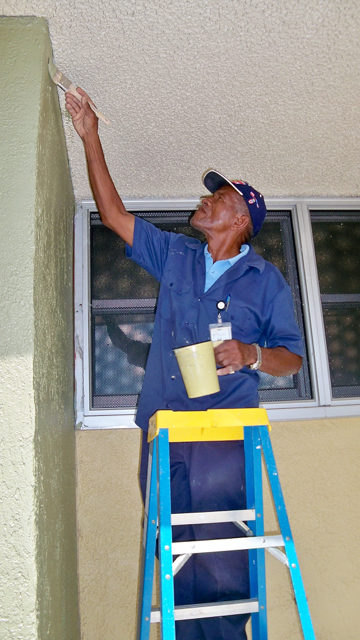 And Drea Blaine, also a first-year student at Barry, said since Barry is still new to the island it's important to make connections and integrate into the community.
Barry faculty member Mike Funk said the students study medicine and believe in helping other people.
"When given the opportunity they always like to help,' Funk said.
Anthony Kiture, a member of the Barry staff, said it's always a pleasure to give back to the community.
"It's our hospital," he said. "Who else will take care of it?"
Hansen, while he painted a curb, said it was a small project today, but they had to start somewhere.
"If folks don't have the financial means to donate they can come and give two hours of their time," Hansen said. He said they plan to hold cleanups the third Saturday of every month.
Plans include planting more shade trees and ornamental plants, and improving the common areas.
"We'll be doing all of this according to a plan," Hansen said, adding that he has some fragrant blooming neem trees he would like to plant.
"We hope people make a point of coming out and share in the love," Hansen said.
Service organizations and individuals can join the clean-up. Information about the next cleanup and how to donate your time, material or plants can call Hansen at 1-340-778-6311, ext. 3112.