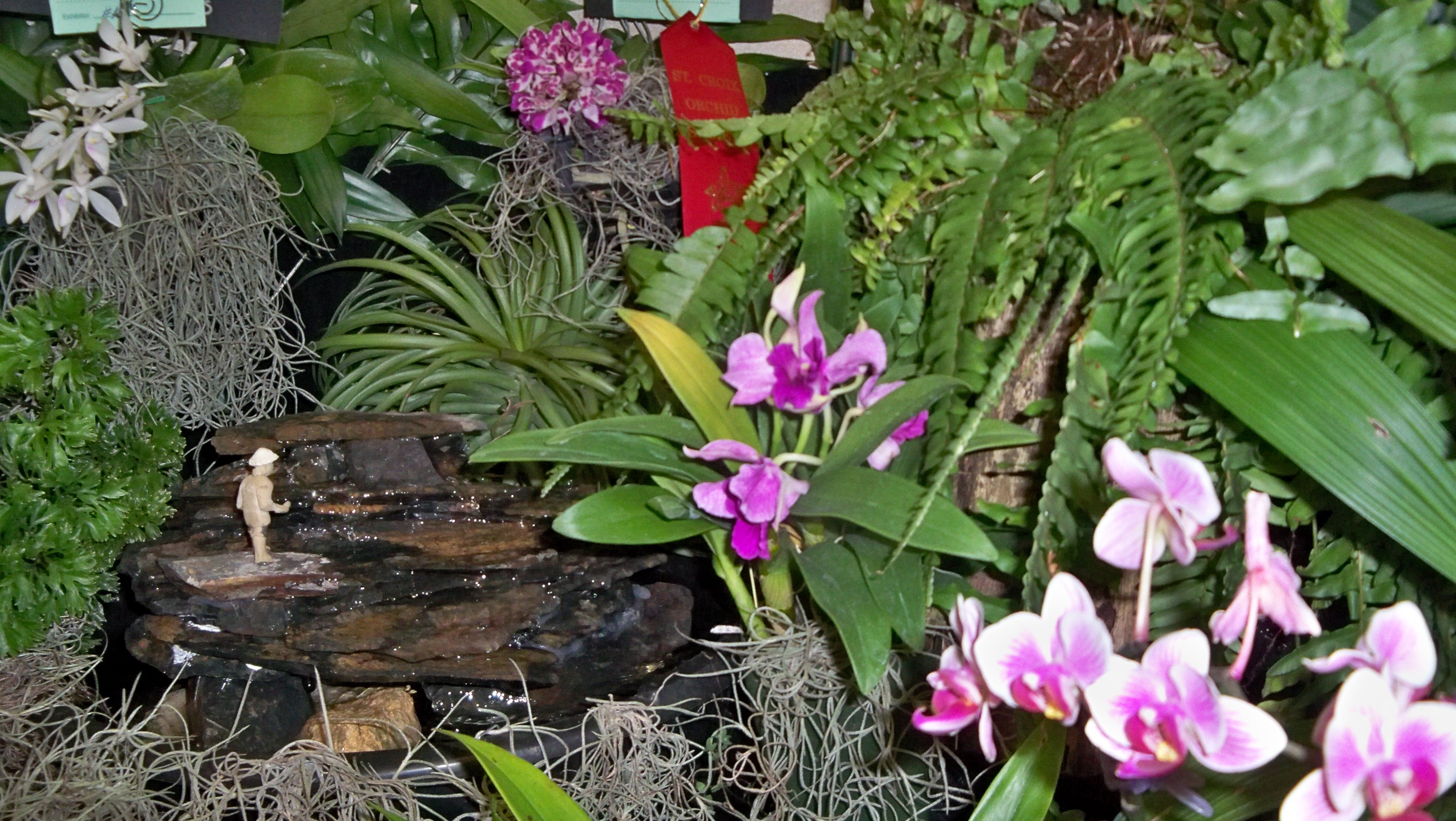 The variegated petals of orchids in pinks, purples and peach brings out passion in growers. Some of the most passionate St. Croix growers and collectors have hundreds of plants.
The orchid growers in the St. Croix Orchid Society are sharing their passion and love for the gorgeous blooms by hosting the 44th Annual Orchid Show and Plant Sale through Sunday. The show in the Great Hall at the University of the Virgin Islands is appropriately named "Orchid Passion."
Joyce Richardson, winner of the Grand Champion, said she greets and talks to her plants. The orchid plant that won her the top prize apparently had a lot of passionate love because the plant was more than five feet tall with hundreds of flawless pale orchid and white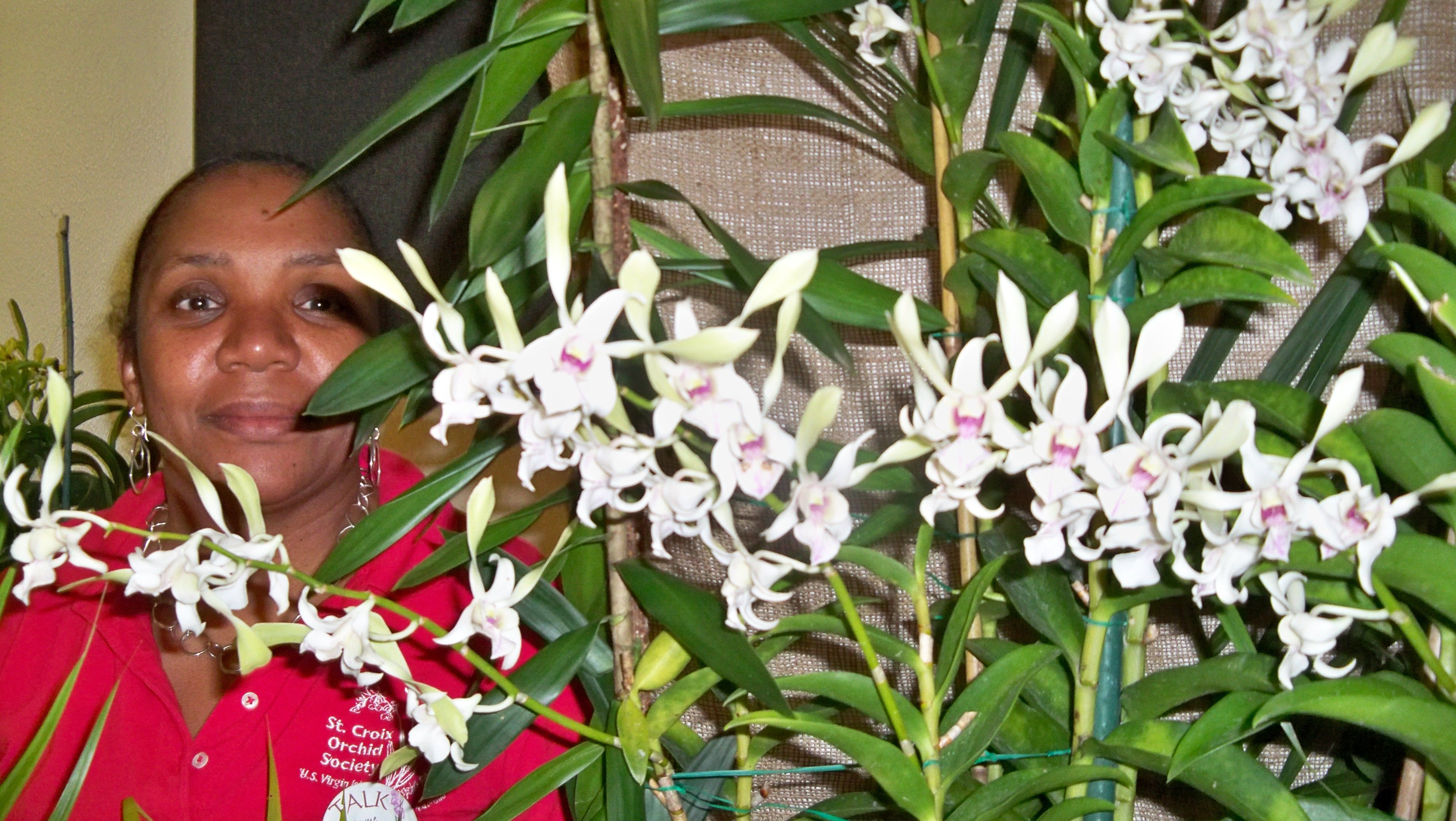 blooms. She named the plant "All Eyes on Me."
"Dendrobium orchids are my passion," Richardson said. "They are so soothing to look at after a stressful day at work. They are there to greet me."
Linda Meltzer, an orchid enthusiast from San Antonio, Tex., said she saw orchids in the show that she has never seen in the states.
"I'm amazed at the quality and the number of gorgeous orchids," Meltzer said. "I loved the show."
The Great Hall is filled with fabulous displays of all types of gorgeous colored orchids and beautiful greenery.
On display are huge white and purple cattleyas, tiny yellow and maroon oncidiums, along with green and yellow cymbidiums. Shinny, odd-shaped paphiopedilum, also known as slipper orchids, also are featured. Full sprays and spikes of dendrobium and phalaenopsis in all shades of pink, purple, yellow and white are also on display.
Edna Hamilton, the president of the St. Croix Orchid Society, said they have around 300 plants in the show. She added more than a dozen members set up orchid displays.
"We are truly passionate about our orchids," Hamilton said. "I'm actually obsessed."
Laurie Thomas-Jacobs, a society member, said she is way beyond passion with her love of orchids.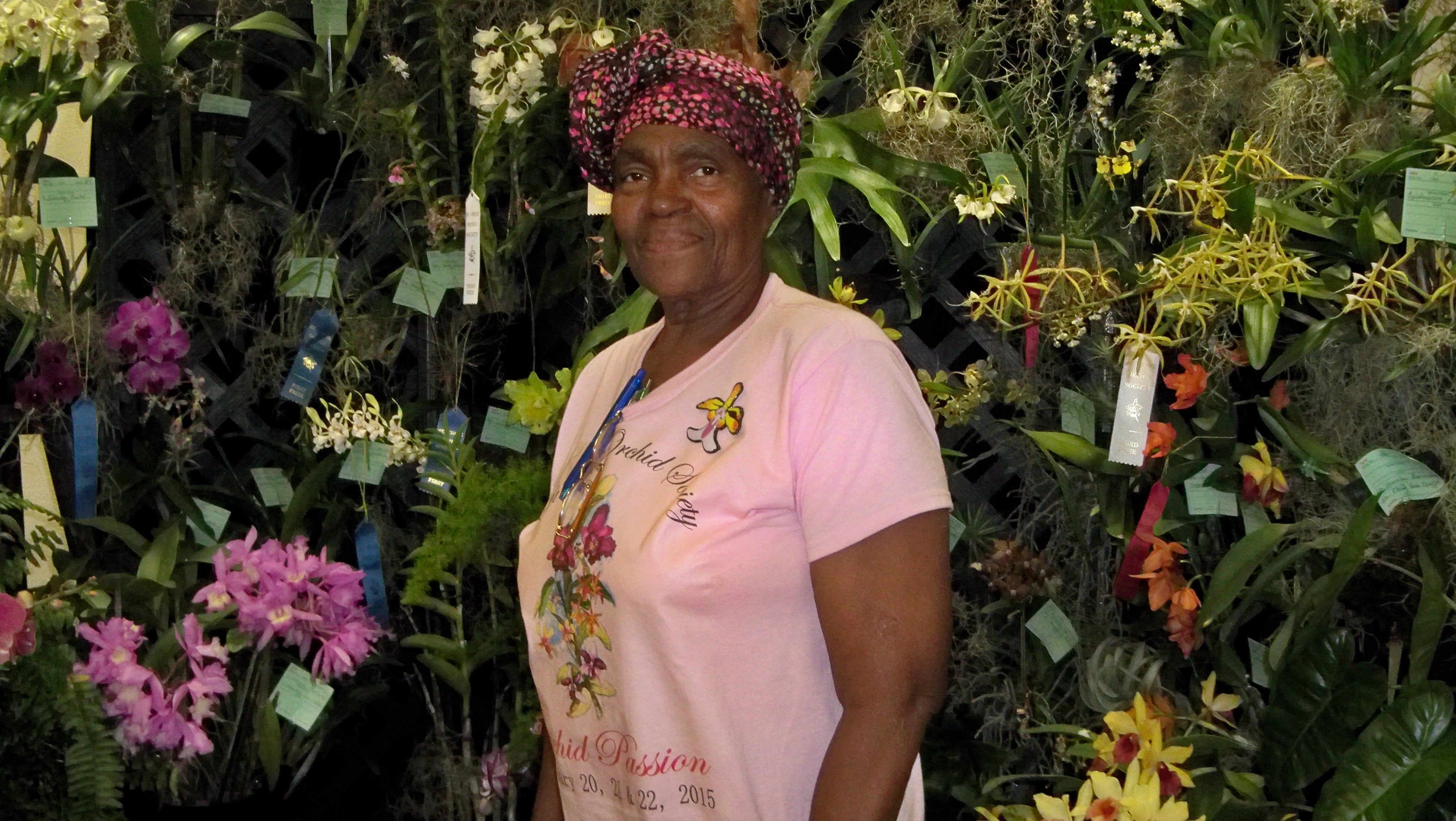 Pearline Claxton, who has been in the society for about 20 years, said she has more than 400 orchids. She got first place in the 25 square foot hobbies class for her display called "Passionate Pursuit."
"The first thing I say to them in the morning is 'hello my loves,'" Claxton said. "I believe talking to them helps them grow."
Jose Fernandez, an American Orchid Society student judge from Puerto Rico, said he considers the show one of the best shows he has been to.
"There are so many pretty plants here it's hard judging," Fernandez added.
There are workshops offered Saturday and Sunday.
At 10 a.m. Saturday, Carlos Fighetti, a judge from the American Orchid Society and Puerto Rico Orchid Society, will present a workshop on understanding the phalaenopsis orchid. There is a fee to attend Fighetti's workshop. At 2 p.m. Saturday there will be a workshop on how to mount orchids. There will be a re-potting demonstration at 10 a.m. Sunday.
There is a coloring contest for children and they each get an orchid activity book.
Original paintings of orchids donated by local artists, Leslie Rickenbach and Elizabeth Keith are being raffled.
There are three vendors from Pureto Rico selling orchid plants that are tiny slips, that will take years to bloom, and large hanging plants in full bloom.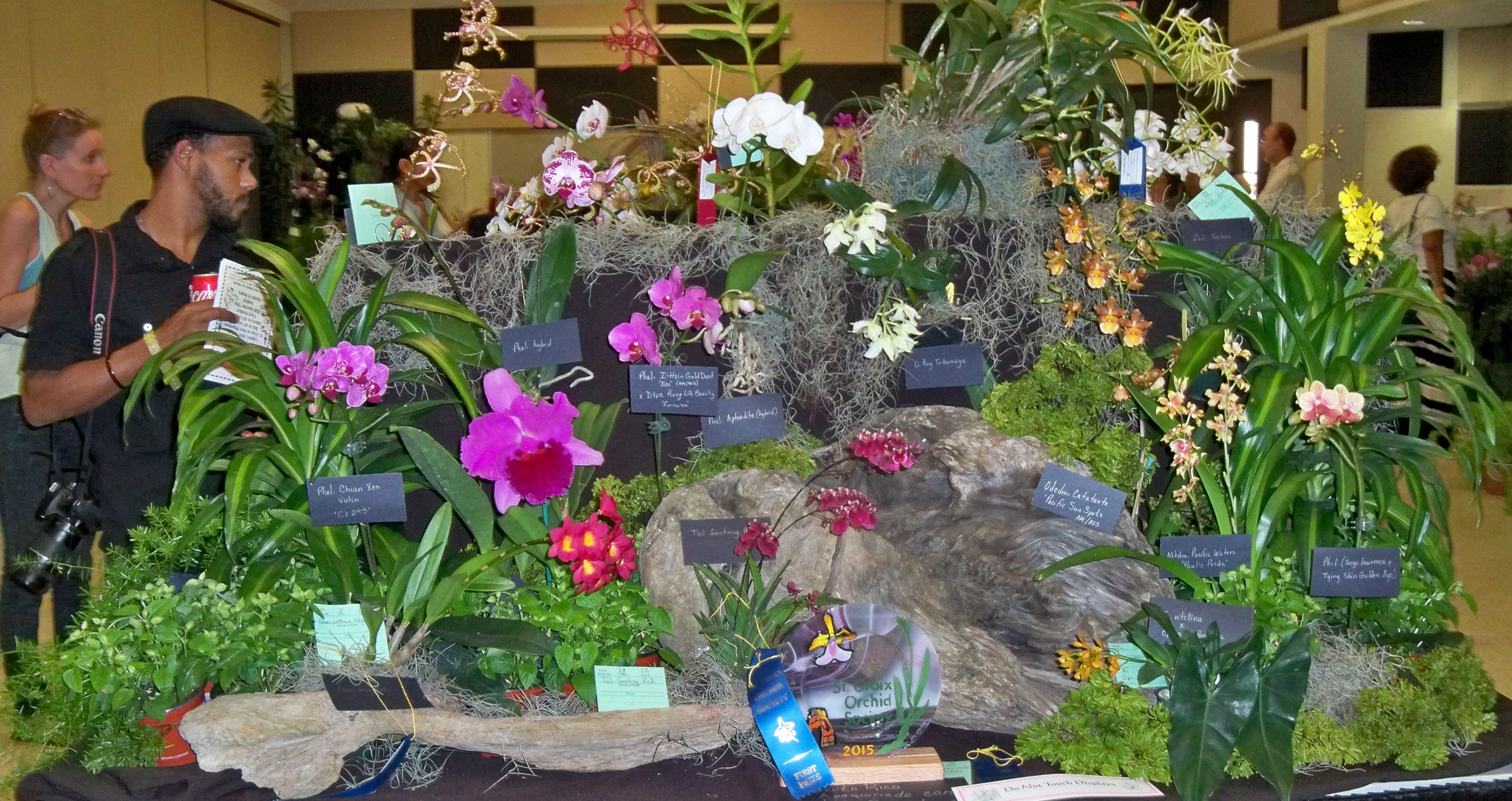 The mission of the Orchid Society is to acquire and disseminate the knowledge or the culture of orchids, both native and hybrid, and to exhibit orchids at least once a year to the public to promote interest in this hobby and preserve native plants. The show is also held to attract new members to the society.
Hamilton said growing orchids is something people of all ages can do. For more information about joining the society, call Hamilton at 340-514-5349.
"There's still time to come in and view the show and feel the passion," Hamilton said.
The show of gorgeous blooms continues from 9 a.m. to 5 p.m. Saturday and 9 a.m. to 3 p.m. Sunday. Tickets for the show are $5 for adults and children under 12 are free.
Major sponsors of the show include the University of the Virgin Islands Cooperative Extension Service, Clinical Laboratory, Anything in a Basket Catering Services, A Better Copy and Kimberly Orchids.