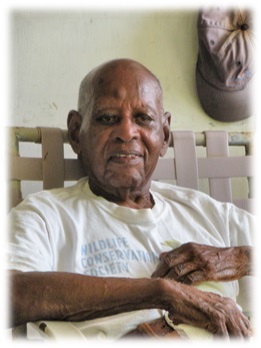 Rudolph Leonardo Adams, also known as "Buck," of Estate La Grande Princess, Christiansted, died on Feb. 12. He was 94 years old.
He was preceded in death by his wife, Beryl Adams; mother, Vivian Thompson; father, Alpheus Adams; grandparents: Waldemar Thompson, Joseph Adams, Rosamond Adams and Ancilla Harrigan
He is survived by his daughters: Gloria Adams Marcus, Rita Adams Reid, Mazel Adams and May Adams Cornwall; sons: Frank Adams, Roy Adams, Roger Adams and Brian Adams; grandchildren: Stacey Johannes, Hermina Marcus, Sharon Reed, Andrea Bush, Herman "Rudy" Marcus, Emery Adams, Latisha Thomas, Candace and Oriel Cornwall, Ray, Jeanette, Michael and Frank Adams Jr., Theresa and Frank Greaux; and great-grandchildren: Stephanie Reed, Anastasia and Herman Marcus, Jaheem Sealey, Zareyah Joseph, Tishylah Adams, Yadayyah and Yahsenah Leo.
He is also survived by sisters: Adelia Norman and Florina Barnes; nieces: Joycelyn Adams, Eva Felix, Louise Lamb, Ellen and Claudette Schuster, Irma Green, Emlyn and Ada Adams, Denise Dyer, Robin Turnbull, Bernice Adams, Michelle Rivera, Yvonne Adams, Mellonie Smith, Corine Barnes, Anna and Jacqueline Gordon; nephews: Ejnar Adams Jr., Albert, Rexford, Franklyn Sr., Henry and Allan Schuster, Kevin Adams, Gary Norman, Bruce and Valmy Adams, Arnold Barnes Jr. and Vincent Gordon Jr.; 14 great nieces; 26 great nephews; and son-in-law, Herman Marcus.
Other survivors include brother-in-law, Arnold Barnes Sr.; sisters-in-law: Illma and Florence Adams; special friends: Charles Smith, Marceline Steele, Bobby MacKay and Delano King; as well as cousins and other relatives: Gladys and Harry Thompson, Rubio Esannason, Angel "Compai" Encarnacion, Prince Galloway, the Thompson, Harrigan, Tutein, Gerard, Solomon, Jackson, Petersen, Hansen, Simmonds, Howell, Canton and Roebuck families.
The family requests that in lieu of flowers donations are to be made to Virgin Islands Future Farmers of America Association Inc., P.O. Box 4353, Kingshill, V.I. 00851
A viewing will take place at 9 a.m. and a funeral service at 10 a.m. on Tuesday, Feb. 24, at Beeston Hill Wesleyan Holiness Church. Interment will follow at Christiansted Cemetery.
All arrangements are by James Memorial Funeral Home Inc.