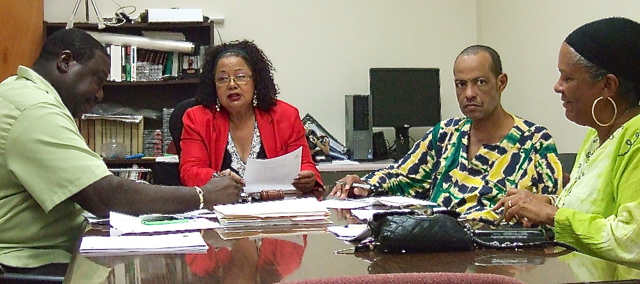 The St. Croix Elections Board, under new leadership, took steps Wednesday to improve its efficiency and eliminate some of the bickering of the last few years.
Chairperson Lilliana Belardo de O'Neal began the meeting with a list of rules and regulations for the board members: Raymond Williams, Glenn Webster and Lisa Harris-Moorhead. Adelbert Bryan, Roland Moolenaar and Barbara Jackson were absent.
Board meetings will be held on the second Wednesday of each month, unless a quorum of members won't be present. Each board member will be given five minutes to discuss an issue of his or her choosing and no questions or comments will be accepted from the spectators.
"I hope we respect each other's opinions and run the meeting as professionally and respectfully as we can," O'Neal said. "I don't believe in calling a meeting without a quorum. I don't believe in spending the government's money."
In addition to eight lawsuits incurred during the 2014 election, the board is contemplating suing ES&S because the voting machines it sold the territory did not work as expected. After the primary election and during programing the devices for the general election, Elections discovered that cross-voting for candidates in another party would register inaccurately. To correct the mistake would have cost $600,000, according to Williams, and then time would have been wasted waiting for EAC certification.
"If they didn't understand our law, that isn't our issue," Harris-Moorhead said. "I was shocked when that situation couldn't be corrected that day."
The board voted to gather testimony from staff and board members Bryan and Moolenaar, who dealt with the company, and forward it to the Attorney General for an opinion on possible action. Fawkes suggested researching the RFP and bids for information on performance expectations.
After voting to form four committees – personnel, fiscal, legal and legislative, and governance and administrative – the board postponed assigning members until the next meeting. They also postponed certifying the 2014 election until four members who served at that time are present.
Caroline Fawkes, supervisor of elections, reported she is working on testimony for an upcoming legislative hearing. The board directed her to forward to them the testimony and any accompanying attachments. She also reported, but didn't explain, six election deficiencies that were corrected in a review by the U.S. Elections Assistance Commission. She also didn't say how many deficiencies remain.
Fawkes and Terrell Alexandre, the board administrative assistant, said they have not finalized their reports on the 2014 election and runoff. The board voted to meet next Thursday with staff and then selected judges and workers to itemize issues and procedures to finalize a closeout report for the next board meeting.
Williams asked about the old voting machines that have been in storage for more than a year, at an annual cost of $9,000. The machines should be sold or removed because they no longer function without expensive upgrades, he said. Fawkes was directed to research possible sales to Pennsylvania or Ohio, states that use the same machines.
In an audit by the V.I. Disabilities Rights Center, several voting sites were found to have unsuitable access for voters with disabilities. O'Neal suggested meeting with the Department of Education to discuss financial assistance for improvements that the schools need.
In other action, the board voted to send a letter to the St. Thomas/St. John Board requesting a joint meeting on Mar. 12,13 or 17 to be held on St. Croix. The February meeting was cancelled because there was not a St. Croix quorum, although Bryan and Moolenaar flew to St. Thomas. O'Neal said the expense for airline tickets could have been avoided. In the past, the executive committee of the Joint Board scheduled meetings without input from the St. Croix members, according to Harris-Moorhead, which makes it difficult to achieve a quorum.