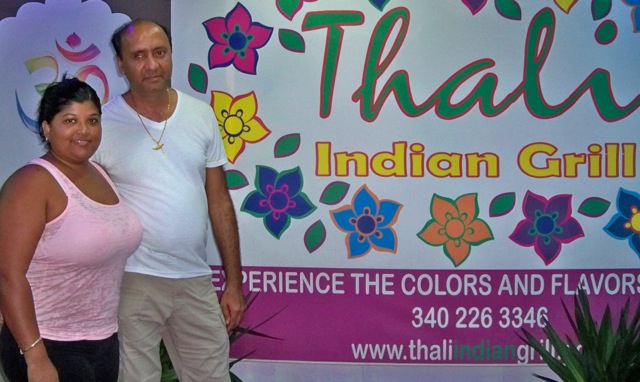 Folks on St. Croix can now experience and enjoy the flavors and colors of India in Estate Peter's Rest at Thali Indian Grill.
Gary Udhwani, part owner of Thali Indian Grill, is a solar system installer and he also loves to cook. "It's simple. If you can cook, you cook," he said.
What he learned, he said recently, is based on Ayurveda, the ancient medical system of India, and a healthy diet.
Udhwani, who was born in Bombay, said he sees India as a nation of colors, festivals and flavors. And at Thali Indian Grill, he said you will experience the taste and colors of India's remarkable cuisine. And have the opportunity to celebrate Indian festivals with the staff and patrons, he added.
The partially open-air restaurant seats 32 and is right next to Econ-Innovations, his solar company.
The restaurant has solar, energy efficient equipment, and all LED lighting. The beams over the covered seating area are painted bright primary colors. There are garlands of orange flowers that look like marigolds. And there is a mural of whimsical flowers.
Udhwani said Thali Indian Grill is a destination restaurant, explaining that there are a number of restaurants from which to choose on the Christiansted Boardwalk, but around his location in Estate Peter's Rest, there is only Thali. It is across the street from Cost U Less.
Entrepreneurship is not new to Udhwani. He said he has always been self-employed. When he moved to St. Croix 28 year ago from Bombay, his first endeavor was to print T-shirts.
He opened Eco Innovation in 2010 but points out that the solar installation business, which thrived for a while in the Virgin Islands, fell off after caps for net metering were reached. Business slowed down, he said, so he and Sally Balkaran, Udhwani's partner, decided to open the restaurant after encouragement from friends he had cooked for.
"The most important thing about running a restaurant is being a food critic," Udhwani said. "I'm a very picky eater and I know what I like. It's a matter of making it taste the way I like it." Before the restaurant opened he had an open house offering samples of what he has on the menu.
A thali, an Indian meal, is made up of a selection of various dishes including an appetizer, entrée and side dishes usually served in small bowls.
His specialty and what the public generally likes are the tandoori shrimp and the muro makhani, he said, better known as butter chicken. He also offers tandoori chicken, India's most popular dish, and serves curry shrimp, lobster and chicken. But it's not plain old curry, he added. He uses curry leaves, onion and tomatoes in a creamy sauce, making a colorful dish.
The samosa, a fried pastry filled with spiced potatoes and peas, is a tasty appetizer. Dal, a yellow split pea soup with a creamy texture, makes a great side dish, as does gobi, a fragrant, spicy cauliflower dish.
Udhwani said almost every Indian spice has some benefit and therapeutic advantage to it. He added that an Indian's spice rack has 90 spices in it.
He said Thali's homemade yogurt is used in a lot of the dishes. Yogurt is also used in the tasty Sweet Lasi drink blended with rosewater and ice.
He said the best part about running a restaurant is the instant gratification one gets from cooking a delicious meal.
Thali Indian Grill will be celebrating Holi, the festival of colors, on March 7. "We believe in colors," Udhwani said. "The colors of food, art, culture and dress."
Thali is open from 5:30 to 9 p.m. Tuesday through Sunday. To see the menu, go to www.thaliindiangrill.com or call 340-226-3349 for specials.