Resa O'Reilly worked as a mental health counselor in the Department of Human Services and the Department of Health at the Frederiksted Health Care Center and then the Department of Justice managing the sex offender registry until she was laid off three years ago. She thought to herself – now what do I do and where do I go from here?
The timing was right on St. Croix to step in and help the youth in the community she said. She had the time to do something to make a difference and have an impact on the lives of children. She is aware of the needs of at-risk youth and her passion is working with them.
With encouragement from her boyfriend she started Project Promise, dedicated to improving the lives of at-risk youth by providing empowerment initiatives, cultural programs, and family services.
"We all have ways to help make a change," O'Reilly said. She said things started to click in 2013. She purchased a two story building at 10 ABC Queen Street in Christiansted with enough space for program activities and offices.
She said it is definitely a grassroots effort. She has found like-minded people to help her and make up a board of directors. The board members have professional and people skills they want to contribute.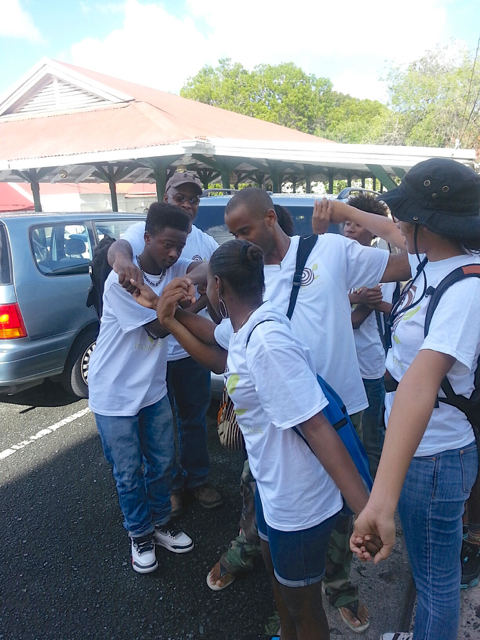 "The board is made up of some pretty talented people," said O'Reilly, who is president of the board.
Project Promise was incorporated last January and the goal is to be fully operational by next January.
O'Reilly said the group is looking into grants and are starting to reach out to the business community for donations and in-kind services.
A community needs assessment survey recently went out to residents and business owners in the downtown Christiansted area. The survey was sent by email through a partnership with the Christiansted Retail and Restaurant Association, and the Christiansted Community Alliance, to more than 100 people. They are asked what they see as the most critical needs for at-risk youth in the community.
O'Reilly said the primary purpose for conducting the survey was to determine what the community is doing right, and where it needs to improve when it comes to providing services for at-risk youth. With this information, Project Promise can identify problem areas and develop action items in their programs.
"Nothing is in cement yet," O'Reilly said. "Our role is to broaden horizons and help youth plan a better improved life."
One program that has been successfully instituted is the Salt River Bay "Ticket to Ride."
The National Park Service and Project Promise teamed up for the Salt River Bay "Ticket to Ride" program. According to a National Park Service news release, this joint effort is in answer to U.S. Secretary of the Interior Sally Jewell's call to invest in the next generation of National Park stewards. Cooperative agreement funding from the National Park Service will provide every public school 6th grade student the opportunity to learn about and visit Salt River Bay National Historical Park and Ecological Preserve.
This is the second year NPS has supported this program. It is a companion program to a marine-based 6th-grade program offered jointly through the World Ocean School and NPS.
The three-point program, designed by O'Reilly and NPS, includes an introduction to the park at the school, followed by an on-site park tour, and a post-experience in-class visit by the instructor to review what was learned. The Visitor Center tour introduces students to Salt River Bay's history.
About 200 students have explored Taino culture through artifacts and a PowerPoint. They discovered the story of Columbus' encounter, where it occurred, and learned about Taino cosmology in a craft-making exercise. Students tour the west side of the park and learn about natural resources through ranger-led activities. During the post-experience visit to the school, students participate in a question and answer session about Salt River Bay's historical and natural significance.
"This program is huge," O'Reilly said. "Ninety percent of these 6th grade students have never been to Salt River. We have to inform these kids about the history and significance of it."
O'Reilly said when the building is complete they plan to recruit youngsters through schools and get referrals from the court system and existing organizations. She even sees a vegetable garden being put in and the youth sitting down to have a healthy snack after school.
"I dream big and can envision a lot of possibilities," O'Reilly said.
Those who want to donate to the organization or learn more about it can visit the website at www.projectpromisevi.com or call 340-244-3242.