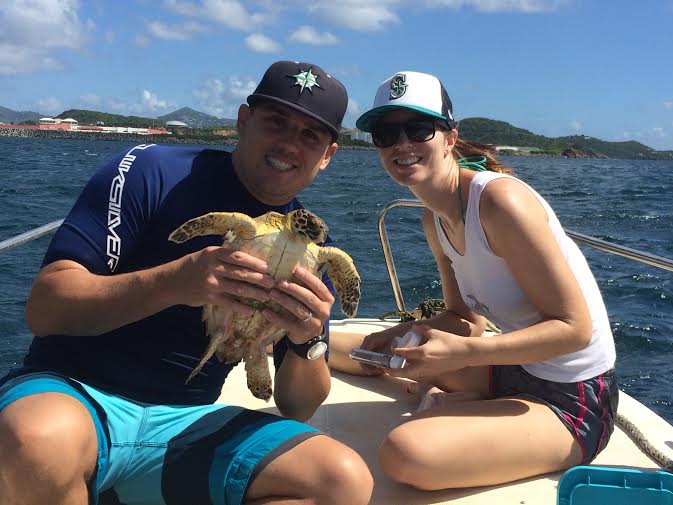 The Cyril E. King Airport on St. Thomas is drawing more than tourists. It seems that a bevy of endangered hawksbill sea turtles have moved in and are living in an artificial reef created 30 years ago to support the expansion of the runway into the sea.
Scott Eanes, a graduate student working on his master's degree in marine biology, has been studying the site since September, doing research for his thesis. He wants to know how many turtles live in and around the reef, where they came from and where they will go.
The University of the Virgin Islands is supporting the project and it's being conducted according to a National Marine Fisheries Service permit.
Eanes also has created a non-profit, VI Sea Turtle Project, to raise awareness and funds to support the project and to help the Smith Bay Community Action Foundation.
He has been researching sea turtles since 2004 and has worked in South Texas, Grenada and Barbados. He also visits St. Croix periodically, working on National Park and U.S. Geological Survey projects.
Of the seven known species of sea turtles, Eanes said three types are seen in and around the Virgin Islands. The leatherback nests here, but then leaves; the green sea turtle is often seen near shore since it inhabits sea grass. The hawksbill is a reef dweller and feeds primarily on sponges.
St. Thomas is not known for nesting sites, he said, and it's unlikely that the hawksbills living by the airport were hatched on the island.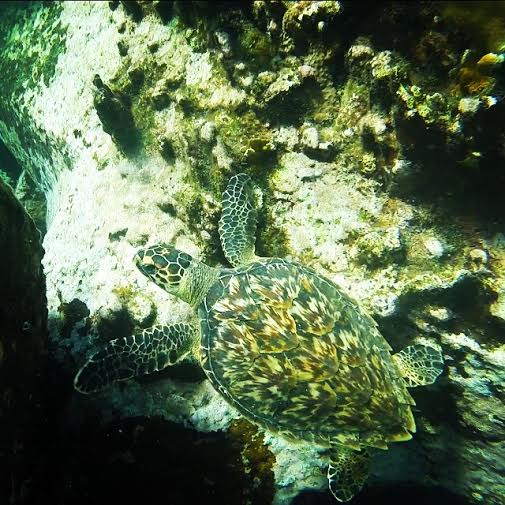 When the turtles hatch, they make their way to the ocean and then "float" for a year or so, feeding as they go, until they reach the juvenile stage. Then they head for a reef for the next stage of their lives. Typically, they will leave that area as adults and at that stage they tend to migrate a lot, between foraging areas and nesting sites.
Given the size and weight of the turtles at the airport, Eanes is convinced they are juveniles, probably about two to three years old. Most of them are less than 20 pounds, and about 30 percent are below five pounds. Most are between 20 and 25 centimeters.
Finding the cache was part luck and part hard work. Guided by Dr. Paul Jobsis, a UVI professor known as the resident "turtle guy," and using the NMFS permit of a previous graduate student at the university, Eanes first made a swimming assessment of turtles in Brewers Bay, counting as he went.
He said Jobsis alerted him to the runway site, and when he explored it, he realized the landfill support for the expansion had been constructed in such a way that it created a perfect home for turtles. Concrete structures shaped like a child's jacks provide holes and crevices that make perfect hiding places — more properly called "assisted resting" sites — for the animals.
"They can hear, but the planes don't bother them," he said.
While there has been a lot of study on nesting turtles and nesting sites at beaches, this project is an "in water" study, designed to be as minimally disruptive as possible to the subjects.
Occasionally assisted by a few graduate students, his wife, Kate Eanes, a teacher at Antilles School, or a handful of other volunteers associated with Antilles, Eanes frequently visits the site in a small boat. Divers search for turtles, and when they are lucky, they bring up a turtle to the boat where it is weighed, measured and tagged.
One tag goes on the turtle's flipper, so it can be spotted easily and divers will know they've already identified it. A more sophisticated tag is injected under the skin, for future identification that should help track its migration. The researchers also take a DNA sample, in hopes of establishing the animal's origin. The process takes about a half hour, and the turtle is shielded from the sun by a wet towel, Eanes said.
"Right now we have caught 26 turtles" and released them, he said. "We haven't got everything yet" but the tagging phase is winding down.
The next step is to track the turtles via acoustic devices that have been placed in and around the reef and that record when a turtle goes by. At first, researchers had to retrieve the devices to discover what had been recorded, but now they will transmit the signals to another location.
By tracking how many times a specific turtle swings by one and another device, and at what times of the day, Eanes expects to learn something about how far they travel, when and where they rest, and when they feed.
"You can get a real good sense of their day-to-day" routine, he said.
Scientists believe the turtle population in the Caribbean was decimated after European settlement in the region. Estimates vary somewhat, but the consensus is that what we see today represents just 5 percent of what it once was, Eanes said.
There could be many factors to blame for the decline, but one is surely hunting by humans.
"Green turtles are killed for their meat, hawksbills for their shells," Eanes said. The shells are prized for their beauty and often turned into jewelry or other accessories.
Nationally, we are in the 22nd year of a 25-year recovery plan, which makes the discovery by the runway all the more exciting.
"Hopefully, you identify the area, and you protect the area," Eanes said.
Being able to track the turtles' migration is also critical. Different regions have different laws concerning protection, and what happens in one location can determine whether an animal makes it to the next. The genetic samples should help with that.
Meanwhile, Eanes has combined two of his interests in establishing the VI Sea Turtle Project, an organization he hopes will raise funds to provide opportunities for residents in Smith Bay, especially youth, through the sale of items bearing a turtle logo.
Police Officer Roy Chesterfield, president of the Smith Bay Community Action Foundation, said the project is bringing a "breath of fresh air" to the community.
"We have a big initiative going on," Chesterfield said. "We want to build a community center" and rehabilitate the existing basketball court and park area in Smith Bay and provide after school programs. "We want to give kids things to do after school … and just create a safe haven where they can learn and have fun … We want to give the youngsters more access to what they want to achieve."
To learn more, visit the VI Sea Turtle Project on Facebook.