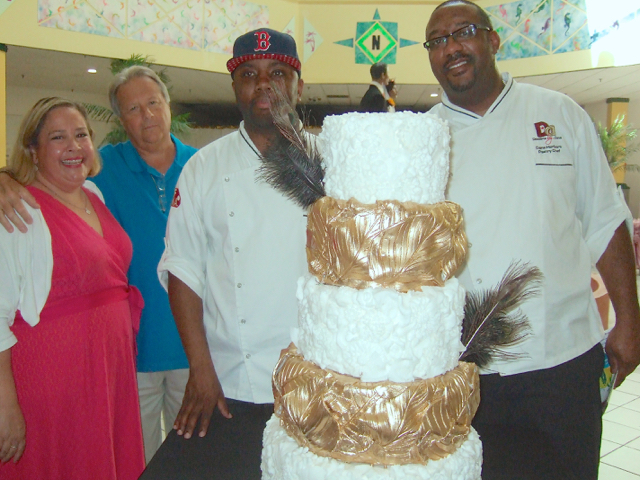 The St. Croix Caribbean Wedding Expo Sunday drew a crowd of brides and grooms, their parents, attendants and friends and people who like happy occasions with floral arrangements, formal wear and fantasy decorations.
Sunshine Mall was decorated upstairs and down with a wedding theme. Exhibitors displayed fragrances, jewelry, food, skin-care products, party favors and posters of hotel weddings. A fashion show featured traditional and African garments. The event also included a bridal party dance and four brides tearing apart a five tier wedding cake to look for prizes.
The St. Croix Central High School Jazz Band and the Ay Ay Quelbe dancers provided musical entertainment, and Junie "Bomba" Allick blew a conch shell to open the festivities.
A focal point of any wedding is the cake, and an expert special guest shared ideas with wedding planners and other pastry chefs. TLC's Cake Boss winner, Dana Herbert, spent two days with students from the St. Croix Educational Complex culinary class and constructed a stunning four-layer cake with white candy flowers and edible gold leaf banana leaves. Inside was a dense lemon cake with fresh strawberries.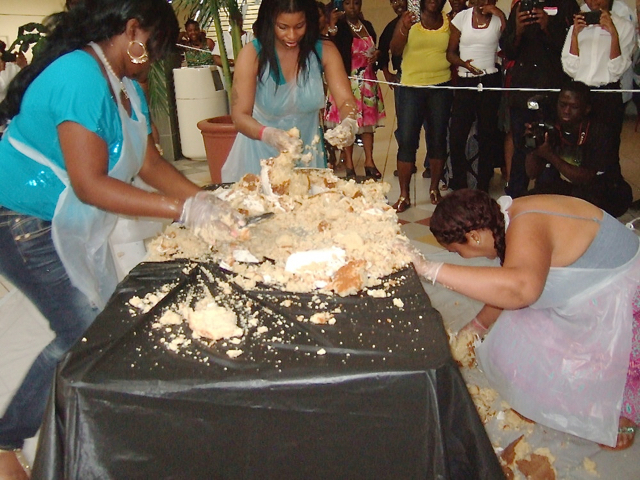 According to Herbert, Anton Doos's Good to Chew students baked the cake and made the frosting. They also molded flowers for the white layers and Herbert made the gold leaves.
Chef Dana said he likes working with students and was impressed that many of the St. Croix students already had selected culinary schools they want to attend after graduation.
"Be willing to do what your peers won't, because the different skills are what will get you the jobs," he said to students. "Tap into everything, join the clubs – cake decorating, ice carving, everything."
Sandy Malone, star of TLC's "Wedding Island," added her expertise to the event. Malone has planned 500 weddings at a variety of locations in Vieques. She eventually opened her own flower shop to keep up with her business. Like other brides, she went into business after planning her own wedding in 2004.
"I was bridezilla before it existed," Malone said.
On Saturday, she held a three-hour seminar at Barry University on becoming a successful destination-wedding planner. Among the 30 people who attended was a visitor from Ohio who had traveled to St. Croix just for the class, along with a dozen or more who are already in the business.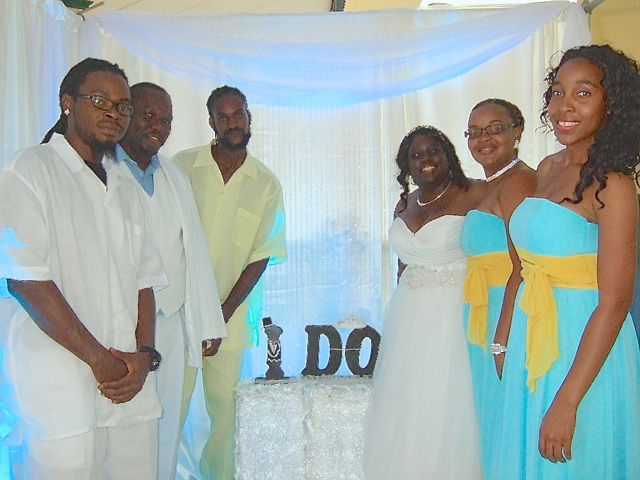 Three additional elaborate wedding cakes were created by Shawna Smith of Sweet Bites and Keith James, De Cake Man. James won the cake competition for his madras trimmed Vienna Cake. Smith's white fondant frosted Vienna cake was decorated with rhinestones for added glamour.
A highlight of the Sunday afternoon event was cutting the cakes. Volunteers from Central High Culinary Club gave out samples of the wedding cakes to the audience. One sampler said Herbert's cake tasted like a four-layer cheesecake.
Volunteers from the University of the Virgin Islands Hotel and Tourism Club also helped with the event, and the Educational Complex beauty students worked on the models' hair and makeup.
Denise Bennerson, event chairperson, said she was pleased with the turnout and thinks the event is good for the island.
"Basically, (we wanted) to portray St. Croix as a wedding destination in the Caribbean and encourage local businesses to realize their clientele may not even be on the island," Bennerson said.