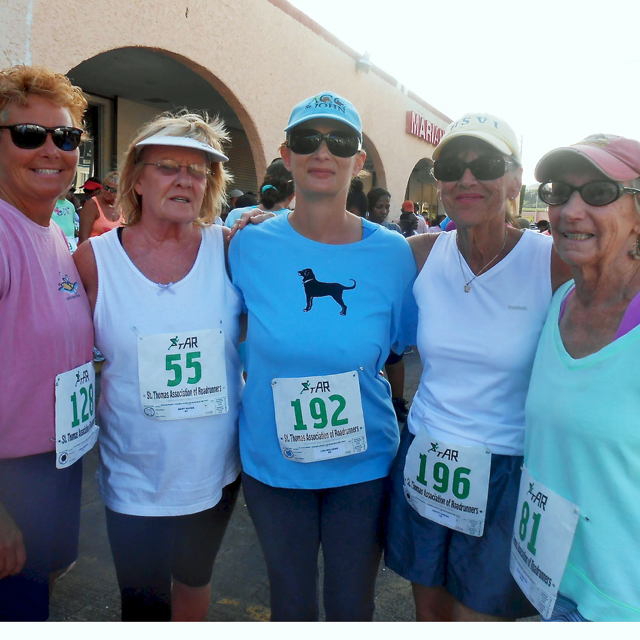 Women of all ages clustered in front of the Fruit Bowl in Wheatley Shopping Center at 4:30 p.m. Sunday for the 33rd running of the annual Women's Jogger Jam. It's a different kind of race
The afternoon is filled with a special energy finally released after being bottled up for a whole year. In its 33 years, the race has become a family tradition, with second and sometimes third generations participating, many of whom started out in strollers.
Alison Bartsch, 15, who was second in her age group Sunday, remembers riding in her stroller with mom Kathy Schlesinger.
"I've been running on my own for about 13 years now," she said, with a big grin directed at her mom.
As the women chatted, the stalwarts of the St. Thomas Association of Roadrunners– Roy Wattlington and Steve Posterman – were setting up the course, putting the final touches on the finish line, trying to get the banner to stay still in the wind, while indefatigable race director Therese Hodge, backbone of the race, was doing 14 things at once with her usual total focus on getting everything right.
After a bit of aerobics led by Joe Crawford, the 300 or so women marched across the street up to the entrance road to the Schneider Regional Medical Center, where all lined up in front of Hodge. The director gave the admonishments she repeats every year – "Ladies, please let the runners be up front, the walkers behind and the children in the rear. We don't want any kids zigzagging through the crowd. That can be dangerous. And, runners are runners. We don't want anyone up front who is just going to do a 25-yard dash."
And with that, they were off. The two-mile run circles around the hospital for two laps and finishes in the Wheatley Shopping Center in front of the Fruit Bowl, where everyone is met with a robust cheering section.
New to the race this year was Lisa Williams of the Humane Society of St. Thomas, who was joined by race and Society veterans Patty Vargas, Mary Davies, Hillary Hamilton, and another first-timer, volunteer Pam Morose. They were like a bunch of teenagers as they talked about how much they love doing the run.
While the ladies pounded the pavement, Marty Goldberg and Wattlington, who've been in this for years, laughed about a past race.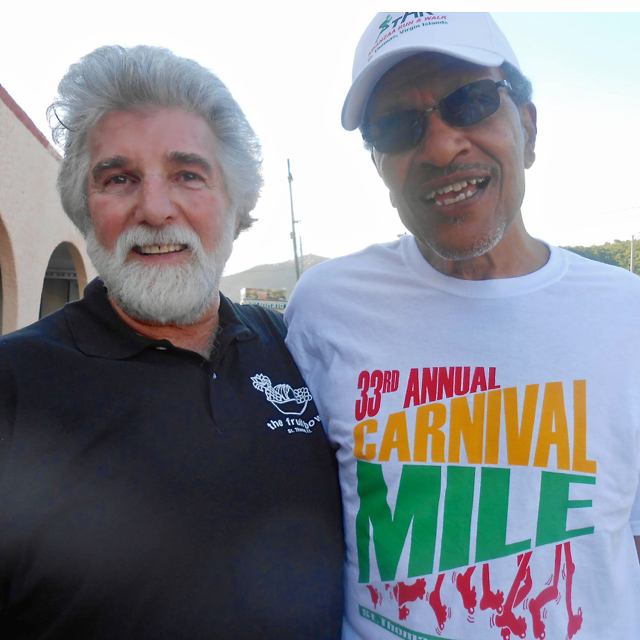 "I beat you for the only time," Goldberg told his competitor.
"Oh, yeah," Wattlington replied. "What year was it?'
"I don't know," came the answer. "What race was it?"
Goldberg's wife Carole, who has clocked 31 years in the race, did the family proud this year with a first place finish in her age group. "New group," she said. "I just turned 70."
Shane DeGannes, nurse/coach at Montessori School and Peter Gruber International Academy, who wins every race he enters, was as excited as anyone Sunday as he cheered the five-member team he coaches – Alison Bartsch, Tallise Thompson, Kaia Anspacher, Ava Jayne Parfitt, his daughter Devin DeGannes and Savannah Woodson.
Ruth Davis, who, like DeGannes, simply can do nothing but win, was her usual modest self, proud of her daughter Shaiah David, who was second in her age group. "Oh, I wish I'd done better. I didn't have time to train well." Most mortals would be happy to record twice her time of 11:52.
The event, which has been sponsored bu the Fruit Bowl for 31 of its 33 years, raises money for the Family Resource Center, which maintains programs for crime victims and individuals involved in family violence or crisis. The St. Thomas Association of Road Runners (STAR), which also supports the event, receives a portion of the funds.
The Fruit Bowl matches each entry fee with a $5 donation.
FRC director Vivian St. Juste wore a number Sunday, but said she was doing her running behind the scenes, helping set up the trophy tables, cutting up fruit and cheering the runners on, her main delight.
"This event is essential to our budget," she said. "I know we can bank on around $3,000 because of the generosity of the community and the Fruit Bowl. We are extremely grateful."
There were 317 entrants overall Sunday.
Race director Hodge, who is always on the giving end, asked a favor of the community. She is looking for a T-shirt from the 1990 Women's Jogger Jam. She can be contacted at 775-6373.
Sunday's winners were:
Overall – Ruth Ann David – 11:52
Six and younger:
Josephine Lake 24:36
Jaesha Ells 36:37
Sariah Somme 37:01
7-12
Kaia Anspacher 15:51
Shaiah David !6:08
Riley Oram 16:16
13-18
Talisse Thompson 13:59
Alison Bartsch 15:12
Deanna 20:25
19-29
Shekinah Maduro 16:56
Alexandra Holder 18:43
Larrican Pickford 19:02
30-39
Lisa Parfitt 15:05
Tania Garnett-Stapleton 1651
Corynne Young-Ardison 17:12
40-49
Kerstin McConnell 15:40
Arlene Aguste 16:58
Tayna Schulterbrandt !7:13
50-59
Laura Klien 14:49
Mida Gaikdak 18:57
Dianne Stolmeyer 20:14
60-69
Joyce Gliniewicz 21:55
Cassandra Mallory 22:03
Launne Schechter 24:24
70-79
Carole Goldberg 19:24
Marcy Offerdahl 22:31
Betty Henry 23:28
Team Challenge winner: Seventh Day Adventists Women's Mission (26)
School Challenger winner: Addelita Cancryn Junior High School (32)