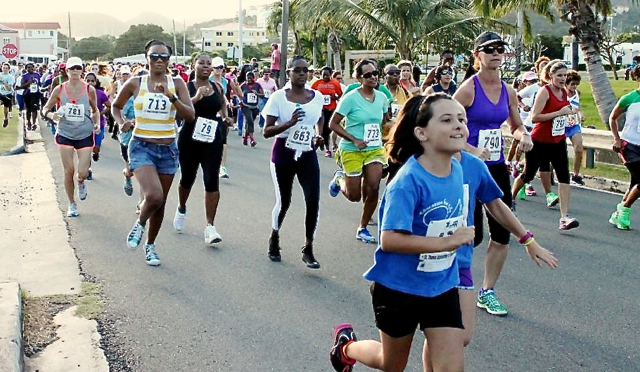 The Fruit Bowl and The St. Thomas Association of Roadrunners urge girls and women of all ages to take part in the 33rd annual Women's Jogger Jam by walking, jogging or running the two-mile course.
The event is scheduled to begin at 4:30 p.m. Sunday.
It simply wouldn't be the start of the new year without the race that brings together old friends, many of whom are second generation participants, starting in a stroller some years ago. It's a great time to renew old friendships, while still trying to get that extra step ahead.
The race starts at the Fruit Bowl in Wheatley Shopping Center, circles around the road in back of hospital, past Lockhart Elementary School for two laps and winds up back at the Fruit Bowl.
Awards will be presented to the top finisher and to the first, second, and third place finishers in nine age categories. Team challenge trophies will be presented to the school and organization with the most participants, and the first 300 registered finishers will receive a Women's Jogger Jam T-shirt.
The race benefits the Family Resource Center.
Participants can register early at the Fruit Bowl. Entry fees are: girls 18 and younger, $3, adults $6.
Early registration forms can be picked up at the Fruit Bowl, Caribbean Surf Co. at Havensight Mall or Royal Dane Mall, Red Hook Shopping Center and Antilles School Jackson Complex Wellness Center.
Early registration ends Saturday. The entry fee Sunday will be $10 for all ages. The Fruit Bowl will donate an additional $5 to the Family Resource Center for every girl and woman who crosses the finish line on the day of the event.
More information is available by calling 1-340-775-6373.