Cuteness was on display Friday as the tiniest performers marched through Frederiksted for the Crucian Christmas Carnival Children's Parade.
For every cheerful, bouncing child, there was an equally, if not more excited, family member or supporter on the sidelines or in the crowd.
This year's theme, "A Majestic Scene for 2014-2015," was evident in the poise and grace of the numerous princesses, queens and even a duke. The 32 entries were filled with brightly costumed troupes from the island's elementary schools, high energy marching bands and steel orchestras, along with other accoutrements of a parade.
The parade was led by Reinholdt "Rookie" Jackson, beginning just after 10 a.m., and ended with Hypa-Active Krew at 5 p.m.
In the staging area at the Claude O. Markoe Elementary School, 10-year-old Yaira Ortiz was taking pictures with her mother and another member of the St. Croix Majorettes. Ortiz was participating in her fifth consecutive parade.
"I'm excited to be here and love the Majorettes," Ortiz said.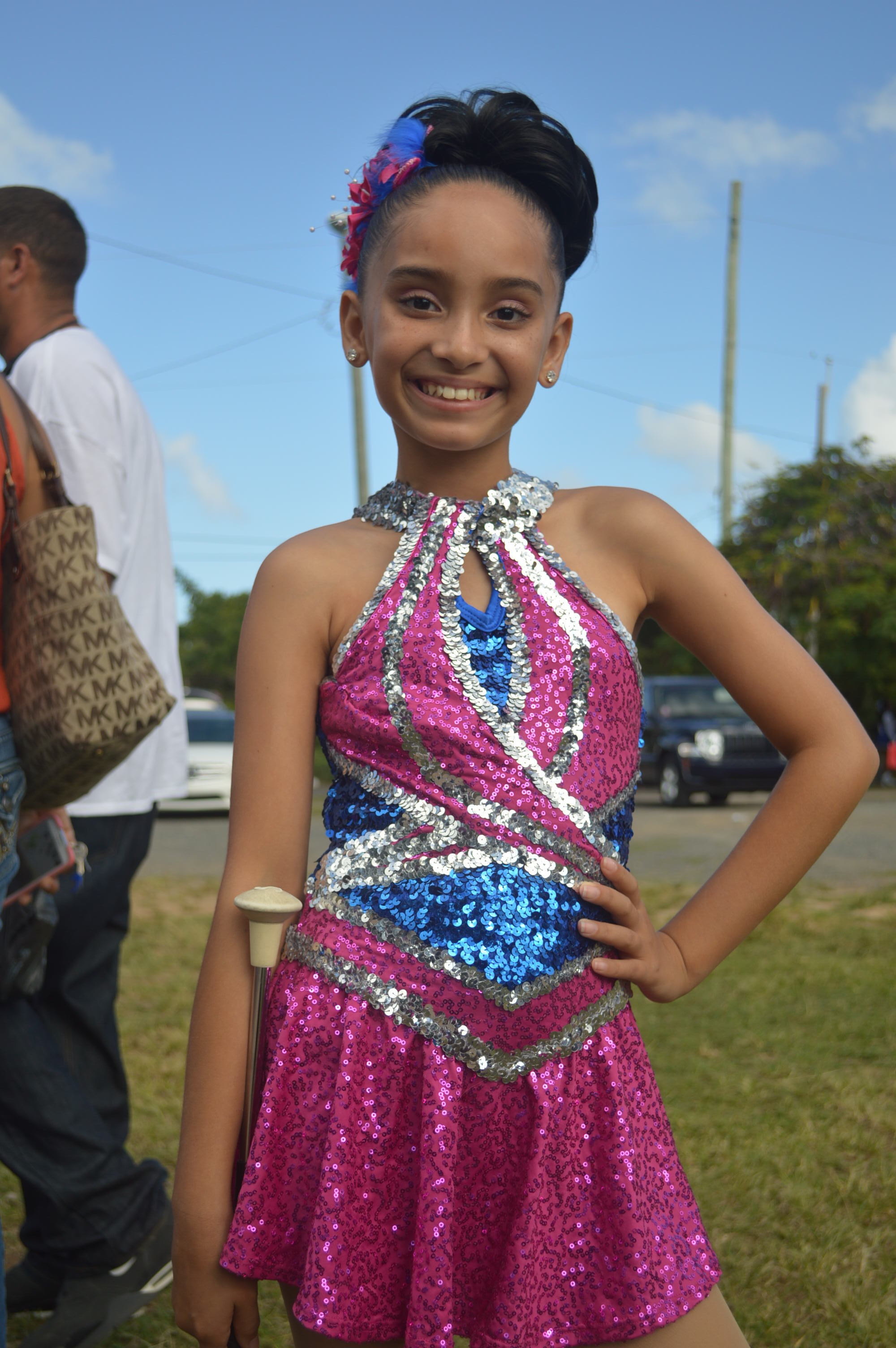 The St. Croix Majorettes came out with four groups of over 80 participants. One of the troupe's directors, Diana Garcia, said this year was special.
"This is one of the years where all of us have gotten together and I hope that after all our hours of practice the girls do a spectacular job," Garcia said.
The majorettes were dressed in a dazzling array of sequins in their traditional royal blue and shimmering silver accents, but this year they added another color: majestic pink. The pink was used as a symbol for their tribute to cancer survivors. As always, the group dedicated their performance to Celia Maldonado, the group's founder.
The St. Croix Majorettes were not the only ones doing a tribute. The Ricardo Richards Elementary School were out in full force with many mini senoritas and masked Zorros in a Hispanic theme dedicated to Wendy Gonzales, past assistant principal of the school.
The boys portrayed Zorro, a masked bandit who fought for justice. They were donned in all black with flowing capes, masks and the trademark sword. The girls represented Lolita Pulido, the beautiful daughter of a wealthy family who in the end is won over by Zorro. They danced down the parade stretch in frilly red and black dresses with an elegant matching fan.
"Not only was it a tribute but I thought it fit during these hard times. After doing research for the theme, I found Zorro fought for the people and against corruption," Zahra O'Reilly, the troupe's director, said. O'Reilly also said she enjoys participating in the parade because it allows the children to experience their culture.
This year's parade was also one of several firsts. While the Simply Sophisticated Fun Troupe is no stranger to Carnival, they are usually seen in droves in the Adult's Parade. This year they provided a treat for spectators in their first appearance in the Children's Parade in collaboration with the Evelyn M. Williams Elementary School.
The theme for the troupe was "Sweets in a basket" and participants skipped, twirled and danced in fluorescent greens, reds and whites. Decorated pies and other sweets could be found on their head pieces.
"It has been a tremendous amount of nonstop work, but this will be our biggest year," said Shamari Haynes, the mastermind behind Simply Sophisticated. "We have been working nonstop and I am nervous, but excited."
Haynes said the Simply Sophisticated Fun Troupe may be coming down with over 300 members for the Adult's Parade on Saturday.
Ibia Mitchell, Miss Simply Sophisticated 2014-2015, explained what made this year a "first" for her.
"I'm always playing mass, but this is the first time I've been in the parade as a queen," Mitchell said. "I hope everyone is fully entertained, especially the kids, and enjoys the Majestic Scene for Carnival 2014-2015."
It was also a first for five-year-old Na'Carrah Estic, who participated in the Solid Elements Children's Fun Troupe.
When asked what she was looking forward to, Estic simply responded, "I want to dance to have fun."
Miss Carnival Queen, AnuMaat Davis-Kahina, graced the parade grounds with inspiring words. She encouraged the community to bring their own vibe and to show more support for the children.
"This is nowhere near the turnout you will see tomorrow for Adult's Parade," Kahina said. "We have to support the youth, especially for the Children's Parade. If you're going to be about the children then you have to be about them fully, 365, 24/7."
Hot and weary yet still full of smiles, hundreds of children were met with mixed emotions as they completed their final steps of the parade after marching through town. Despite the cheers and applause from the supporting crowd, after a long day in the sun, they were happy to sit and rest until next year.