The V.I. Water and Power Authority announced a rate decrease to 39.19 cents per kilowatt hour, down from the current rate of 48.6 cents per kilowatt hour, for the first six months of 2015.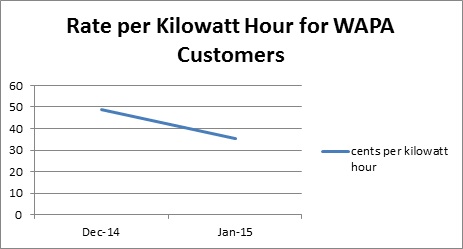 The lower charge is due, in part, to WAPA's ongoing propane conversion project, which will begin utilizing the more affordable fuel in the first quarter of 2015, as well as the reduction worldwide in fuel oil prices.
Since signing the initial contract in July 2013, WAPA and Vitol, its partner and supplier for the project, have attempted to deliver the benefits of the fuel switch as swiftly as possible, according to a news release from the authority. WAPA plans to use propane as its primary fuel source by the Spring of 2015, which will mean a 20 percent decrease in greenhouse gas emissions and a 30 percent reduction in the cost of fuel.
WAPA Executive Director Hugo V. Hodge Jr. said, "We are pleased to pass along these initial cost savings to our customers and look forward to further rate decreases as our propane conversion project becomes fully implemented."
"This is only the beginning," Hodge added.
According to WAPA's statement:
– Propane is the best near-term option for lowering power generation costs. Customers will see savings in the fuel cost component of their bills, commonly known as the LEAC.
– Propane produces less soot and nitrous oxide than diesel or oil.
– The use of propane is an excellent complement to renewable sources of power like wind and solar. Developing the ability to use propane is consistent with the USVI Energy Road Map initiative and WAPA's Energy Action Plan.
Propane will be stored onsite at the power plants in St. Thomas and St. Croix in buried tanks with 100 percent redundant safety mechanisms.