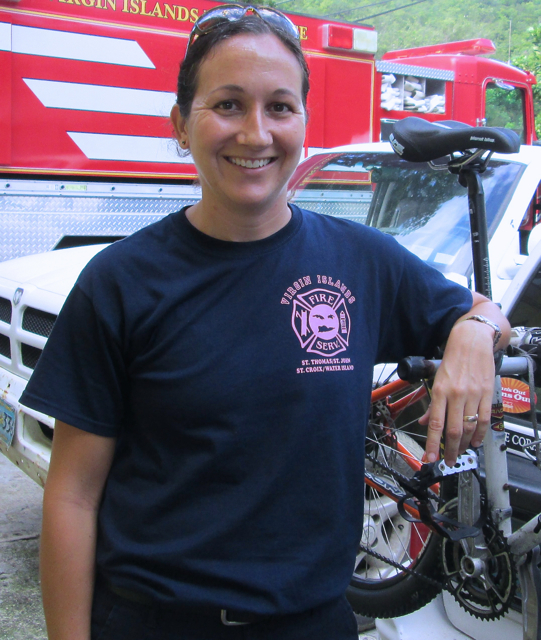 When Wendy Davis moved to St. John in 1999, she thought she'd put her bachelor's degree in history from Western Kentucky University to use by teaching school. As things happen on St. John, her life took twists and turns and she's now the island's only St. John-based paramedic.
Others come from St. Thomas to fill in the gaps, but when none are on duty and the need arises, she's called out from home to help.
"I like making a difference," the Owensboro, Kentucky, native said.
Davis, 39, works for both the V.I. Fire Service and the Health Department's Emergency Medical Service. At the Fire Service, she's assigned to the Coral Bay fire station, where she usually works two 24-hour shifts a week. She also puts in two shifts as a per diem worker at EMS in Cruz Bay.
She also fights fires. According to Davis, nearly all the fires are in cars and the garbage. However, most of the assistance provided by the Coral Bay firefighters is for medical emergencies.
Davis said that all the responding agencies work together, and when someone in Coral Bay needs to be transported to Myrah Keating Smith Community Health Center and an EMS ambulance isn't available to come from Cruz Bay, St. John Rescue volunteers fill in the gap with one of their ambulances. Davis said she often rides along in the ambulance to provide paramedic assistance.
"It's not about us. It's about the person we're helping," she said.
Davis cut her emergency medical technician teeth at St. John Rescue, an organization she joined soon after arriving on St. John. She was working as a waitress when she decided to make emergency response her career. She said she applied to both the Fire Service and EMS, but the Fire Service called first. Laughing, she said she was nearly through her Fire Service training, when she got a call from EMS.
She was the first woman on St. John to graduate from Fire Service training, and this accomplishment merited a Source feature back in 2006.
That was eight years ago, and Davis got more training and moved up the EMT ranks. In 2010, community members raised the funds to send her to a 17-week paramedic training course at Texas Engineering Extension Service, a branch of Texas A&M University. She did further training at Roy L. Schneider Hospital on St. Thomas and honed her ambulance skills on St. Croix.
While on St. Croix, she treated a 19-year-old man who was shot in the heart and went into cardiac arrest.
"He wasn't going to make it anyway, but it was very sad and you never forget," Davis said.
Fortunately, shootings are rare on St. John, but the island has its share of accidents, Davis said. She said she's been called to car accidents where the vehicle went down the hill, so the EMTs had to climb down to find the victim. In one memorable case, Davis said she and another EMT brought the victim back up the hill in a basket.
Many of the calls are to assist people with chronic health problems such as diabetes and hypertension. Davis said they get into trouble when they don't take their medication or, in the case of diabetics, fail to eat after taking insulin. Or their blood pressure will drop because they're on medication so they'll stop taking it.
"Lots of people, especially at Carnival and holidays, are not compliant with their medication," Davis said.
When tourist season rolls around, Davis said she sees lots of near drownings by inexperienced swimmers who inhale water or are pummeled by the waves. She said when the surf's up, she knows they'll be calls to Trunk Bay to assist injured swimmers.
While Davis has done cardio pulmonary resuscitation classes for about 20 people at a Coral Bay area restaurant, and trained fellow fire fighters in that skill, she said she'd like to do it again and even expand the education to help seniors take better care of their health. However, since Guy Benjamin School closed in June, there is no meeting space available in Coral Bay.
Her 24-hour-on, 24-hour-off schedule gives her free time. She spends it with her husband of four years, Ken, Kistemaker, and running, biking and swimming. She said it's important for her job to stay fit.
"People aren't getting any skinnier. It's hard carrying 200-pound people," she said.
https://stjohnsource.com/content/news/local-news/2006/07/30/island-profile-wendy-davis