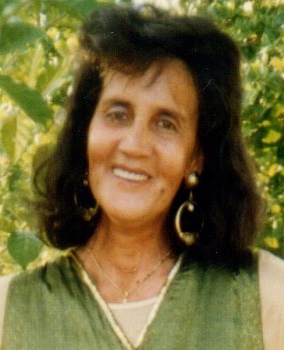 Georgia Ann Gautier-Jacobs, also known as "Gini," "Gior," "Gina" and "Dururé," of La Grande Princesse died on Nov. 29. She was 67 years old.
She was preceded in death by her mother, Marcela Gautier; father, Bernabe Gautier; and brothers: Efrain Camacho and Miguel Gautier.
She is survived by her husband, Stanley Jacobs; stepdaughters: Xiomara Jacobs and Xanthia Jacobs; very special nieces/daughters: Maria Gautier-Hennemann and Ivy L. Gautier; step-grandchildren: Tarik McMillan, Biko McMillan, Xaia Todmann and Xoe Osborne; sisters: Milta Camacho, Rose Mary Gautier, Miguelina Gautier-Parrilla and Margarita Gautier-Brannigan; brothers: Fernando Camacho, Julio Gautier, Angel L. Gautier, George Gautier, Benito Gautier and Eddie Gautier; and nieces: Nancy, Elizabeth "Lisa," Diana and Erica Rivera, Erica Camacho-Duran, Yakara Gautier, Alba, Magnolia, Vanessa, Aisa Camille, Janitzi and Rachel Gautier.
She is also survived by nephews: Carlos, Nelson Rivera, Jeffrey Centeno, Duane Brannigan, Fernando Camacho Jr., Efrain, Gilbelto and Julio Camacho, Miguel Gautier, George Jr., Michael, Daniel, Gerome Omar and Aramis Gautier; great nieces: Elise and Elizabeth "Lizbeth" Erarte, Jessica Garcia, Rufina and Michelle Paulino, Artemah and Nazarie Woods, Bianca Joseph, Netanya Brannigan and Tatiana Gautier; great nephews: Mark Roebuck, Miguel and Eric Hennemann, Jahzeel James, Jaydon Lopez, John Joseph, Domingo, Anthony and Erickson Erarte, Daniel Muñoz; aunts: Joaquina de Leon and Guillermina Gautier-Figueroa.
Other survivors include brothers-in-law: Jose Parrilla, Sherman "Butch" Brannigan, Felix Garcia and Jose Jacobs; sisters-in-law: Justina Gautier, AnaMaria Camacho, Jenny Gautier, Mireya Gautier and Alejandra Nico; godchildren too numerous to mention; special friends: the Ten Sleepless Knights, Michelle Hendricks, Zilla Etienne, Laura Soto, Gerda Norfleet, Ama Acevedo, Luz Armstrong, Maria Daley, Bianca O'Neal, the Jacobs family, Thompson family, Graham family and Rivera family; close relatives: Aida Christopher, Antnia "Tonya" Parrilla and Amparo Gerard; as well as other relatives and friends too numerous to mention.
The family requests that those in attendance wear festive colors.
The viewing will take place at 9:30 a.m. and the funeral service at 10:30 a.m. on Monday, Dec. 8, at St. Patrick's Catholic Church. Interment will follow at Frederiksted Cemetery.