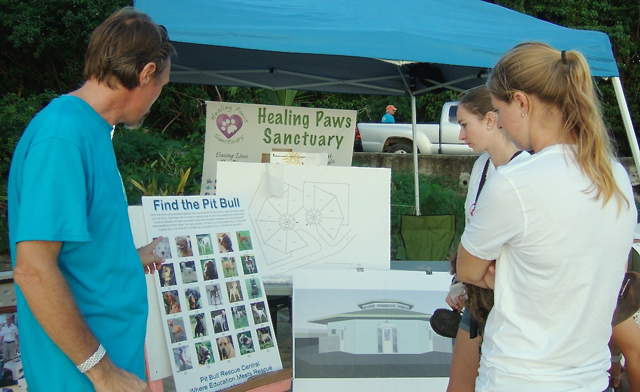 Five animal advocacy groups joined forces to host the first Animal Jam Saturday at Rhythms at Rainbow, and a crowd of 200 animal enthusiasts crowded the beach, many with their pets.
"The idea behind the whole event is the groups working together. Each has its individual focus with the same goal to help animals," said Michael Dance, Healing Paws Sanctuary board member.
The organizations worked together to create fundraising games, contests, a silent auction and a raffle. The groups will share the profit.
A group of teenagers with the Cruzan Cowgirls Horse Rescue developed games for young children, including a coconut race, musical towels, buried treasure hunt, a scavenger hunt and a fishing contest.
A silent auction and raffle included original artwork, jewelry, restaurant gift certificates and specialty items for pets. The items were donated by local merchants and individuals.
There was live music all day and food and drinks for sale. The bands were My Body/My Soul, Trailer Trash and The Brian McCullough Band. Vendors donated a portion of their proceeds to the event.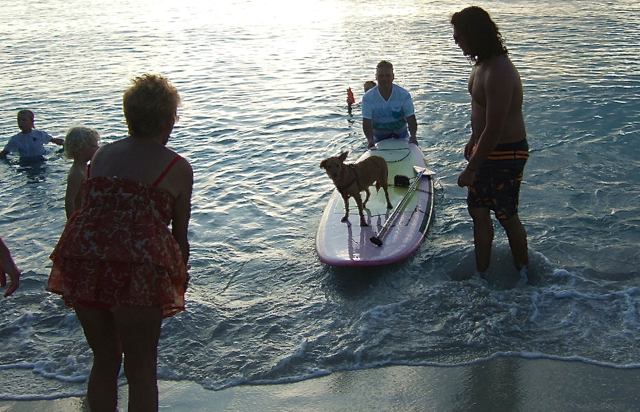 There were dogs everywhere, romping with each other and splashing in the water. Liza, a small mixed breed, ran back and forth on a paddleboard without falling off. The Animal Welfare Center organized a pet parade and several of the canine models were adopted afterwards.
The AWC booth was decorated with a holiday theme. A Christmas tree was decorated with pictures of items that could be purchased for the animal shelter. They also had a selection of individualized Christmas stockings for pets.
Healing Paws Sanctuary had a contest to guess which dog out of 20 photos was a pit bull. Most people did not select the correct animal and those who did received a prize. At the same time Dance demonstrated and explained plans for the Sanctuary. They plan to house stray and abused animals on nine acres west of Christiansted. Currently, work is being done on the great house to repair plumbing, electrical and the roof. Then they will build a security fence before constructing kennels.
The organizations handed out literature, explained their goals in support of animals, and gave away prizes. Dr. Stacia Jung, representing the Sunshine Foundation and V.I. Humane Education, explained how they are trying to "get the feral cat population under control." Using a humane trap, residents can catch a wild cat and take it to the Sugar Mill Veterinary Clinic. The animal will be spayed, dewormed, vaccinated, ear clipped and tested for feline leukemia for $25. Then the cat is returned to its neighborhood, where it can be identified by the ear notch.
Edmund Davys, Healing Paws Sanctuary's director, organized the event that included more than 50 volunteers and the Sanctuary, the St. Croix Animal Welfare Center, Sunshine Foundation, the V.I. Humane Education Learning Center and Cruzan Cowgirls.
"There was a lot of love on the beach," Davys said. "A lot of people were thrilled to see us working together."