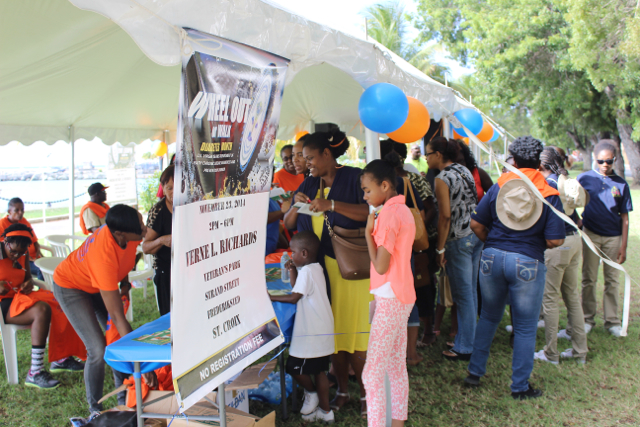 With clear skies and pleasant smiles in downtown Frederiksted, the V.I. Department of Health hosted a "Wheel Out or Walk" event to encourage people with diabetes to stay active and to share information on diabetes for the community.
People taking part in Sunday's event skated, biked, rolled and walked from the Verne L. Richards Veteran's Park on Strand Street to the Frederiksted pool and back.
The "Wheel Out or Walk" event, put on by the Chronic Disease Awareness and Prevention Division, brought together the community as well as groups and organizations with a background in health and wellness. The event was open to any kind of non-motorized wheels, including skateboards, rollerblades and bicycles, to join walkers in support of a healthy living.
"It is all about promoting diabetes awareness," said Cathleen Arnold-Lewis, territorial director of Chronic Diseases for the Department of Health. "It's about promoting health and wellness in our territory."
The goal, Arnold-Lewis, said is "to decrease risk factors by managing weight, exercising, decreasing stress, managing high blood pressure and looking at your diet."
"I encourage people to do something, get active," Arnold-Lewis said. "We are going to do some jump roping, egg races, hopscotch and traditional games so people can be out here and be active. We have music, some Zumba demonstrations and we also have some health promoters from our territory who advocate health and wellness through their products and speeches."
About six restaurants in the Frederiksted area partnered with the Department of Health to create $10 meals with healthy choices. Health Services Advisory Group, Inc. was one of the groups taking part. HSAG is a multi-state and territory organization serving more than 25 percent of the nation's Medicare population. Adia Rios, the quality improvement specialist for HSAG, Inc. handed out material about the "Everyone with Diabetes Counts" program. The program, for individuals 65 and older who are Medicare beneficiaries, is a six week course that educates individuals about small lifestyle changes while learning about diabetes and its effects on health. The program is free to Medicare recipients and begins in December.
"Today is a day to come out and get some exercise, get some information on the stuff that we are supposed to eat and what not to eat," said Ruth Dublin, program administrator for Community Health Services at the Department of Health and a diabetic herself. "Most in the community don't really know that they have it until something happens. They might get a cut and it doesn't heal as fast as it is supposed to and that is when they realize it … at times it is too late which leads to amputation."
The Seventh Day VIP band performed, and citizens from the community spoke about their experiences with diabetes.