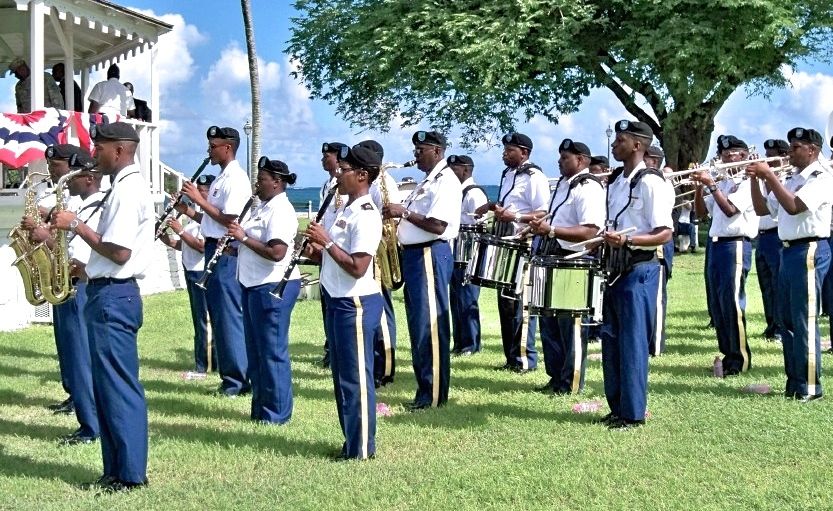 As hundreds of St. Croix residents sat, stood and otherwise made themselves comfortable around the gazebo on the lawn of Fort Christiansvaern on Veterans Day morning, Charles David, commander 10th District Department of Puerto Rico, said this celebration was specially dedicated to the Vietnam War veterans.
"They were treated poorly and not welcomed home; we now welcome them home," David said. "We aim to honor them."
An earlier speaker, Harry Daniel, director of Veteran Affairs in the Virgin Islands, also emphasized recognition of Vietnam War veterans. He said about Vietnam, "This is a war that no one seems to remember. We owe them more than a thank you. We need to help, support and assist veterans."
But even with this emphasis, veterans of other wars were not overlooked during the ceremonies. There were many mentions of how all the service men "who raised their right hands and swore to protect the United States of America" deserved honor and recognition for their sacrifices.
Ignacio Llanos Sr., a Vietnam Army Veteran at his 46th consecutive Veterans Day commemoration, said he felt proud and honored to finally be recognized for serving his country. He said this was possibly the biggest turnout he has seen on St. Croix since his discharge in 1968.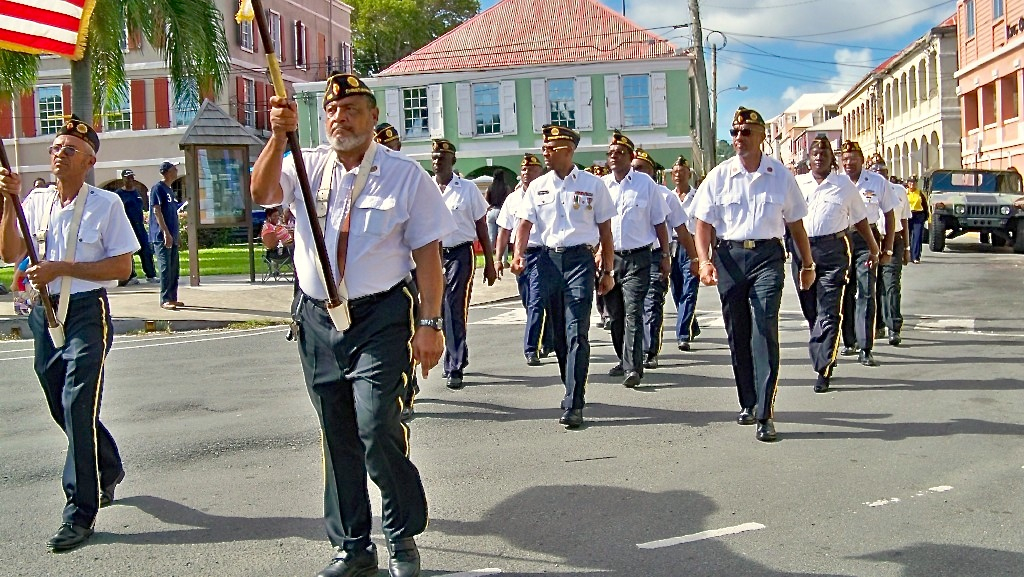 "I'm very happy to see the amount of people that turned out today," said Secundino Roman, American Legion Post 102 department commander. "Usually I'm grumpy because not too many people come out to the ceremonies." He added it was good that the Vietnam veterans were finally being recognized.
Jose Luis Diaz Gonzales, 82-year-old Korean War Marine Corps veteran, said he marched in a lot of the local parades in the past. "Today we come to honor those who gave the ultimate sacrifice and never came back home," Gonzales said.
Maj. Gen. Renaldo Rivera, adjutant general of the Virgin Islands, was the keynote speaker on St. Croix. Dr. Lee Carl Whitaker, clinical director of the St. Thomas VA clinic, was the keynote speaker on St. Thomas.
V.I. National Guardsmen who recently returned from deployment in Afghanistan were honored in a special yellow ribbon welcome home ceremony.
Those recognized from St. Croix were Chief Warrant 4 Fabian Claxton, Staff Sgt. Peter A. Bando, Sgt. Adrian N. Ramsden, Staff Sgt. Henrietta Sampson and Staff Sgt. Raymond Williams.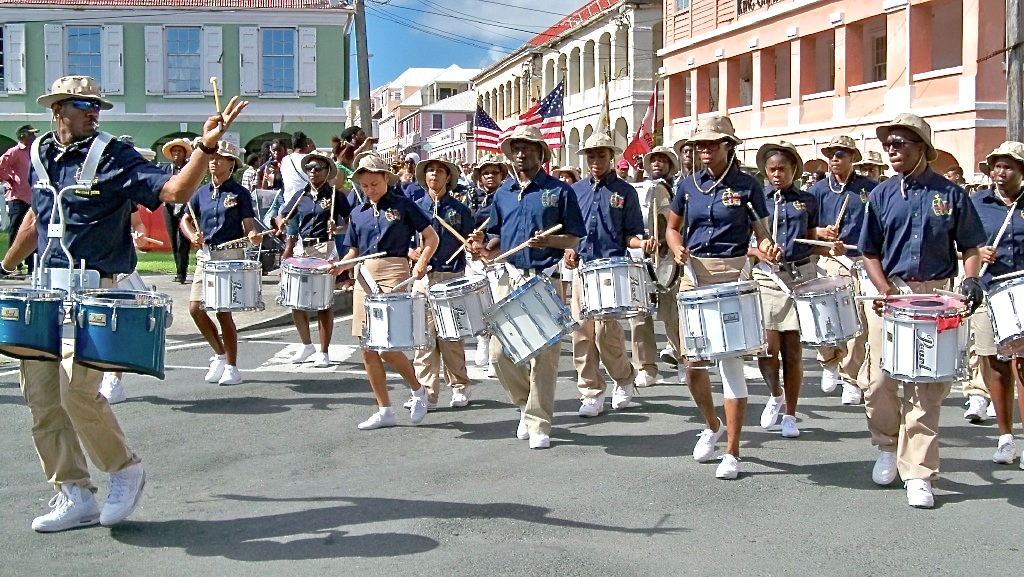 The guardsmen recognized on St. Thomas in a similar ceremony in the afternoon included Cpt. Brenda Sydney, Staff Sgt. Dazarene Lescott and Staff Sgt. Lazarus Toussaint.
Carol Atwell sang "I Just Can't Give Up Now," and the Santa Cruz Brass Ensemble played military theme songs.
The morning's events on St. Croix began with a parade at 9:30 at Bassin Triangle with hundreds of soldiers marching down King Street to the Christiansted waterfront led by Parade Marshal Leander Augustin Henderson Sr., Vietnam Army veteran.
Joseph Quintiliani, a veteran from Cape Cod, Mass., who couldn't march in parades anymore, gave out about 300 flags to children.
The 73rd Army Band members from St. Thomas and St. Croix put on a nice show with a lively horn selection with brass horns that gleamed in the sun.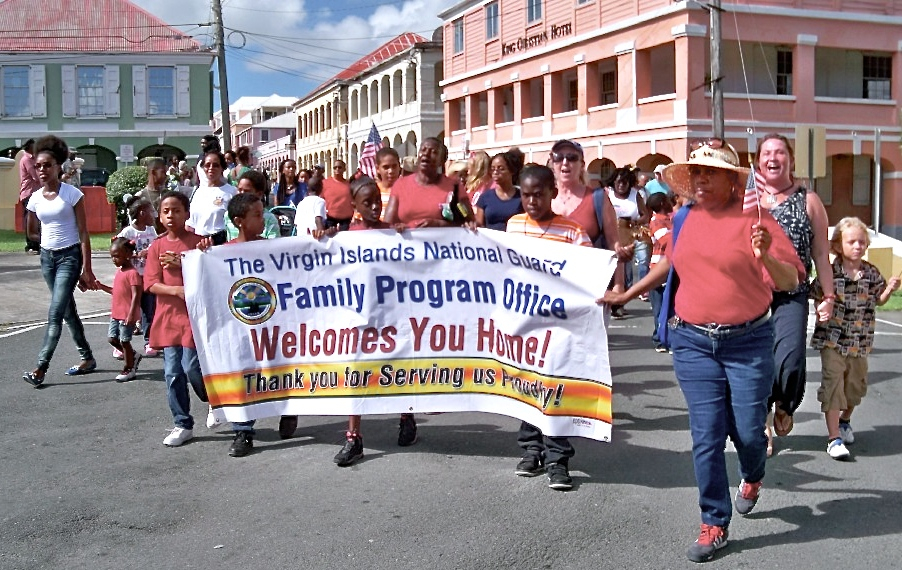 American Legion members from all local posts and the Women's Auxiliary marched. There were Boy Scouts, Girl Scouts and the Seventh-day Adventists Youth Pulse Band that marched. The V.I. Chapter of the Tuskegee Airmen Inc. and the Youth Aviation Club joined the parade as well as Junior ROTC students. The Family Readiness Group, supporters of military families, made their presence known in the parade as well.
Duane Howell, Family Readiness senior support assistant, said they joined the parade so folks could see the support families are receiving so the soldiers can focus on their mission and not worry about loved ones at home.
"Without veterans there wouldn't be an America," David said. "Thanks to the real heroes, the men and women who gave their all for freedom."