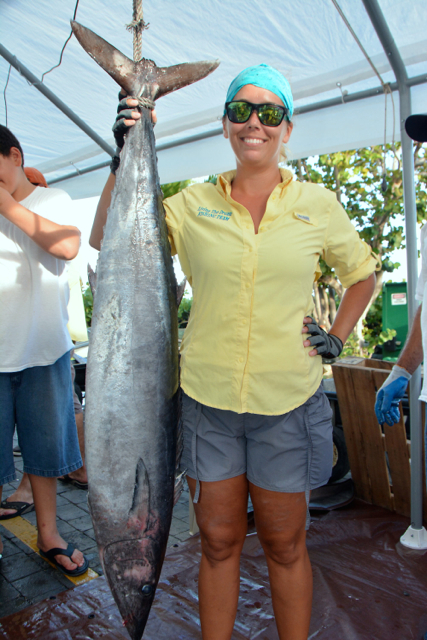 St. Croix angler Beth Basinski took the top angler prize in the Virgin Islands Game Fishing Club's Wahoo Windup.
In the event that concluded Nov. 2, Basinski, fishing aboard the 65-foot Hatteras, Living the Dream, reeled in the largest wahoo, a whopping 42.35-pounder, according to the club's news release. This catch landed her a $1,500 cash prize.
"We fished Lange Bank northeast of St. Croix." Basinski said. "My fellow anglers Jason (Senff) and Ryan (Senff) each caught a wahoo. Then, I hooked a wahoo and lost it. After that, I hooked up another wahoo. It took off with good speed just peeling off line. I figured it was either big or feisty. It turned out to be both."
Basinski's catch also earned her the top female angler award.
However, Basinski's fish fell about 32 pounds short of winning the grand prize of $3,000 for any angler boating a wahoo weighing more than 75-pounds.
St. John's John Deckoff caught the second largest wahoo, a 42.02 pounder from aboard Pescador. Deckoff, a junior at Antilles School, also won best junior angler. St. Thomas' Paul Doumeng, fishing from Hookie II, reeled in the third largest wahoo, a 35.86 pounder. St. Thomas' Angela Berry on Double Header caught a 33.88-pound wahoo for the fourth largest prize, while St. Croix's Ryan Senff, on Living the Dream, rounded out the top angler prizes by catching the fifth largest wahoo, which weighed 32.56 pounds.
The Best Boat award went to Double Header, which not only caught the most wahoo with five, but also bagged the most wahoo by weight at 136.95-pounds.
Asked about the Double Header team's success, Chris Berry, who captained the boat, explained, "I fish for a living, but we participate in the tournaments for fun. It's a great way to involve the wives and family."
The 75 anglers in the 19-boat fleet caught a total of 17 wahoo weighing a collective 480.18 pounds.
Personnel from the Department of Planning & Natural Resources Fish & Wildlife Department conducted the official weigh-in.
Cash and prizes were presented at an awards dinner at the VIGFC held Monday night.
"It was great to see how many boats and anglers we had come out this year," said tournament co-director and VIGFC president, Kelvin Bailey, Jr. "We invite everyone to fish with us in our future tournaments."
Two anglers in the VIGFC's Wahoo Windup's decade-plus history have reeled in fish weighing more than 75-pounds. In 2012, Clive Mahabir, aboard local charter boat Mixed Bag, reeled in a 91.3-pound wahoo, while in 2003 Mike Kuszewski, fishing aboard the local charter boat Black Pearl, landed a 94.1-pound wahoo, which remains the tournament record.
Tournament supporters included Glazer's Premier Distributors, LLC, and IGY American Yacht Harbor.
Proceeds from this and all of the VIGFC tournaments benefit the Boys & Girls Club of the Virgin Islands. The Boys & Girls Club of the Virgin Islands enables all young people, especially those most needy, to reach their full potential as productive, caring, responsible citizens, according to the tournament's news release.
More information is available online at www.vigfc.com or by calling 1-340-775-9144.