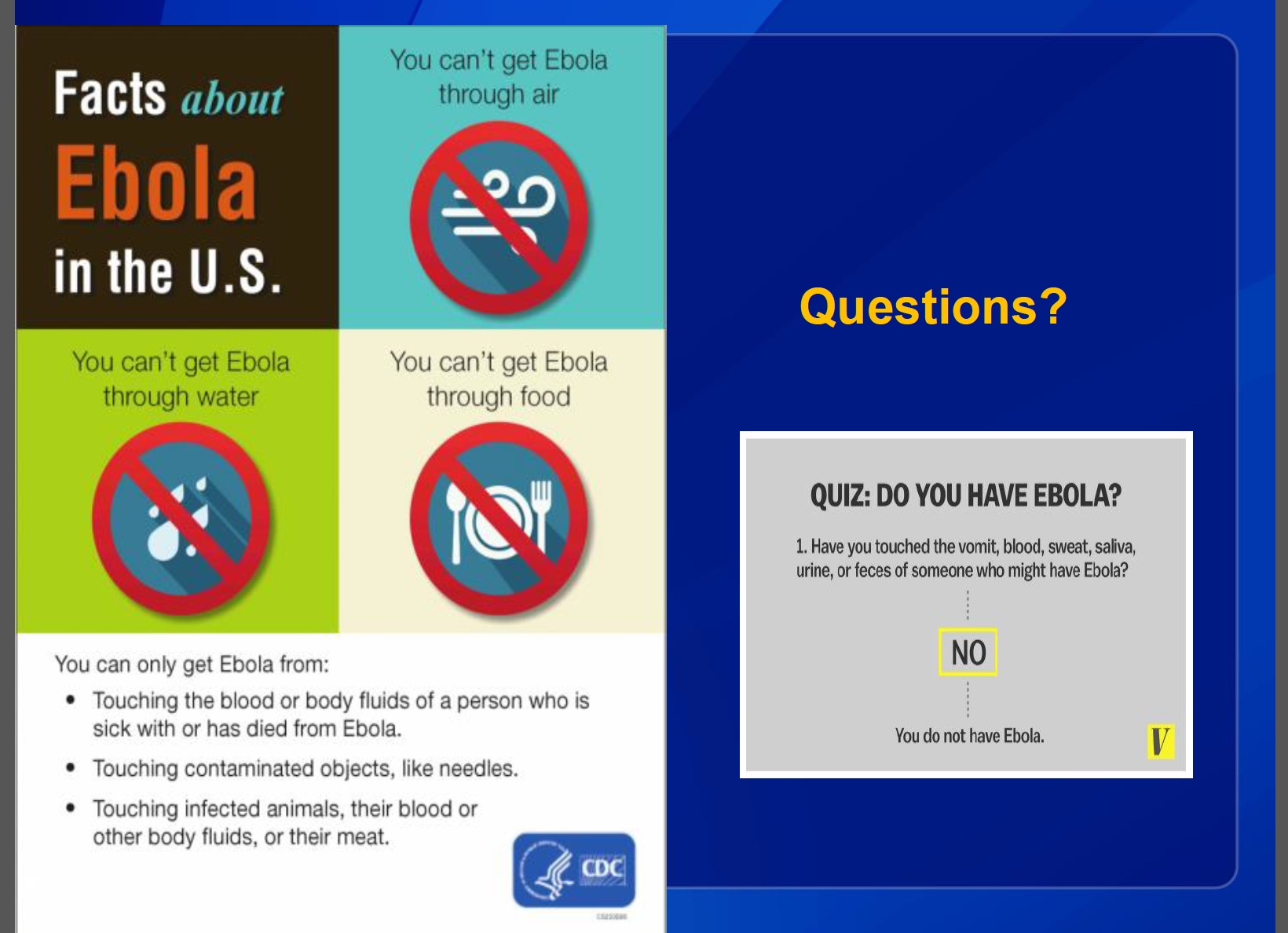 V.I. Health, hospital and emergency management officials are coordinating, training and preparing for the nightmare scenario of an Ebola outbreak in the territory, but agency officials told senators Wednesday an outbreak is unlikely and there is no cause for alarm.
Ebola is an extremely virulent hemorrhagic fever that is only transmittable by direct contact with bodily fluids, but which has a 50 percent death rate. The worst Ebola outbreak since the illness' discovery in 1976 is occuring at present, with more than 8,000 cases and more than 4,000 deaths so far, health officials said at Wednesday's oversight hearing, citing the Centers for Disease Control and Prevention. It is primarily in Liberia, Sierra Leone and Guinea, along with several widespread travel-related cases.
There have been four cases of Ebola in the U.S., with one fatality. Currently there is one case of Ebola in the country.
Health Commissioner Darice Plaskett said that despite the epidemic in West Africa, "U.S. health professionals agree it is highly unlikely that we would experience an Ebola outbreak in the United States, given the health care infrastructure and rapid response capabilities."
Unlike flu, dengue or chikungunya, the likelihood of contracting Ebola is extremely low unless there is direct unprotected contact with body fluids such as blood, urine, saliva, feces, vomit and sweat of a sick person, Plaskett said. It is also possible to contract it by direct handling or ingestion of infected bats, rodents, or nonhuman primates from areas with an Ebola outbreak, she said.
Meanwhile, as fears of an Ebola outbreak increase, she said the CDCis taking the lead working with other federal agencies to prepare public health agencies across the country, and local officials are working with federal officials to prepare just in case, she said.
Health is working with the V.I. National Guard, the V.I. Territorial Emergency Management Agency and other agencies to coordinate more training on using personal protective gear and other procedures, she said.
"I must emphasize, there is no Ebola epidemic in the United States and there have been no known local cases," Plaskett said. "Nevertheless, now is the time to prepare and measure our level of readiness. By focusing on the way the virus is spread, the territory's health system and stakeholders can be empowered to protect the territory against exposure and spread of the virus," she said.
Sen. Clarence Payne III chaired Wednesday's Health, Hospitals, Human Services and Veterans Affairs Committee hearing.
"According to reputable news sources, the Ebola outbreak began in West Africa and has spread to the United States. Although, there are no cases of the Ebola virus in the territory, it is important to inform the public of the readiness of health officials if that was to occur," Payne said.
Gov. Juan F. Luis Hospital Chief Nursing Officer Justa "Tita" Encarnacion, described that hospital's preparations to date, and Schneider Regional Medical Center CEO Bernard Wheatley did the same for the Schneider Regional Medical Center on St. Thomas.
"We have identified a temporary area within our Emergency Room Department, which meets CDC's guidelines to segregate any patient presenting to the Emergency Department to reduce the risk of cross contamination," Encarnacion testified. The hospital has also identified a section within the hospital, outside of the general patient populace that meets CDC's guidelines, for management of a longer stay and has identified an Ebola response team, including the critical care nursing staff and physicians who will be the patient's first point of contact.
And the hospital is working with staff on practicing procedures.
"Some of the procedures include fitting and re-fitting staff for masks, working with staff to determine their ability to care for a high-risk Ebola patient and saturating hospital staff with Ebola preparedness information through the Intranet," Encarnacion said.
She added that early detection of the virus is critical because JFL does not have the medical or human resources to manage a patient beyond 48 hours.
Payne asked about continued training and Encarnacion said the Ebola task force will continue to attend weekly training.
No votes were taken at the oversight hearing. Senators present included Sens. Clarence Payne, Craig Barshinger, Myron Jackson and Kenneth Gittens.