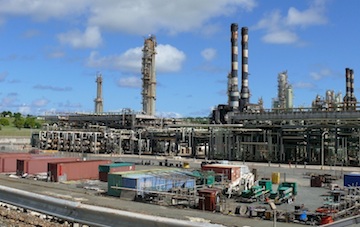 The V.I. government has negotiated an operating agreement with Atlantic Basin Refining Inc., a company formed specifically to buy the shuttered Hovensa refinery, according to a statement released Monday night from Government House.
Gov. John deJongh Jr. met on Monday with members of the V.I. Legislature, who must approve the new operating agreement, to discuss the development.
In September, Government House announced the tentative sale of the refinery, which closed in 2012, costing the V.I. economy more than 2,500 jobs. The governor said then that the next step was the "delicate negotiations" with the unnamed buyer and the government over the operating agreement.
DeJongh said Monday that the government negotiated an operating agreement requiring ABR to rebuild and restart the refinery, to employ hundreds of Virgin Islanders and to make substantial payments to the government totaling more than $1.6 billion in fixed payments over the life of the agreement and additional variable payments depending on the refinery's profitability.
Moreover, and for the first time ever, owners of the refinery will be required to take the facility down and clean up the site if they do not restart the refinery or if it is again shut down at any time in the future, the Government House announcement said.
The operating agreement also requires the new owners to pay into a site restoration fund that will pay for the ultimate deconstruction and takedown of the refinery and remediation of the site.
"This will ensure that, whatever the circumstances, if there is not to be an operating refinery, we will not be left with an eyesore and a wasting asset," deJongh said.
Atlantic Basin Refining is headed by a group of individuals with experience in refining, energy finance, oil trading and environmental restoration, Government House said.
DeJongh said economic activity at the refinery would pick up as soon as the Legislature approves the operating agreement and the sale of the refinery is closed.
"Activity will accelerate substantially once construction commences. After the restart, the refinery is expected to employ over 700 workers, with over 500 fulltime employees and over 200 contractors," the governor said. Once restarted, the refinery will provide a tremendous boost to the St. Croix economy and generate hundreds of additional jobs to support the refinery's operations and employees."
The base term of the operating agreement is for 22 years, but it may be extended for two additional terms of 10 years each if ABR is not in breach of its obligations under the agreement.
DeJongh described the negotiations as long and tough.
"Our efforts have been driven by my strong belief that restarting the refinery was the quickest and best way to generate jobs and economic recovery on St. Croix," the governor said.
"It's been a long process, but I believe there is finally light at the end of the proverbial tunnel that has the potential to bring some long-awaited and much-needed economic activity to the island of St. Croix."