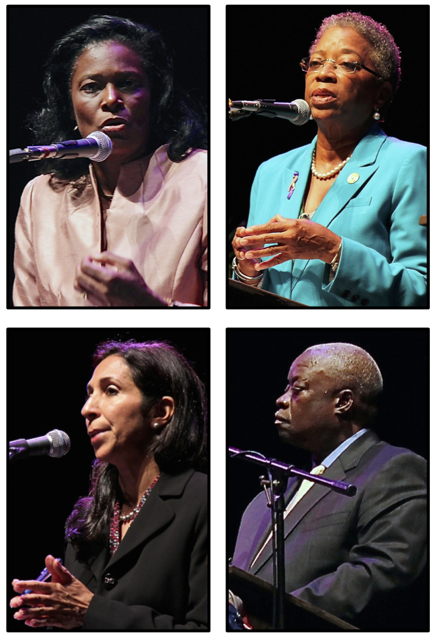 Candidates for governor of the U.S. Virgin Islands offered differing views on health care costs, securing the pension system for government workers, a constitution for the territory and other issues in a forum Wednesday night.
More than 150 people flocked to the Reichhold Center to hear the four gubernatorial tickets competing in November's election lay out their plans for tackling some of the territory's prevailing issues.
After the candidates for lieutenant governor spoke, the gubernatorial candidates took part in a series four rounds, each round with questions answered in a predetermined, rotating order.
Soraya Diase-Coffelt called the status of the Government Employees Retirement System "a train wreck coming much sooner than later."
GERS has predicted that because of unfunded legislative mandates and insufficient contributions by members and the government, the system could be bankrupt as early as 2012.
Diase-Coffelt said while the employees pay their share of contributions, the "government pays its share late and sometimes, very, very late." She said there should be a dedicated fund that pays its GERS contributions on time. She also urges looking into competitive "sin tax" for alcohol and tobacco.
The former judge, who is running unaffiliated from a political party, also suggested offering to buy out current retirees at a certain percentage of what they are owed, paying money up front and eliminating long-term costs.
Kenneth Mapp, also unaffiliated, said GERS is a "fixable system" and recommended floating pension-obligation bonds.
"Identifying a revenue source by which we can sell pension obligation bonds and put that money in a leveraged annuity … paid to the GERS as part of that process," he said.
Mapp said he would push for hiring 1,000 "young, vibrant" new workers in critical areas of government.
Democrat Donna Christensen agreed on finding a dedicated revenue stream for the retirement system, but called for use of special-obligation bonds, which she said are non-taxable, over the "risky and taxable" pension-obligation bonds Mapp advocated.
She also said the system needs to diversify its investment portfolio and fully automate its systems.
"Too many things are done by hand, and even some of the automated systems are not working properly," she said.
Mona Barnes said she does not recommend changing policies for retired personnel, but would consider changes for those currently active.
"There are hard decisions that are going to have to be made, because there just might have to be some changes that have to be made as far as what we're putting," she said.
Barnes added there is a need for "restructuring government," and getting away from contract employees who are contracted at a high rate of pay for a specific task, but do not pay into the system. She also said WAPA is expecting to save money in its shift from fuel oil to propane, which means "gasoline tax" money now going to WAPA can be diverted to GERS.
Status or Constitution?
The gubernatorial hopefuls were split on which of two issues to prioritize: determining the territory's status or adopting a local constitution. Barnes said outright she would clarify status first, saying the Virgin Islands has to "transition from an unincorporated territory."
"You have to have first worked on your status before you can work on your constitution," she said. "We need to get away from the Revised Organic Act of 1954 as well, and there's a lot of other documents that we're actually working … on that's outdated."
While not answering the question directly, Mapp started out by pointing to "some very fundamental problems."
"The United States government must recognize its responsibilities to citizens that live in the territories," he said.
Christensen said the process of determining status would take a long time, and said she'd rather have a constitution.
"We need to develop that level of political maturity where we have a constitution," she said. "We need not get involved in some of those exclusionary non-constitutional issues."
Christensen added that adopting a constitution does not preclude the territory from pursuing a different status later on.
Diase-Coffelt said she would work on a new constitution, going back to the debate on what makes a Virgin Islander.
"There's too much infighting, there's too much posturing, and we need to have a grander vision, a vision that we have our own constitution," she said.
Uncompensated Care
The candidates had different ideas on dealing with uncompensated care. Diase-Coffelt said Medicaid is "the way to go." According to Coffelt, the 41 percent that the territory has to match for Medicaid is comparable to those of more prosperous states, and should be lowered.
Mapp disagreed, saying Medicaid is not the answer because even if the eligibility cap was doubled to $9,000, it would still exclude those who are earning more than that amount. Mapp said the main reason the territory was not able to participate in national health exchanges that might offer affordable insurance options is the lack of technological support. He said part of the Medicaid monies are better off being used for entering a health exchange program.
Barnes said, apart from changing the schedules of clinics to reduce the amount of non-emergency cases in hospitals' emergency room, it all goes back to preventative thinking.
"It has to start with prevention," she said. "When you have healthy people, then you don't have people going to the hospitals."
Christensen said the hospitals are suffering from lower reimbursements from Medicare and Medicaid, and said her office helped raise the annual Medicare/Medicaid monies from $4 million to more than $43 million annually.
Christensen added that because the poverty level was changed, as many as 22,000 new uninsured residents could become eligible.
Wednesday night's gubernatorial forum was the third in a series organized by the University of the Virgin Islands and the USVI Alliance. The first forum took place two weeks ago with senatorial candidates, and the second forum last week with senator-at-large and delegate to congress aspirants.
Candidates for lieutenant governor also had their turn answering questions. John Canegata, Osbert Potter, Basil Ottley and Wendy Coram took part. Robert Quinn was absent. The candidates spoke on issues ranging from revenue generation to health insurance, and individually addressed questions from the audience.