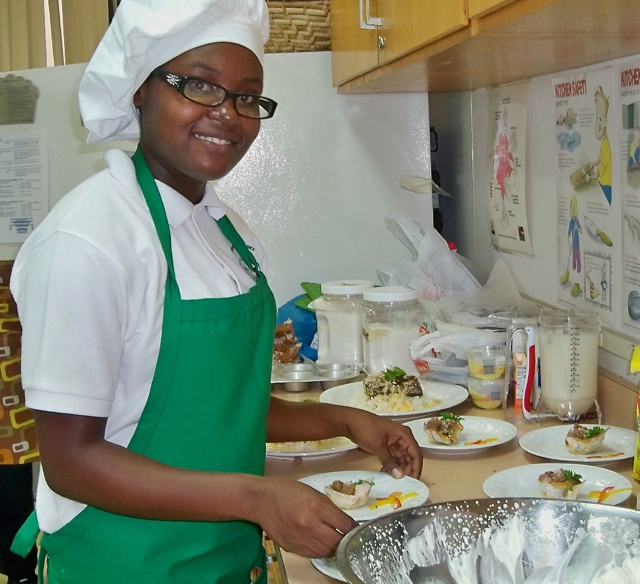 Virgin Islands residents found a couple of new items at St. Croix's World Food Day celebration Sunday at the University of the Virgin Islands.
In one spot, "Tropical Fruits of the U.S. Virgin Islands and Their Nutritional Values," a glossy, hardcover reference book, was being introduced to the general public. The keepsake book is the latest publication of the university. The colorful photographs of native fruits are printed on high-quality paper alongside the health benefits of the fruit. A short description of the fruits and details about the months when they bear is also included.
The book is published by the University of the Virgin Islands Cooperative Extension Services and is available at both UVI bookstores.
Across the field, past the 15 food vendors set up for this annual event, Veronica Gordon had a tent set up with 12 other produce vendors not far from where the V. I. Agriculture Department was giving away free vegetable seedlings. Gordon had a new product not tasted before by those questioned about it – baobab juice. Its taste was described as "very different, very good." Gordon said it is full of nutrients.
The vegetable plants that the Agriculture Department gave away included some that had been popular in previous years – tomatoes, peppers, and basil. But there were also new plants – eggplant, bok choy and okra.
Some of those vegetables were featured in the World Food Day 4-H Youth Super Chef competition. Teams of students from St. Joseph School, Good Hope Country Day, and Seventh-day Adventist schools and the 4-H Clover Cafe Club, competed preparing meals – a main course, drink and dessert – with the eggplant, passion fruit and beef provided. Their creations were judged by a panel of judges composed primarily of chefs from the community, as well as one judge selected from the audience by raffle. In addition to taste, the students' efforts were judged on teamwork, presentation, knowledge of the nutritional value and origin of their products and questions about the purpose of World Food Day.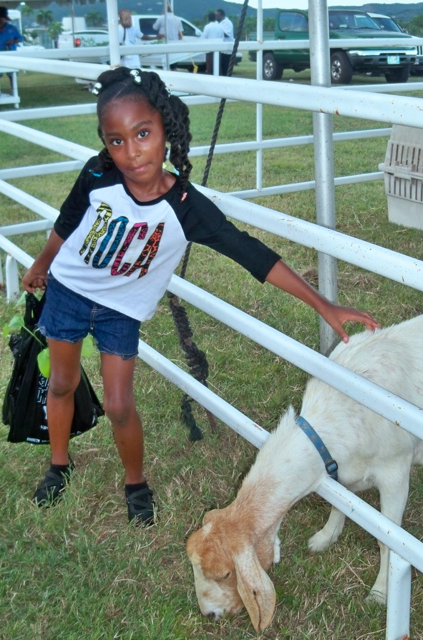 The 4-H Clover Cafe team, made up of Toheta Durand, Rochelle JnBaptist and Natash Charlery, won first place. Second place went to Good Hope Country Day and third was St. Joseph senior high team. Seventh-day Adventist took fourth place.
Sarah Smith, 4-H extension agent and organizer of the competition, said she was very pleased and proud of the 4-H members getting first.
"The judges were very complimentary and gave really good feedback," Smith said.
Charlery, in the 12th grade and competing her second time, said the best part of the competition is "when the judges say we did a good job. It's great to see the judges faces when they like what they've tasted."
In addition to the student competition, a "Passion Fruit Blast" competition challenged the public to bring their best desserts, preserves and drink recipes. Programs were held on passion fruit and eggplant production.
A petting zoo was set up for children.
Entertainment featured music by the UVI Concert Band and DJ Porter, and performances by the Guardians of Culture Moko Jumbies and the St. Croix Martial Arts children's karate club took place throughout the day.
Local resident Dawn O'Bryan said the observance is a great event and suggested UVI hold it more often than once a year.
"It was nice," O'Bryan said. "There was something for everyone, like the petting zoo for the kids and the information and educational activities."
Remarks were given by Robert Godfrey, director of the UVI Agricultural Experiment Station; Louis Petersen, V.I. Department of Agriculture commissioner; and UVI President David Hall.
Mike Francis said he had to come and get the latest local cookbook published by UVI. "And of course I came to eat too," Francis said. "The food was great."
No admission was charged, but people were asked to bring a donation of non-perishable food for Catholic Charities and My Brother's Table.
The Rev. Rod Koopmans, director of My Brother's Table soup kitchen, said the organization serves 16,000 meals a year and they couldn't do it without the generosity of the community. He added he is glad that UVI holds an observance of World Food Day event, bringing the problem of world hunger to people's attention.
World Food Day is a worldwide event designed to increase awareness and understanding and promote yearround action to alleviate hunger. It is observed October 16 in recognition of the founding of the United Nations Food and And Agriculture Organization in 1945.
World Food Day is sponsored by UVI's Cooperative Extension Service, the UVI Agricultural Experiment Station and the V.I. Department of Agriculture. Plaza Extra is a participating sponsor.