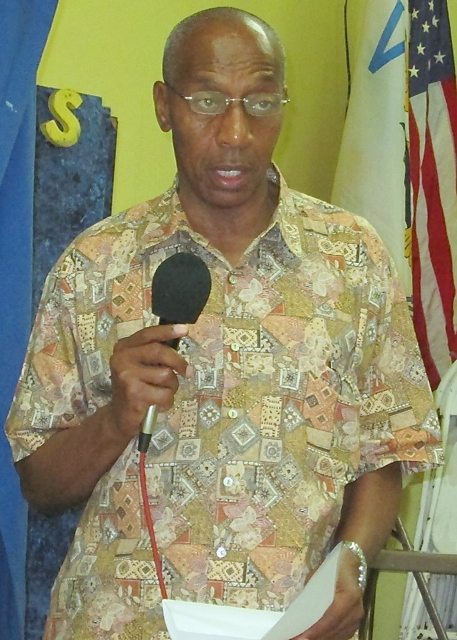 Tax Assessor Ira Mills explained the ins and outs of the territory's property tax code in great detail Saturday, including the exemptions, now called credits, available to help St. John residents reduce their property tax bills.
However, that still doesn't solve the problem for many who think their homes are overvalued or who say they simply cannot afford the stiff increase that appeared on the 2013 property tax bills that were recently issued.
"Am I supposed to sell my property?" Oscar James Jr. asked at a town meeting on property taxes. The meeting was called by Mills and held at Julius E. Sprauve School.
James said he couldn't afford to pay the taxes on the house he lives in with his family.
When Mills suggested a payment plan and told him he had to recognize the value of the land, James said people like himself, who inherited the land, will become like dinosaurs on St. John.
"I can't understand how our government could do this to us. Where are my kids going to live," he said, echoing the remarks made by several people at and after the meeting.
Mills also urged residents who have trouble paying their property taxes to lease their land so it works for them.
"I live on my property," James said, raising the question of where residents are supposed to go if they rent out their properties.
After Gabriel Nathaniel asked why indigenous St. John residents had to carry the tax burden when Caneel Bay Resort and V.I. National Park pay no property taxes, Glen Speer indicated that the problem impacted both native and non-native residents.
"All of the people in this room live and work here," Speer, a 45-year resident who is an architect and builder, said.
And he said that none of the children who attended Sprauve School would ever be able to afford his house, which he said was overvalued at $1.5 million and has no "view."
Property valuations are based on market value, Mills repeatedly said. He said that because the national park consumes a big portion of the island, only about 20 percent of the land is available for homes.
"Since we can't make more land, the price of each square foot becomes more and more valuable to people who want to come to the island and enjoy its peace and tranquility," Mills said, pinning the appeal to off island residents on the presence of the national park.
Mills urged residents who think their homes are overvalued to file an informal appeal with the Tax Assessor's office. He said after the meeting about 500 have been filed territorywide, with about 50 filed so far on St. John.
He said that property tax payers who appealed their tax bills will still be eligible for the 5 percent early-bird discount on their taxes, even if they don't pay until the Dec. 6 deadline. The early bird deadline was Oct. 6.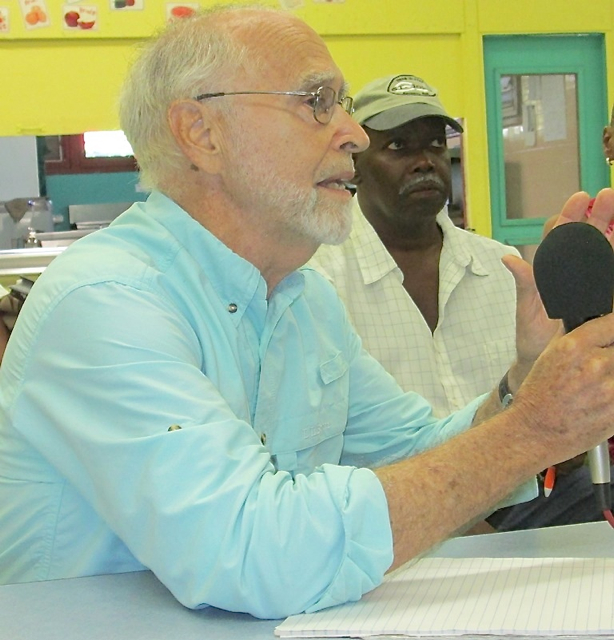 Mills said he expects all the informal appeals to be dealt with by the time the tax bills are due.
He said if property owners are not satisfied with the results of the informal appeal, they can appeal to the Board of Tax Review.
Several people at the meeting also raised questions about conditions that impact the value of their home. Nathaniel said that a neighbor operates a junk yard and boat-storage facility on his adjacent acreage.
"The property is not zoned for commercial," he said.
Mills suggested he contact the Planning and Natural Resources Department or the Health Department's Environmental Health Division.
An Enighed resident said that he and his neighbors are up all night because of people working on barges and boats tied up at the Enighed Pond Marine Facility. Mills urged him to call the police.
Sen. Craig Barshinger, who is not running for re-election, said four bills are pending that will help St. John residents facing tax issues. He said the most viable calls for assessing value only when properties are sold.
Lots of hands went up when he asked if there was interest in a town meeting to talk about what the Legislature could do to provide tax relief for St. John residents.
Barshinger said that while he understands that property values are based on fair market value, the current situation is not fair for St. John residents.
"It's not always about money," he said.
Act 6991, passed by the Legislature in 2008, forms the basis of the current tax system. It can be read online at the Legislature's website.