Innovative is nearing the finish line, installing a completely new network that has already improved services and will soon completely replace its legacy network, Chief Executive Officer Shawn O'Donnell told Rotary of St. Croix on Thursday.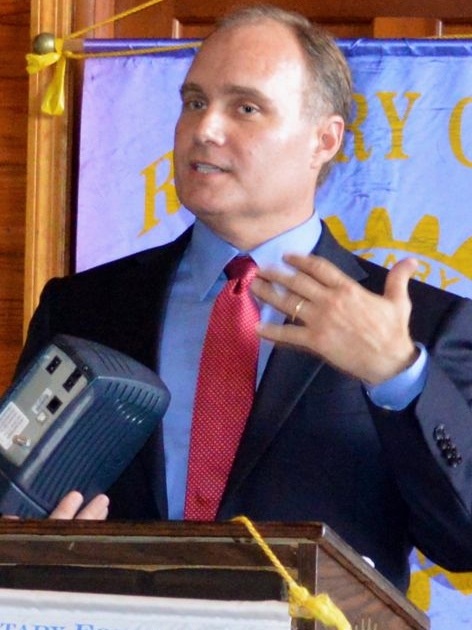 Much of the old phone network dated to the 1980s, with some of it going back to the 1940s, O'Donnell told the small crowd at the group's weekly lunch meeting at Gertrude's Restaurant.
"To give you an idea, when I first started in telecommunications back in the '80s, I installed Nortel DMS switches, and when I came here in 2011 Innovative was using Nortel DMS switches. … Nortel actually went bankrupt five or 10 years ago and is not even a company anymore. When the switches fail we have to essentially buy them on the equivalent of Ebay," he said.
A year ago, flooding in a St. Thomas manhole took out service for several days. "That was because the copper wire in the manhole was insulated with paper. The wires are from the 1940s. That is an example of a lack of investment," O'Donnell said.
Over the last three years, Innovative's parent company, National Rural Utilities Cooperative Finance Corporation, has invested more than $100 million into the network, O'Donnell told Rotarians.
That is more than it promised when it took control In 2010. The CFC took Innovative in a credit bid, to try to recoup a $525 million judgment it had against Innovative and former owner Jeffrey Prosser. At the time, CFC told the Public Services Commission it intended to spend at least $15 million per year and more than $50 million total, to upgrade the network and try to sell the phone company and minimize the loss. (See: PSC Approves Vitelco Transfer in links below)
"We are investing in our people too, to get them trained not just on the old technology but also the new technology," O'Donnell said.
The company has installed more than 200 miles of fiber optic cable, "which is buried and much more reliable and more resistant," he said. "That is basically our middle mile core fiber network." Innovative is running coaxial cable from 200 nodes to businesses and homes. Some of the improvements are already in place, and more are coming," O'Donnell said.
"We now offer high definition TV, which we never did before. Right now we offer 30 to 40 channels and soon it will be up to 60 channels," he said.
Innovative is rolling out DVR services too, so you can pause, rewind or record shows. "And we have significantly increase our high speed internet speeds," he said.
As the new services come online, though, Innovative is going to completely stop using the old network, which will have some consequences, but is inevitable, O'Donnell said. The previous network is so old parts are becoming impossible to get, there are no good records of all the wiring, and it is simply too obsolete and difficult to maintain, he said.
In the past and on copper wires now, phones may still work once the power goes off. But once the system switches entirely over to the fiber optic network, "fiber doesn't carry electricity," he said. So phones will not work without electricity. So people can call during an emergency, phone and Internet jacks have long-lasting batteries, and Innovative can monitor battery strength and notify you to let you know to change it, he said.
Soon customers will also be able to sign up for service and pay online, he said. And right now, there is video on the go, where Innovative subscribers can access video on their computer, tablet or phone, through Watch TV Everywhere. Innovative subscribers can register and watch online at www.watchtveverywhere.com.