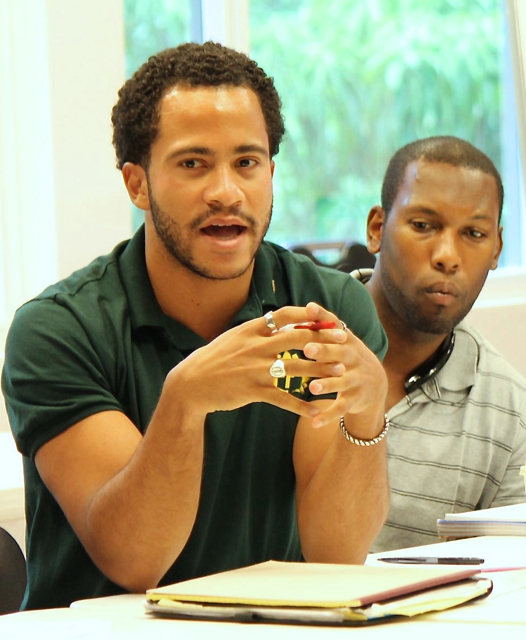 Some 20 representatives of agencies that make up the V.I. Youth Development Group met Friday to work on a database system to track at-risk youth, with the goal of keeping them from falling through the cracks of social services.
The Youth Development Group was created under the Governor's Children and Families Council, and began in 2013 under the leadership of youth advocate Scott Bradley. Made up of private and public agencies that deal with children and youth, it is tasked with advising the Children and Families Council on the welfare of V.I. residents aged nine to 24 years.
According to Bradley, the database would bridge a gap in information on youth that are not in systems where they can be monitored, such as schools. There is a blind spot between the time these youth drop out or graduate from public schools, and the time when they search for jobs through the Department of Labor system, or get entangled with the Justice Department after running into problems with the law.
"There's a gap in there where no one is really focusing on the kids, and we want to grab them at that point and keep an eye on their progress," said Bradley.
Educator Cira Burke said it's important to keep track of at-risk youth from the first sign of trouble.
"If a child drops out, that child did not just drop out at eleventh grade. That child has been dropping out all along," she said.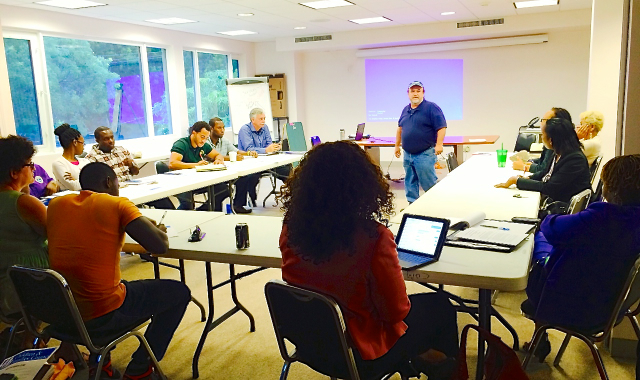 Young people would trigger entry into the proposed database the moment they get involved with the system, according to Bradley. By system, Bradley meant the network of community and government organizations now participating actively in the Youth Development Group, which, with the help of the database, would serve as a "guiding force" for these youth.
"If someone comes into our program who needs vocational training and some counseling, we would grab a hold of them and we would become their mentor, or find other services in our network that can help them as well," explained Bradley, using his own organization, My Brother's Workshop, as an example.
"That way, everybody is being watched by somebody," he said.
Bradley described this effort as putting the youth in the middle and wrapping an array of available services around them.
The enormity of the undertaking was not lost on the group. They could potentially be talking about keeping track of as many as 3,000 youth between both districts, according to Bradley.
"You can't do that without a small army, and that's what we're building here, a small army of very passionate people," he said.
Today, that small army consists of between 30 to 35 individuals who are actively helping Bradley advance the group's goals. Without a physical headquarters, they are limited to corresponding via phone calls and emails on a daily basis.
But beyond the logistics, Burke stressed on the importance of forming relationships with the youth they serve. Trust, she said, allows young people to share information on their progress, making it easier to monitor them and lending a deeper insight into their lives.
Attendee Derek Moore proposed working on an infrastructure akin to a community center where young people can go as an alternative to the streets.
"There is nothing more effective than infrastructure," said Moore. "Success is being part of something they know is not going anywhere."
Griffin McFarlane, founder of Sunrise Leadership, cautioned against treating the youth as a homogenous group that can be fixed with "a magic rule," in this case a youth-specific community center that may not be what some of them need.
"The youth is not one-size-fits all," he said. "Just because two kids got shot in the same care doesn't mean our approach to dealing with those kids should be identical."
Rotarian and Practice Peace Initiative organizer LaVerne Ragster said it is more about the idea, not the actual space. Whether the group decides to build one space, or one on each end of the island, the youth who go there would still be offered the same array of services and taught how to interact with a group of people.
Ragster added that they have been treating diversity in a way that makes it harder to accomplish something in the community. Anything that brings people together, she said, should be part of the answer.
"One of the things that I would promote with a high sense of urgency is teaching the next generation about defining community in a way that we have lost," said Ragster.
More information on the Youth Development Group is available by calling 340-514-8303.