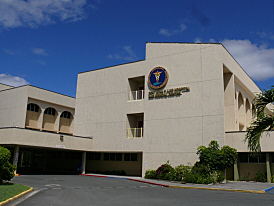 Lawyers representing Juan F. Luis Hospital are developing a plan to correct problems at Juan F. Luis Hospital and may be able to present it to officials at the Centers for Medicare and Medicaid as early as next week.
In separate news releases Saturday, Dr. Kendall Griffith described the work the Boston-based law firm Ropes & Gray is doing to address problems cited by CMS, and Delegate to Congress Donna Christensen said the JFL Corrective Action Plan might be presented to CMS as soon as next week.
CMS announced earlier this month that it will decertify the St. Croix hospital from participation in the two federal health care programs, threatening an important revenue stream for JFL. The report included a catalog of cases in which the hospital caused harm to patients. (See links below.) The report also highlighted what the inspectors considered administrative problems at the hospital. Following a 2011 CMS inspection, the hospital was found deficient in 11 of 23 categories, and despite entering a correction agreement with the agency, remains non-compliant.
Griffith said attorney Deborah Gardner and three of her firm's associates arrived in St. Croix Wednesday evening. They are working with hospital administrators to reassess hospital operating procedures and draft a comprehensive Corrective Action Plan for JFL. The final plan will be shared with the territory's elected officials before it is submitted to CMS, Griffith said.
According to Christensen's Saturday announcement, the law firm asked for the opportunity to present the plan "by next week, and CMS has agreed to have that meeting."
"I also told CMS that JFL will need an extension to give them the opportunity to show what they have done so far, and how they and the Government of the Virgin Islands will address the key areas of management, finances and patient care," the delegate said.
After a week of conversations with top officials at CMS, including CMS Administrator Dr. Marilyn Tavenner, Christensen said, "They do not want to shut us down."
CMS does not have the authority to shut a hospital down, but by preventing it from taking part in Medicare and Medicaid it can cripple its financially.
"My meetings with Dr. Tavenner and her team went very well," Christensen said. "They know that JFL is working with a law firm, that has worked to help hospitals avoid decertification before to present a plan that addresses the deficiencies in the report. I also met with the head of the U.S. Public Health Service Commission Corps, a rapid response public health team, and they are also working to get a team to the Virgin Islands to lend assistance."
Christensen said that JFL will also need money if it is to address its problems.
"My meetings with Nik Pula, the director of Insular Affairs at the Department of Interior, also went very well. Nik and I had been working for several months prior to the CMS report to identify funding for the hospital. He has assured me that in the new funding cycle, JFL will be OIA's top priority," Christensen said. "I also met with Dr. Nadine Gracia Deputy assistant secretary of the Office of Minority Health, so they can also be on notice that JFL needs assistance."
In his own statement, Griffith admitted there have been problems, and said the hospital is dedicated to fixing them.
"I recognize the troubling nature of the survey, and admit that some errors did occur, as they do at all hospitals," he said. "Clearly the goal is to minimize these instances. As a matter of due diligence, we have been undergoing a thorough revitalization of all hospital procedures. In fact, the type of infractions cited by CMS have been addressed and rectified through policy changes, staff terminations, by reinforcing protocols, ensuring accountability where violations or negligent action occurred, and by taking other corrective measures where needed."
Among the changes either in place or planned, Griffith pointed to:
– A quorum for the St. Croix District Board is in place, one of the deficiencies noted by CMS,
– Updating the hospital's electronic medical records systems, and re-credentialing of staff,
– Triage protocols were revised and the peer review process was revamped, which led to the removal of some physicians and other staff,
– Increase in the number of clinical providers including CNAs, RNs and CMAs,
– Revised hospital-wide patient monitoring in accordance with CMS guidelines, instituted updated wound care protocols and other measures.
Editor's note: This story has been updated to include later breaking information.