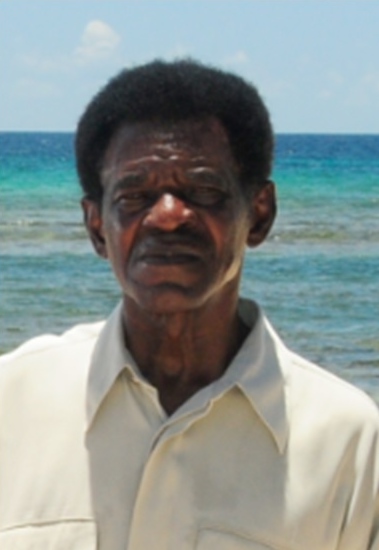 Romney MacDonald Williams of Hill Street, Christiansted, died on Sept. 17. He was 77 years old.
He was preceded in death by his father, Spencer Charles; mother, Rebecca Williams; sister, Paulina Gumbs; and brothers: Phillip Charles and George Williams.
He is survived by his former wife, Bernadine Williams; daughters: Ionie Williams, La-Toya Williams and Marion Buchanan; sons: Kelvin Williams, Clinton Stapleton, Roy Williams and Kervin Williams; and grandchildren: Tynisha Leon, Tasha Williams, Yahmel Williams, Cliaunjel Williams, Nigel Williams, Atlantis Williams, Clion Williams, Travis Williams, Yahmani Williams, Iaryn Williams, Mark Williams, Isabella Williams, Ajoni Stapleton, Aden Stapleton, Malique Williams, Leroy Williams, Eva Williams, Tashai Williams, Sanya Williams, Kelvin Williams Jr., Sylvester Williams, and Rindelle and Timonia Buchanan.
He is also survived by his sister, Agatha Carr (England); niece, Adelaide Batchelor; many other nieces and nephews too numerous to mention; daughters-in-law: Tonia Stapleton and Grace Williams; sons-in-law: Clive Williams and Timothy Buchanan; and great-grandchildren: Shaqunda, Kimarie, Destiny, Nigel Williams Jr., Tyrae, Ariana Williams, Aliyah, Leroy Williams Jr., Senora and Lenora Elliott, Nataniel Williams and Jaquon.
Other survivors include special friends: Pastor Theophilus Douglas and family, the St. John's Anglican Church family, Evangelistic Pentecostal family, Cruzan Christmas Festival, Eastern Caribbean Friendship family and P.R. Friendship family, Carla and Brenda Bastian, the Canton family, Attorney Wynter, Marcia and Leroy Wallace, staff at Dr. Prasad, Grayham and Dr. Galibier, the Motta family, Omar Henry and family, the staff at Juan F. Luis Hospital; the many caretakers and families, especially Flakes, as he is affectionately called; as well as other relatives and friends too numerous to mention.
There will be a viewing held at 10 a.m. followed by a funeral service at 11 a.m. on Saturday, Oct. 4, at the Witnesses for Christ Apostolic Church, Clifton Hill. Interment will be at Kingshill Cemetery.
Professional funeral services are entrusted to James Memorial Funeral Home Inc.