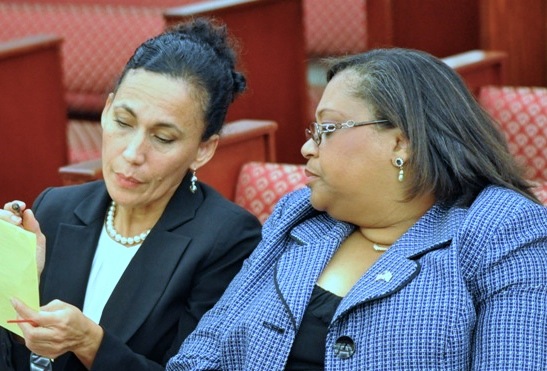 The territory may start using prison inmates for road work and government building repairs if a bill special ordered onto the agenda and approved by the Legislature on Thursday becomes law.
The bill sponsored by Sen. Myron Jackson adds repairs of government buildings to the list of projects Public Works is required to seek inmate labor for. It also requires "to the extent practicable" Public Works to use nonviolent "prison inmate workforce for all road projects, cemetery maintenance, waterways, drainage, and maintenance and repairs of government buildings." [Bill 30-350]
Jackson moved to have the bill special ordered onto the session agenda so there were no hearings, testimony or debate on the merits or potential downsides – from insurance to paying for security – that could arise. Introducing it, Jackson said it would help rehabilitate young offenders and give them job skills they could use once they are released. Senators broadly agreed, mentioning the job and training value of the labor.
The Legislature also special ordered, and then approved, a bill appropriating $2 million from the Education Initiative Fund to purchase new textbooks. Jackson, Sens. Janette Millin Young and Kenneth Gittens sponsored the bill, which also devotes 80 percent of the balance in that fund for textbooks in perpetuity. [Bill 30-496]
Education Commissioner Donna Frett-Gregory testified during budget hearings and other committee hearings that the department needs funding for new textbooks and would be requesting legislation to that effect.
Both bills were approved with 14 of the 15 senators voting yes. Sen. Diane Capehart was absent, out sick with chikungunya.
There will also be a new category of casino license, if a measure proposed during session by Sen. Nereida "Nellie" Rivera-O'Reilly becomes law. The new "Category IV" license would be for hotels with at least 75 new or "renovated" rooms and located within the historic districts of Christiansted or Frederiksted. The casino would be required to make Enterprise Zone financial contributions. The new casino category was enacted as an amendment to a bill to rename the Industrial Development Program as the Economic Development Program and to update the Economic Development Program Law.