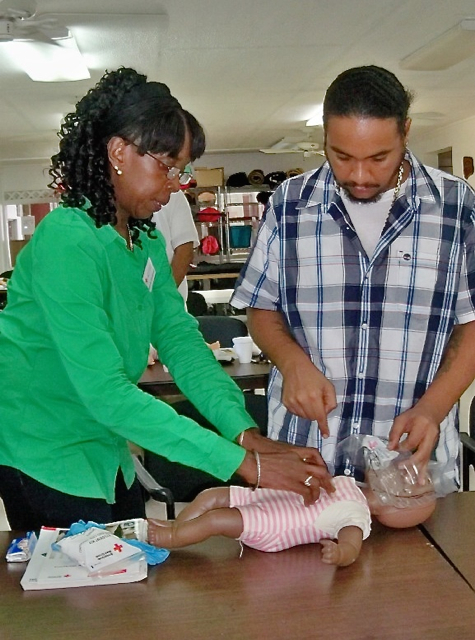 The American Red Cross of St. Croix does more than offer hurricane preparedness information and assist with shelter. The organization offers classes to help prepare everyone for all sorts of everyday health and safety emergencies.
Lily Alvarez, executive coordinator at Red Cross on St. Croix, believes everyone should know life-saving practices. She said the American Red Cross Health and Safety Course is the way for people from all walks of life to learn basic life-saving measures.
"These practices can be applied at work, at home and during travel," Alvarez said. "These are instructions you never forget. It's something nobody can take away from you, it's in you."
The course covers CPR on adults and infants and certification that is valid for two years.
Participants learn the anatomy of a first-aid kit. They learn the signs of such sudden illness as strokes and poisoning. The class touches on soft-tissue injuries such as lacerations and bruises, burns and electrical burns and heat-related emergencies. There are lessons on injuries to muscles, bones and joints. And the students get a hands-on lesson on the Automated External Defibrillators.
The half dozen taking part in the one-day courses Wednesday in the headquarters in Castle Coakley joined the class for many reasons.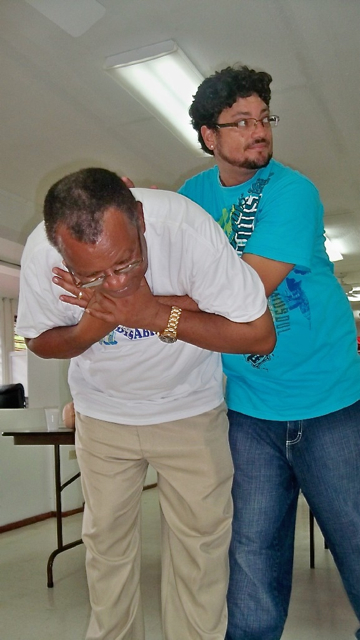 "I'm seeking employment and I want to put the certification on my resume," Perry Levons said. "And it's just good to know what to do in any emergency situation."
Phillip Walcott, a pastor at St. Luke AME church, said it is a church policy to have three certified trained members on board at all times.
"We need to be able to initially provide assistance until we call 911 and help arrives," Walcott said. "We don't want to have an emergency and then try to figure out what to do. We all should be prepared."
He said he was doing a re-certification and there have been instances in which the church staff has used the training.
Nurses and caregivers were taking the course, as was Gechani Martinez, taking the class for Job Corps, and Raul Torrens, who was required to attend for his job at Heavy Material.
Marjorie Emanuel, an instructor since 2011, feels confident that the people who complete the course are ready to respond to medical emergencies.
"I highly recommend the course to everyone so they can give back to the community by being able to recognize an emergency and step forward to help," Emanuel said.
Alvarez said people can come to the Red Cross headquarters and do the community class, which is open to the public. If more than four employees of a business are going to take part, the instructors will go to the business or organization to present the course. The cost per person is $110.
The course is held at the Red Cross headquarters at 6035 Castle Coakley, across from the Sunny Isle Shopping Center. Those who would like more information or to register for the course can call 340-778-5104.