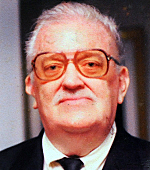 John Collins, a journalist and consultant whose love and knowledge of the Caribbean made him a sought-after reference for the region for decades, died Aug. 11 in Puerto Rico.
He was 80.
Collins died of complications after hip replacement surgery at the Veterans Affairs hospital in San Juan. He spent his final years in nursing homes, unable to walk. His encyclopedia-like mind slipped away.
Born in St. Louis, Mo., John adopted the Caribbean as his home and lived in the U.S. Virgin Islands, the Dominican Republic, St. Maarten and mostly in Puerto Rico. He visited almost every island and nation in the region, many of them repeatedly, and contributed to publications across the archipelago.
Collins' work as a journalist earned him four Overseas Press Club awards in Puerto Rico.
As an adviser on Caribbean affairs, he served three gubernatorial administrations in Puerto Rico from 1985-93, when the island helped develop its Section 936 loan program that provided more than $1 billion in financing to 12 nations in the region.
"Puerto Rico will never realize how much we owe to John Collins," said Antonio Colorado, the island's former secretary of state and its former representative to U.S. Congress. "Our relations with the Caribbean and everything we were able to accomplish in the '80s and early '90s was due in a very important part to what John did."
Collins advised the Dominican Republic administrations of Presidents Joaquin Balaguer and Leonel Fernandez. He also contributed for years as a fellow to the Global Foundation for Democracy & Development in Santo Domingo, founded by Fernandez.
Earlier, he had been a consultant in the U.S. Virgin Islands to then-Senate President Ruby M. Rouss and to Gov. Juan Luis. He was elected as a delegate-at-large to the Fourth Constitutional Convention in the U.S. territory in 1979.
Collins began in Caribbean journalism as a correspondent for United Press International from 1978 to 1983. He then worked with Caribbean Business weekly in Puerto Rico, first on staff and later as a contributor.
Colleagues remember the blue-eyed, high-energy Collins for his insatiable appetite to understand the Caribbean, read its newspapers, know its history, meet its leaders and influence its policy and development.
He was open-hearted in sharing his knowledge and contacts and often gave friends books.
"John knew everybody and was always available to help you — a kind and generous man," said writer Mark Kurlansky, author of "A Continent of Islands: Searching for the Caribbean Destiny" and former Caribbean correspondent for the Chicago Tribune.
"Very saddened on the loss of a great Caribbean friend, colleague and soldier of regionalism and integration and all things Caribbean," said international business consultant David Lewis, who had led Puerto Rico's Caribbean program and also helped direct the nonprofit Caribbean/Latin American Action that backs business-led development for the region.
Collins was outspoken with colleagues on his views, and over the years, came to lament what he called the "marginalization of the Caribbean in the era of globalization."
"John had a discriminating mind and called the shots as he saw them," said Caribbean scholar Anthony Maingot, professor emeritus of sociology and anthropology at Florida International University. "We will all miss him greatly."
Collins was a traveler with an international focus before he moved to the Caribbean.
He served in the U.S. Air Force from 1952 to 1956, deployed in Illinois, Texas, Kansas, Missouri, Washington, D.C., Germany, Morocco and Libya.
He considered among his early career accomplishments work at the United Nations as an official of a foundation supporting the U.N. Relief and Works Agency helping Palestinian refugees in the 1967-70 period; and as a conference assistant during the U.N. General Assembly in 1958 led by Charles Malik of Lebanon.
He also spent time leading college student tours of Europe.
Collins is survived by his longtime neighbors, Milca Marietti and Pedro Rivera Nieves, who looked after him and handled his affairs in his later years.