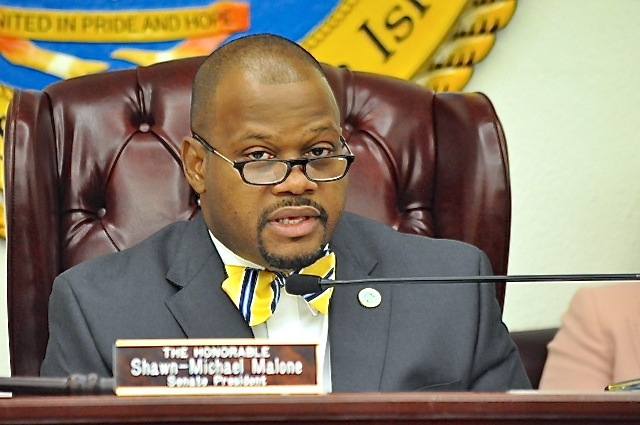 The V.I. Legislature overrode the governor's veto during legislative session Wednesday, enacting legislation to restore generous Research and Technology tax breaks to the territory's three largest Internet service providers that the government had set to expire at the end of the year.
The measure changes the legal definition of "e-commerce," "knowledge-based business" and "tenant" to explicitly include ISPs and effectively any business that involves knowledge and any business that does business online, and was introduced by Sen. Nereida "Nellie" Rivera-O'Reilly as an amendment to an unrelated bill during the April 24 legislative session. O'Reilly said it was needed "because of the lack clarity on what businesses should be solely directed to the tech park," adding that "a number of applications are on hold."
On May 16, Gov. John deJongh Jr. vetoed the bill, saying "the amendments seek to make permanent what may well prove to be an improper grant of benefits to internet service providers that have cost – and will cost – our treasury dearly. This last action not only unilaterally took tax-paying entities off the tax rolls but has put smaller and locally owned and managed businesses at a very unfair disadvantage in this new and developing industry by forcing them to compete against larger companies which do not have to pay the taxes the smaller businesses must pay."
DeJongh later released three legal opinions prepared by Attorney General Vincent Frazer at his request that conclude ISPs cannot legally receive RTPark tax breaks and tenants must have an actual presence on the RTPark grounds to meet the legal and common definition of "tenant."
Those opinions, which are binding on executive branch agencies, led to the V.I. Internal Revenue Bureau notifying the ISPs their RTPark tax breaks would expire in December and not be renewed.
On Friday, the Legislature held a hearing promoting the override of the veto. The hearing began with a video produced by the Legislature praising the measure and urging its passage. Senators then peppered administration officials with hostile questions and gave proponents a friendly reception, and the hearing closed with Malone, the Senate president, again urging the Senate to pass the legislation.
Representatives of the three affected companies testified in favor of Malone's legislation to explicitly include their business types in the technology park tax breaks, arguing that they had applied for them in good faith, kept their end of the agreement, paying fees to the RTPark, and also needed the tax breaks to survive against competition.
Voting for the override were Malone, O'Reilly, Sens. Craig Barshinger, Judi Buckley, Diane Capehart, Kenneth Gittens, Clifford Graham, Myron Jackson, Terrence "Positive" Nelson, Clarence Payne and Sammuel Sanes. Voting no were Sens. Donald Cole, Alicia "Chucky" Hansen, Tregenza Roach and Janette Millin Young.
After the vote, several senators spoke about why they supported the bill, with some, including Malone and Graham, saying the legislation does not give anyone tax benefits. "The RTPark is what granted benefits, not an amendment," said Graham.
"This amendment did not take anybody off the tax rolls. They were already receiving benefits," Malone said.
The RTPark granted these benefits in 2009, without fanfare or announcement, but the government determined those benefits were given improperly, based on a binding legal opinion issued by Frazer, and notified the ISPs the benefits would expire. Without Malone's legislation, they would not receive RTPark tax breaks. With the passage of Malone's legislation, they will receive those tax breaks.
Senators also voted to override the governor's veto of several capital funding appropriations and other spending included in Act 7599.
DeJongh exercised a line item veto over sections of a bill changing the amount of funding for expenses related to the ongoing closure and sales process of Hovensa from $6 million to $1.5 million, saying it was a large departure from his request to only reduce it to $4.9 million. He line item vetoed another passage of the same bill that decreases the overall budget for the two shovel-ready track projects for the public schools on St. Croix by $500,000, saying it diverts funds to projects which are only in the conceptual phase. And he vetoed two projects that funding had been diverted toward: $300,000 to the American Legion Enrique Nieves Post 102 to help build a new post headquarters; and $200,000 for a community center in Estate Calquohoun.
The Senate overrode each of these vetoes without any opposition.