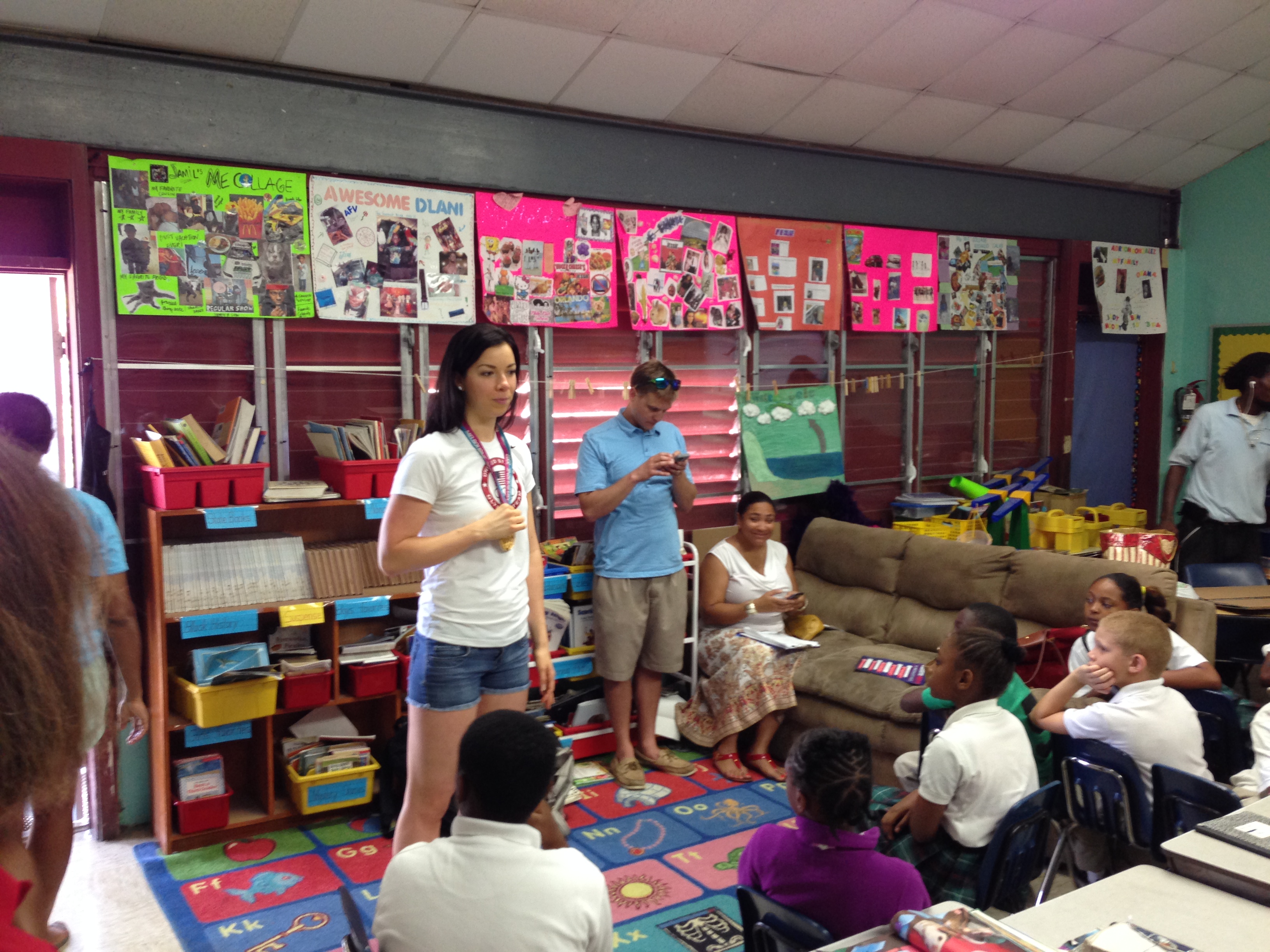 On International Water Safety Day (IWSD), May 15, the Dolphins Swim Team hosted a group that included leaders of several national organizations who selected St. Croix as their 2014 location to deliver the message of Water Safety Day to the island's youth. The group included IWSD Founder Shaun Anderson, U.S. Olympian Kate Ziegler, Jamaican Olympian Janelle Atkinson, American Red Cross Representative Connie Harvey, Diversity in Aquatics representatives Miriam and Sarah Lynch, founder of Nadar Por Vida Arthur Lopez, founder of End Needless Drowning Dr. Angela Beale, and IWSD Director of Operations Nathan Tschohl. Biographies of each leader can be found on the St. Croix Dolphins Swim Team Web site at www.stcroixdolphins.org.
The day is designed to help spread global awareness of the drowning pandemic and to educate young people in becoming safer in and around the water. Drowning is the third leading cause of unintentional injury and death worldwide, with over 30,000 reported deaths monthly.
The Dolphins and the IWSD group had the opportunity to visit five private schools and 10 public elementary schools on St. Croix on May 14 and 15. IWSD presenters were able to deliver the message of water safety to hundreds of students. Cinthia Sanes, Dolphins program director, said, "Water safety is not only taught in a pool or the ocean, but it starts when you have the knowledge needed to make the right decisions when around and in the water. We went to the schools to ensure that we could reach as many youths as possible with the water safety message. There was a great response from the students wanting to know more about being safe in the water."
Private Schools that participated were St. Mary's, AZ Academy, Freewill Baptist, and Good Hope Country Day School and Alternative Education. Public Schools that participated were Claude O. Markoe, Alexander Henderson, Charles H. Emanuel, Evelyn Williams, Eulalie Rivera, Lew Muckle, Ricardo Richard, Pearl B. Larsen, Juanita Gardine and Alfredo Andrews.
International Water Safety Day 2014 concluded with an evening presentation and reception hosted by Gov. John P. deJongh Jr. and the St. Croix Dolphins held in Government House.
"We hope that in the near future we will be able to deliver this message to the other islands in the territory," Cinthia said.
The St. Croix Dolphins will continue to do its part teaching adults and children the life skill of swimming and water safety. The goal of the Dolphins' public school learn to swim program "Every Child A Swimmer" is to make an island that is 100 percent surrounded by water 100 percent water safe.
To continue this momentum of water safety education, the St. Croix Dolphins will be conducting a lifeguard course at the Dolphins' pool on May 24 and 25. For more information about this course or to be a part of this rewarding sport, contact the St. Croix Dolphins Swim Team at 719-7946, e-mail: stcroixdolphins@gmail.com, or visit the Web site: www.stcroixdolphins.org.