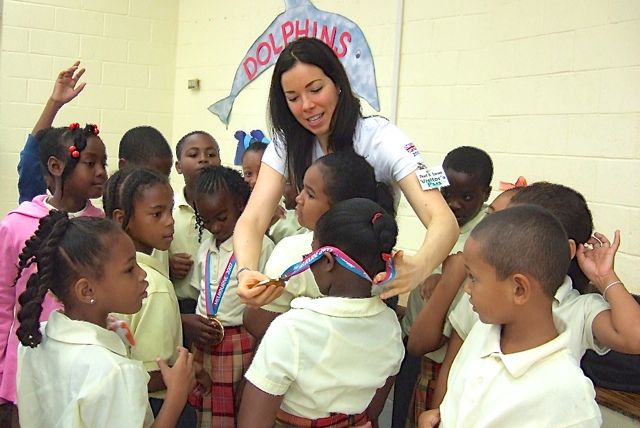 Students from 15 St. Croix schools learned about water safety Thursday from Olympic swimmers Kate Ziegler and Janelle Atkinson and representatives from the American Red Cross, the St. Croix Dolphins, and several other advocacy groups including the nonprofit organization, International Water Safety Day, which sponsored the day of awareness.
The IWSD organization was founded in 2012 by Shaun Anderson, one of Thursday's speakers, to promote water safety and raise awareness about drowning, the third leading cause of accidental death worldwide.
May 15 is International Water Safety Day and Ziegler –along with Nate Tschohl, director of operations for International Water Safety Day; Connie Harvey with the Red Cross; and Miriam Lynch of Diversity in Aquatics – talked to students at Pearl B. Larson Elementary School about water safety rules.
The Red Cross participated because the organization is celebrating 100 years of swimming, life guarding and water safety programs, according to Harvey.
Anderson cofounded Diversity in Aquatics to promote swimming for health and fitness and water safety and awareness.
This year, St. Croix was one of the communities around the globe IWSD visited to promote their May 15 message.
"This is the first step in combating the ridiculous number of drownings each year," said Tschohl.
At Larsen school, Ziegler, a two-time gold medalist, asked students about reasons for learning to swim. Answers included "breaking a world record," "swimming around the world" and "being safe."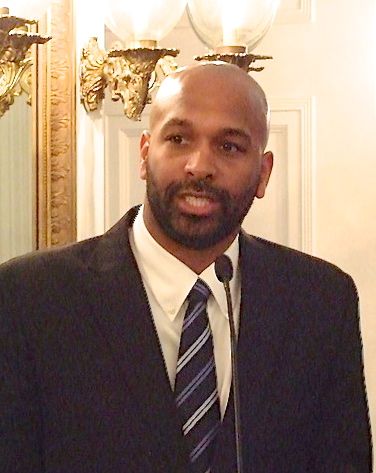 Ziegler said when she joined the team she had a goal and a dream, but did not start as an Olympic swimmer. "I was the worst in my group, the slowest in my group," Ziegler confessed.
She said she started out with small goals like keeping up with the others, then becoming the leader and then the best in the region, the nation and then the world.
"I want to help you be your best and help the person next to you be the best," she said.
Larsen students knew many of the rules since third-graders take swimming lessons with the Dolphins at Good Hope Country Day School, according to Principal Rodney Moorhead. Most students raised their hands when asked if they were "good" or "great" swimmers.
"We're surrounded by water and we need to learn life saving skills," Moorhead said.
The first of the safety rules is "learn to swim." Harvey and Lynch discussed why the second tip, "know your limits," is important. They explained that swimming with another person, jumping in feet first and not approaching a drowning person keep swimmers from harm.
"Reach or throw (a rope, paddle, life preserver, etc.), don't go," Harvey said.
Tschohl said that since the world is 70 percent water, they have to learn to swim to be part of it.
"You don't have to teach a water safety class in the pool; you can teach it in schools," he said.
After the presentation, students were given posters with the 10 safety tips, pencils and temporary tattoos with water safety tips.
Thursday night, the presenters spoke to a group of government officials, swimmers and athletic educators at Government House.
Lt. Gov. Gregory Francis welcomed the group on behalf of the governor.
Tschohl reported that according to the World Health Organization, there are 388,000 deaths by drowning every year, and that is without data from 77 countries. For every death, there are five drownings that result in brain damage and other disabilities and children under the age of 5 have the highest mortality rate.
Olympian Janelle Atkinson-Wignall from Jamaica is currently a swimming coach at the University of Connecticut and talked about the discipline needed to be a world class competitor.
Dr. Angela Beale of New York's End Needless Drowning and Arthur Andrew Lopez from Nadar Por Vida in Washington, D.C., talked about their swimming programs.
"It's a minority problem that can only be solved by everybody," Lopez said.