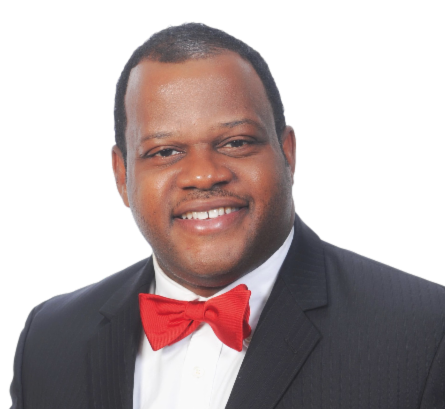 Senate President Shawn-Michael Malone formally declared his candidacy for the Democratic Party's nomination for the Office of Virgin Islands Delegate to the 114th United States Congress during a live radio address.
"It is time for a new conversation with the Federal Government," Senator Malone said in his announcement remarks. "I am qualified, prepared and ready to start that conversation… It will require proven leadership and discerning vision to help bring our islands into their own as we approach our 100th anniversary as a United States Territory. And as we lay the foundation for the next 100 years of our economic, political and societal development, it is time for Virgin Islanders to stand up and be counted as equally American with greater self-determination and the rights to access the same healthcare, disability, senior and veterans benefits as those residing in the 50 United States. This is the new conversation of which I speak."
He said that U.S. citizens residing in the Virgin Islands, no matter their original birthplace, do not enjoy the same democratic rights and opportunities as those in the states and it had recently become all too apparent with the territory's exclusion from full participation in the Affordable Health Care Act.
"Our second-class citizenship negatively impacts each one of us in some way and prevents Virgin Islanders from having any real say in the very laws that govern us," Senator Malone said.
The congressional candidate, now serving his 6th term as a St. Thomas/St. John District Senator, said that his experience had given him the intimate knowledge of territorial Government – to include its deficiencies – necessary in order to be most effective in Washington.
"Each V.I. Government agency has a relationship with the federal government and the Delegate must work to improve and maintain this complex web of federal programs and funding, while seeking greater opportunities for our people and changes in national policy that will support our advancement," he said.
Senate President Malone, born and raised on St. Thomas, studied both federal relations and political science as an undergraduate and went on to write his thesis on U.S. Virgin Islands Political Status before graduating from Hampton University with a degree in political science and economics. He later served as an intern on the Status Commission and as President of the Young Democrats of the Virgin Islands.
"Looking back, in many ways I have been preparing for this day long before I could imagine its possibility," he said. "I have devoted my entire life to public service and to pursuing the very issues our Congressional representative is charged with addressing."
Prior to being elected to the Senate in 2002, he served as Chairman of the Board of Elections, worked for the Coastal Zone Management Commission and as District Manager for the current Delegate to Congress. He was elected by the territory's Democrats to represent the Virgin Islands at the National Democratic Conventions in 1996, 2000 and 2008.
"This is where I first began to form many strong alliances with current members of Congress and others holding leadership positions throughout the federal government," he said. "I serve on the executive boards of three prestigious national associations (the Council of State Governments, the National Conference of State Legislatures and the National Black Caucus of State Legislators) that lobby on behalf of state and territorial governments and I have recently solicited their support for the Virgin Islands' full inclusion in the Affordable Care Act, among other pressing issues. Through these organizations I have developed many working relationships with legislators now serving in Washington and, as the Virgin Islands Delegate to Congress does not enjoy full voting powers, relationships and networking are critical in getting things done."
Senator Malone said he chose to broadcast his announcement from the island of St. Croix as the economic recovery of the big island must be at the heart of this new conversation with the federal government.
"The Delegate's office has an important role to play in bringing both federal and private investment to our islands and must also ensure that all federal opportunities and safety nets are made available to our people," he said.
Senator Malone became the youngest member of the 25th Legislature when elected to his first term and he is now overseeing management of the entire institution as Senate President. He has chaired every significant legislative committee and sponsored many important bills and resolutions, especially in the area of economic opportunity. He has also focused his efforts on improving opportunities for our youth, the disabled and promoting Virgin Islands culture. He is founder of the Reading to Achieve Learning Program, the Young Entrepreneur Awards and the Youth Activity Directory.
"It is needless to say that both those listening and those gathered here today have not agreed with me on every issue – it would be surprising if you had," Senator Malone said. "A candidate with a lengthy record of decision-making and leadership roles is a candidate with a history and history can be complicated. However, there is no short cut to proven experience and demonstrated commitment."
Senator Malone said he was ready to fight for the Virgin Islands.
"I have given much thought to initiatives to diversify and grow our economy and improve opportunities for hardworking Virgin Islanders at a time when we must act swiftly to preserve and support our shrinking middle class," he said. "I can't promise that we will win every battle in Washington, but I can promise that I will always put the people of this territory first. As your Delegate, each day I will advocate for your unalienable rights and support a platform for Virgin Islands progress and prosperity as together we lay down a foundation for future success."
Senator Malone said he made his announcement Friday afternoon as the proverbial "man in the arena".
"I have never been a spectator and believe that leaders must lead," he said. "I am the one that has fought for our youth, our economy, our natural and cultural resources. I have prevailed in the battlefield of our local elections and tussled in the court of public opinion. I have known victories and I have known defeats, however at all times I have been guided by a true love for the V.I. and its people and a desire to do what is right. This is the same love, hard work and commitment that I will bring to the office of Delegate to Congress. President Theodore Roosevelt, the original man in the arena, reminds us that glory and honor come to those "who spend themselves in a worthy cause". I have found no cause yet worthier than improving life for the people of the United States Virgin Islands and I am most honored to remain at your service. I humbly ask for vote, your assistance and your prayers as I commence on this next phase of my journey to further serve our territory."
To read highlight's of Senator Malone's platform and biography please visit www.shawnmichaelmalone.com or email [email protected] for more information.
Please "Like" the new Malone for Congress Facebook Page.